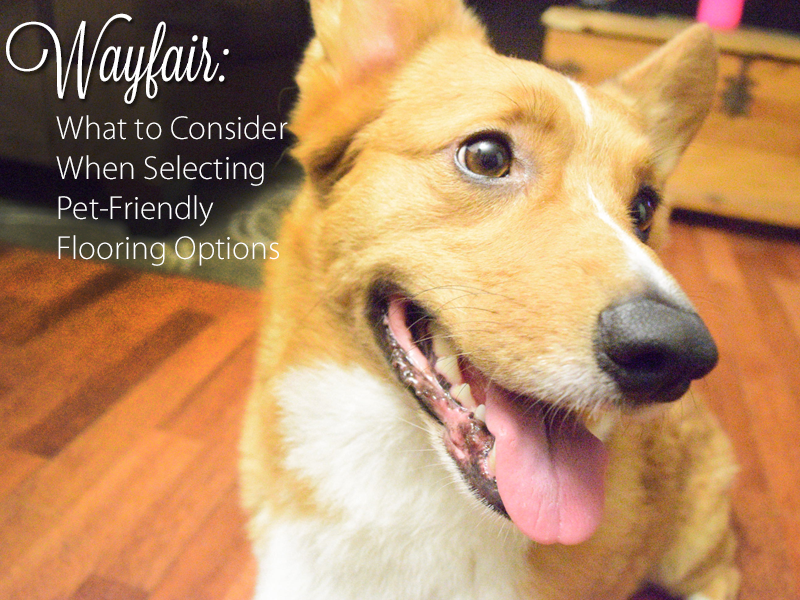 Today, we have teamed up with Wayfair to discuss Pet Friendly-Flooring Options for your home.
Finding a flooring option that provides the best fit for all members of your family can be difficult. There are a lot of things to consider these days if you are thinking about remodeling or updating the flooring in your home.
Wayfair recommends keeping these 4 Key things in mind when picking out the flooring for your home.
1) Resistance to Scratches
2) Resistance to Damage
3) Pet Traction
4) Pet Comfort
Why is it important to consider Pet Traction?
Improved traction provides pets with a greater level of confidence and security and can prevent injury. Slipping on non-secure floors can lead to neck, back or knee injuries to say the least. If you are a financially conscious pet parent, these injuries are expensive to treat, not to mention they can cause your pet discomfort for long periods of time.
Improving Pet Traction:
These recommendations are important to consider both when choosing the flooring for your home, and when you can't choose the flooring you have in your home (i.e. renting).
1) Throw Rugs: If you choose to have non-carpeted floors, be sure to have throw rugs available for your pets. When selecting throw rugs, be sure they don't have large loops that will get stuck on your pet's nails. Additionally, some throw rugs have a tendency to slide around, so be sure to add non-slip area rug pads like these from Wayfair.
We are currently looking to add a rug to our living room, and I really like this circular throw rug from Wayfair. Having this carpet in our living room will provide Rooney with more traction when he runs around in the living room.
2) Added grip for your pet's nails: Dr. Buzby's ToeGrips is an excellent solution for providing your senior or special needs dog with greater traction on non-carpeted floors. ToeGrips provide your dog with additional support and confidence to navigate. To learn more about Dr. Buzby's ToeGrips feel free to visit their website, OR stay tuned for a more detailed post later this week.
3) Carpet Stair Treads: If you have stairs in your home that are non-carpeted, consider adding Carpet Stair Treads to provide your pet with more traction and to prevent injury as they come down the stairs.
 4) Provide your pet with pet stairs: Many slipping injuries occur when pets are trying to jump on and off furniture. Getting your pet used to pet stairs can help prevent these injuries in the first place.
Improving Pet Comfort
1) Make sure your pet has access to plenty of comfortable places to lay down. Both cats and dogs sleep 12 hours or more on average each day. Therefore, you want to make sure that they have comfortable places to lie down. In our house, we keep a dog bed in every major room. Since Rooney typically likes to be where we are, we have one in the living room, one in our bedroom, and we are looking to purchase one for the office. This may seem excessive, but I want Rooney to have the option to be comfortable.
2) Flooring Options: There are several flooring options that can provide both you and your pet with additional comfort while walking on the floor. Have you ever worked in a job where you stood on cement or tile flooring all day? I have, and at the end of the day, both my feet and my legs hurt. It is always more comfortable for both your and your pet's joints to be on a floor that gives. Cork or carpet seem to be the best choices when keeping comfort in mind.
In addition to the four items listed above, here are some additional points to keep in mind when picking out the flooring for your home.
1) The makeup of your family: For example, right now my husband and I don't have any kids without paws. However, I am not the cleanest eater (embarrassing to admit, but true nonetheless). I think it may have to do with the fact that its difficult for me to sit still so I am always doing multiple things instead of just focusing on eating. What this means for us, is that we have to keep spills in mind as long as I am living in the house :). Therefore, we would most likely look for a water-resistant and easy to clean flooring option. These may include, Bamboo, Laminate, Vinyl, or Stone-Tile.
2) The amount of traffic in your house: How many pets do you have? Do you entertain frequently? If you have several pets or entertain often, you may want to look into investing in flooring that can withstand high levels of traffic, like Bamboo.
3) How important is style: Many families prefer function to style. However, if the style and quality of your flooring is important to the overall look of your home, you may want to invest in Hardwood floors, Laminate, or Vinyl.
4) Is it important that your home is eco-friendly?: If eco-friendliness is at the top of your list, Bamboo and Cork are your best options for flooring.
5) Cost: Not every family can afford to add expensive flooring. If you are looking to save on cost and don't want to skimp on looks, Vinyl flooring would be your best option.
Based on all of my personal considerations, I think Vinyl would be the best option for our household.
For more information on the best Pet-Friendly Flooring Options, check out our infographic below or please visit Wayfair's blog here.
Tell me, what kind of flooring do you have in your home?