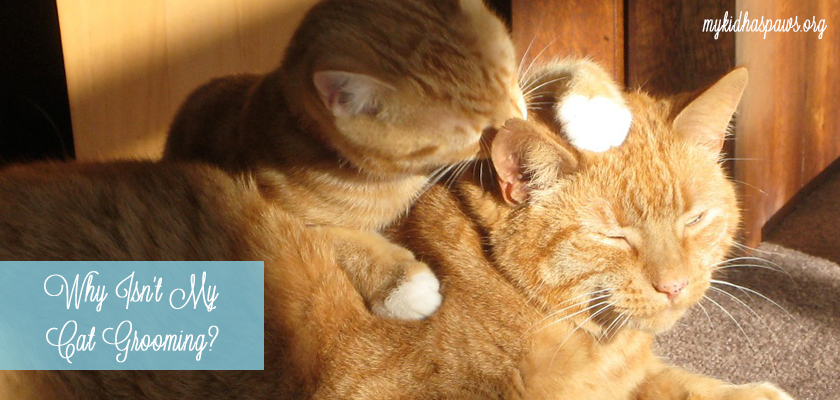 Sometimes, cats start to look a bit disheveled. You may even notice that they don't spend as much time grooming as they used to. But why is that?
Cats might decrease grooming over time for a variety of reasons.
1) Weight gain: Sometimes cats put on some extra pounds and it then becomes difficult for them to groom themselves. I had a feline patient who had put on a lot of weight, as a matter of fact, when he came in for his annual exam he weighed 25lbs! As a result, he had developed diabetes and his back had become terribly matted due to his inability to groom. We recommended shaving him to treat his mats, and as a result he felt much better (Boehringer Ingelheim).
If you have noticed that your cat has put on some extra pounds, take action before their weight gain causes additional problems.
2) Arthritis: Cats can develop arthritis which can make it difficult for them to groom themselves.
Accordion to Drs. Foster & Smith, here are some signs that your cat may have developed arthritis:
Stiffness or limping, especially after they stand up from sleeping or resting
A change in the way they walk (their gait)
Reduced muscle mass (also known as muscle atrophy)
Inability to jump or navigate stairs or furniture
If your cat has reached their senior years and you suspect arthritis is the reason they aren't grooming, you should take your cat to see the veterinarian and discuss potential treatments and medications (Boehringer Ingelheim).
3) Illness: Sometimes cats have stopped grooming because they don't feel well. The cause of them not feeling right could include a number of illnesses. Start to think about their most recent eating habits and activity. Have they been lethargic? Have they had a good appetite? Are their consuming more or less water?
Answers to all of the above questions will ultimately help your veterinarian determine the cause of illness.
4) Dental Disease: If your cat is suffering from severe dental disease, it may be uncomfortable for them to groom. If you believe that your cat has stopped grooming due to dental disease, take them to see your veterinarian (Animal Planet).
I once had a patient whose dental disease was so bad that almost all of his teeth needed to be removed. His parents had noticed a change in his overall appetite and behavior. When we took X-rays of his mouth, we found that he had a fractured jaw! A few months after his dental, both his jaw and his mouth had healed and he had gotten his appetite back!
What can you do to help?
Firstly, take your cat to the vet to determine why they have stopped grooming.
Secondly, if your cat is arthritic or overweight, you can encourage them to groom by helping them. Start by grooming a little at a time, and try to pay extra attention to those areas they cannot reach (Animal Planet).
Although lack of grooming and mats may not seem like a big deal, they are incredibly uncomfortable, and can be a sign that your cat has underlying health issues.
I want to point out that Boehringer Ingelheim, AAHA, and the American Association of Feline Practitioners have put together an awesome website resource called HaveWeSeenYourCatLately.com. I highly recommend cat parents take a look at this awesome health resource.
Have you ever had a cat who stopped grooming?