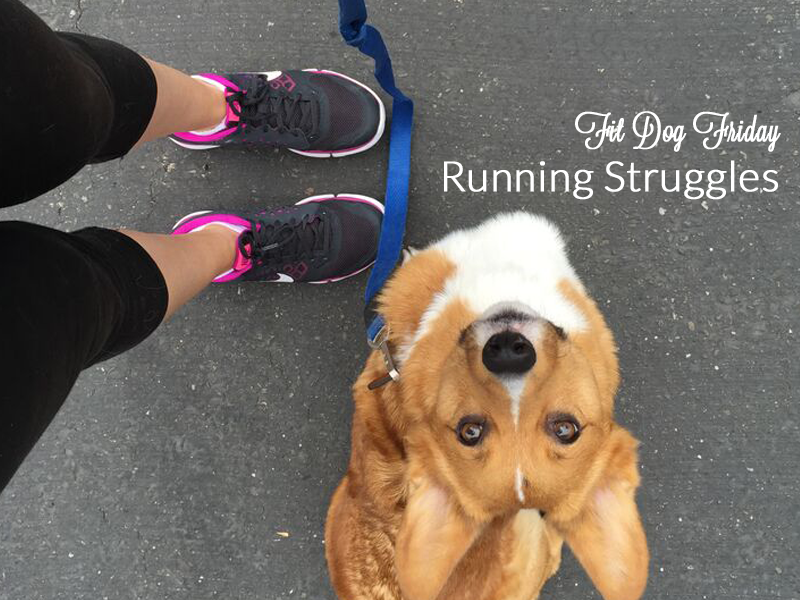 You may remember my post from a few months back where I mentioned that Rooney and I were doing some running.
Unfortunately, this summer I was finishing my grad school classes so I haven't been able to run with him consistently.
So instead of sharing our running schedule and progress, which I WILL share one day, I am going to share with you some unexpected struggles that have arisen since we started running.
1) Crossover
On walks, I never made Rooney choose a side. I knew that I should, I just never did. When we are walking, it's not an issue, however, when we started running this became a safety hazard for both me and Rooney.
Rooney would pick up on a great scent and next thing you know I was almost tumbling to the ground trying not to step on his feet. Therefore, to be able to run safely, I needed Rooney to know he needs to stay on a single side.
To address this issue, I have been training Rooney to stay on my right side by giving him treats by my right knee on walks. Now, he looks at my right knee all the time and tries not to get too far ahead of me.
2) Poops
Rooney always likes to poop on walks. I think he is marking his territory some of the time.
However, when we started running, he was pooping a bunch. So much so, I started to think something was up. I don't mind stopping a few times for potty breaks on a run, but we weren't making much progress with him pooping 3 or 4 times during one outing. So, I recently changed his food to a grain-free option, and his poops have decreased to 1 per run, and now he seems to be more comfortable running faster.
3) Sniffs
Rooney has a tendency to want to sniff around instead of run. Of course, I can't blame him. However, I have a half marathon I need to train for that will happen in 6 weeks! Therefore, I need to be running and not spending time supervising his sniffs.
I started to realize that the faster I ran, the less likely he was to slow down and sniff. The need to run faster has been motivating and has helped us increase to a steady pace.
4) Garbage (or other things on the ground)
Unfortunately, people litter.
Which means that not only are we running, but we are also dodging garbage and debris left on the ground. No matter what it is, Rooney will try to sniff it. Additionally, no matter what it is, I try to keep him away from it. I am just so worried that Rooney will run right up to something and eat it right off the ground, and it, of course, could be something that is terrible for him and I don't want to take any risks. So, if you are going to be running with your dog, I recommend keeping your eyes open to what is on the ground.
5) Gravel
I like to run and discover new paths. I get bored if I run the same path all the time. So, a few weeks back Rooney and I were running, and we ended up on a gravel path. Soon after we started on this path, Rooney started to slow down. I realized that the gravel may not be comfortable on his feet, so we turned back and found a new way to get home.
I share this mostly because it was something I never thought of before that day, and I felt so bad once I realized that Rooney might have been uncomfortable.
6) Consistency
Since I finished grad school (2.5 weeks ago), I have been much more consistent at taking Rooney for walks and runs. However, since we started running back in June, I have been very inconsistent.
I can say that when I have a week of consistent running not only do I improve, but Rooney also improves his running abilities. After a few months of sporadic runs, I know that I need to be consistent in running with Rooney 3-4 times per week.
7) Time of Day
Just like myself, Rooney has a preference to time of day.
After a few months of running, I have noticed that Rooney can run much faster and farther in the morning. The unfortunate part is that I am much faster in the afternoon or evening. As a result, I have been running or walking with Rooney in the morning, and running longer distances in the afternoon or after work.
8) Stray Dogs or Dogs Off Leash
Unfortunately, we have been dealing with this a lot lately.
I never want to be caught in a situation where I didn't see the dog coming, and it's too late. Therefore, I don't run with headphones. Additionally, I try to cross the street when I see dogs coming from the opposite direction, and I try to check behind us every few minutes or so.
The best advice I can give to other pet parents in this situation is to be as aware as you can of your surroundings.