This post was originally published on September 20th, 2015 and was updated on February 17th, 2017 to provide my readers with more helpful information.
Believe it or not, this is the last weekend of the summer! Which means that Fall is here whether you are ready for it or not. Even if you haven't experienced any fall like weather yet, I highly recommend getting prepared for fall.
So today I want to talk about a few ways to get you and your pet prepared for the Fall season:
1) Prepare for Night Walks: Daylight savings doesn't happen until November 1st. However, the days are already getting shorter. Earlier this week I went for a walk with Rooney and needed to use my light leash for the first time in a long time. If you don't already have the proper gear to walk your dog at night, now is a good time to start thinking about it. The leash I have can produce both a solid light and a flickering light that can be useful when we are walking closer to a main street. For the life of me, I can't remember where I got this leash. However, I have heard good things about Dog-e-Glow leashes and MyLightLeash. Any brand will do, just make sure that you can be seen while walking your dog.
Many dog walkers and pet parents also get reflective gear for themselves. These days, almost any sports brand makes neon or bright colored workout clothes, which is a great place to start. I am a personal fan of Nike's running gear. However, when I am trying to save some money, I will purchase my workout gear from Target.
Don't forget that night safety is just as much about keeping you safe as it is about keeping your dogs safe. So be sure to lose the headphones. I never run or walk with headphones because I like to be able to hear what is going on around me. However, at night, it is even more important that you have all of your senses working to keep you safe.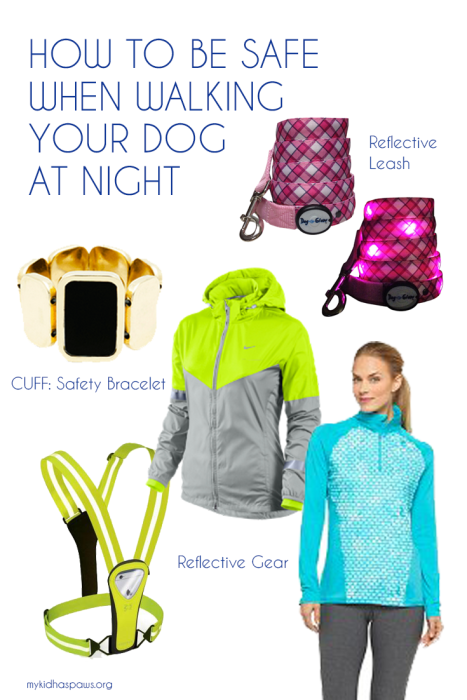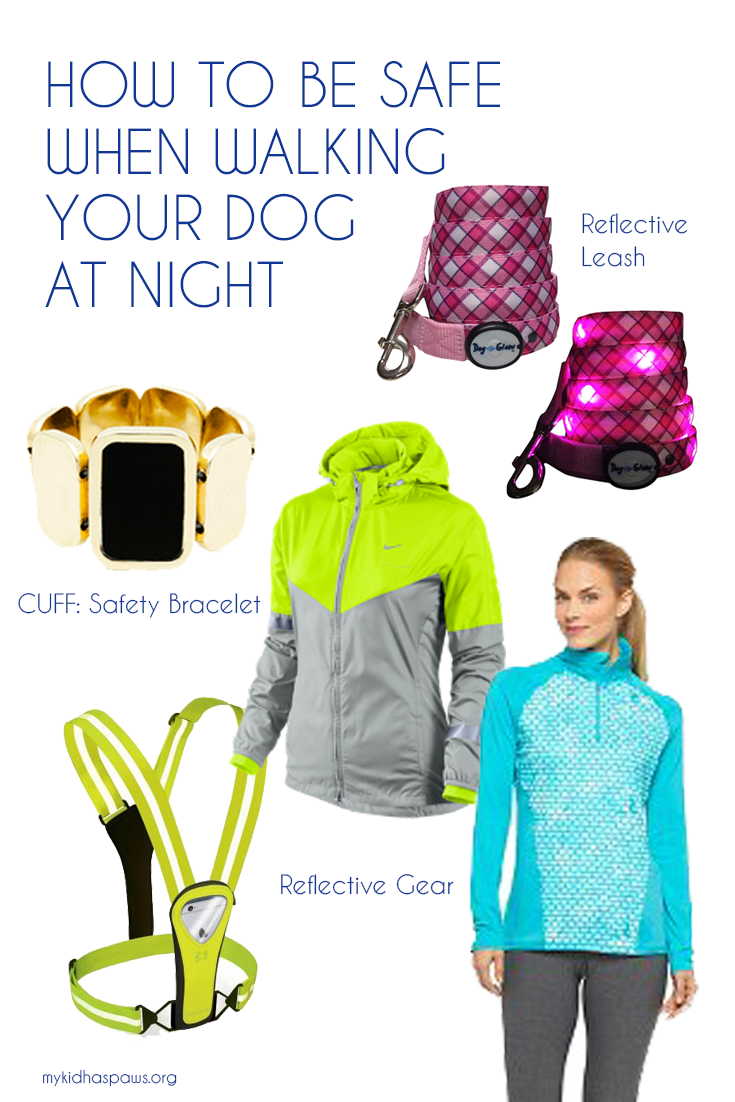 CUFF | Reflective Chest Strap | Nike Jacket | Target Jacket | Dog-e-Glow Leash
In addition to making sure that cars can see you, and that you can hear what's going on around you, you should probably carry something to protect you. I am a fan of carrying pepper spray, and maybe even investing in a CUFF.
What is a CUFF? It's the newest version of wearable technology. CUFF is less focused on activity tracking and more focused on safety. If you hit a button on your CUFF, which can be hidden in either a necklace or a bracelet, your smartphone will send an alert to your "network". Your network (i.e. your spouse, parents, family members, close friends) is a group of people you have selected to be alerted to your exact location when you hit a button. Essentially, you can send out an SOS signal to your safety network with one button.
2) Rain Gear: All summer, Northern Californians have been discussing the imminent arrival of El Nino. If El Nino arrives as we think it will, it will rain a lot, and often. The rain will be great for us since we have been in a drought for the past 4 or 5 years! That being said, it's safe to say I need to dust off my rain gear and make sure I have everything I need to walk Rooney in the rain.
To be perfectly honest with you, I really want one of the dog umbrellas to help keep Rooney dry:
However, I am not sure how well these dog umbrellas work since I have never used one. As an alternative, I would look into getting your dog a raincoat. I have my eye on the below raincoat from Push Pushi. These raincoats have detachable hoods that have plenty of room for Rooney's ears to sit comfortably.
In addition to keeping your dog dry, we as pet parents, need to keep ourselves dry. I am a huge fan of the Northface brand for all of my outdoor gear, and I really like their new Resolve Jacket. Their brand can be a bit on the expensive side, so if you are looking to save money, I would check out your local Goodwill or consignment store for some second hand Northface gear.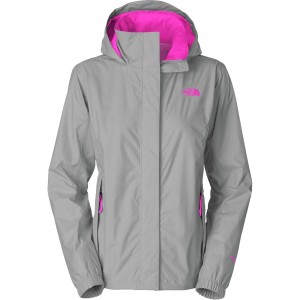 In addition to a jacket, you will, of course, need some rain boots. Once again, if I am trying to save money, I purchase my rain boots from Target. However, if you are looking for a very fashionable and high-quality brand, I recommend the Hunter brand of rain boots. I personally love the forest green color below: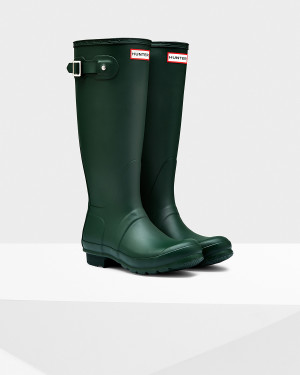 3) Pool Safety: Often, we think of pool safety only being relevant in the summer. However, pool safety is just as important in the fall and winter. Why? Well, most pet parents decide to cover their pool in the off season, and a pool cover can be a deathtrap for pets. Meaning, it is imperative that pet parents take the time to research the appropriate pool cover for their pool, and set up the appropriate barriers to keep their pets away from a covered pool.
Unfortunately, I had a few patients who didn't make it due to pool or hot tubs cover failures. If I had a pool, this is what I would do. I would purchase a pet safe pool cover that could hold significant weight. Supposedly, this link provides a number of safe pool covers that can handle significant weight. However, I wouldn't make this decision lightly. I would talk to as many friends, family members, pool experts, and veterinarians I could before purchasing something I could trust.
Additionally, I would look into putting a fence around the pool. If a permanent fence around your pool is not what you are looking for, removable fences are an alternative. Whatever safety precautions you take, make sure that they are suitable for your pet, and your pool.
4) Build a Shelter for your Outdoor Cats: Often, people wait until just before the first storm to provide shelter for outdoor or feral cats. Why not take care of it now? The temperatures tend to drop quickly, and you might not have time to build one in a day, so you might as well take care of it now. We have never had to build one of these shelter before, but we do have some feral/outdoor cats that like to come into our yard, so it may be time for us to make one. This post from NeighborhoodCats.org can walk you through how to build a DIY outdoor shelter for your outdoor cat or the feral cats in your neighborhood.
5) Freshen up your dog's training: Why not freshen up your dog's training before the holiday season? Believe it or not, Halloween is 6 weeks away, and Thanksgiving is 10 weeks away. Here are some skills and training your dog should know to keep them safe, and your guests happy, through the fall:
1) Sit on their bed when someone is at the front door: When someone knocks on the front door, you should train your dog to sit in their "spot". Their spot could be on their bed in the living room, or in the crate. It just needs to be somewhere away from the door. This will help prevent your dog from escaping when kids are trick-or-treating, and give your Thanksgiving guests some space when they walk into your home. This training will teach your dog good manners (trust me, I will be working on this A LOT in the next few weeks). Even if your dog doesn't have a tendency to rush your guests, now is as good a time as ever to brush up on these skills.
2) Teach your dog to stay off the counter or table: Halloween candy and Thanksgiving dinner are the reasons veterinarians dread the day after a holiday. We spend a lot of time after Halloween helping pets throw up chocolate, and the day after Thanksgiving is often known as "Pancreatitis Friday". Keeping your dog off the table or counter is key to keeping them healthy this time of year.
3) No jumping on guests: This is another skill I need to work on with Rooney. He has a tendency to jump, and it's key that your dog doesn't harass your guests during the holidays. For tips on training your dog not to jump, please see Suzy's guest post from last year, here.
If all else fails, take a training course and your nearby dog daycare or training facility.
I hope these tips help you and your family enjoy my FAVORITE time of year!
Tell me, is there anything you do to prepare for the fall season?