Today is the start of a brand new blog series called Life with Pets.
My goal for this blog is to provide pet parents with all the information they need to give their pets a healthy life. Part of a pet parent's lifestyle is integrating their pets into their daily lives, and that will be the new focus of my Sunday posts.
Specifically, we will discuss home decor, home organization, everyday pet safety and more! I want to make sure that these posts provide value to those who have pets in their home and for those who are looking to add pets to their home!
Today, I want to discuss carpet cleaner and home decor.
We moved into a new townhouse about 4 months ago, and our new place is very different, both in size and look, from the last house. Which means we needed to purchase some decor and furniture to better suite our new home.
I knew we needed a carpet for the living room, but it wasn't easy to choose. Here are a few things that we considered:
1) Color: The color needed to hide spills (unfortunately, that is because of me, not Rooney) and not accentuate every dog hair left on the carpet. Therefore, we couldn't choose anything that was too dark because Rooney's hair would stick out like a sore thumb.
2) Size: We wanted to give Rooney some space to run around in the living room that wasn't hardwood floor.
3) Texture: We knew that we couldn't choose a carpet with loops because it might catch on one of Rooney's nails. Therefore, we went with a carpet that was flat and could be vacuumed frequently.
After looking around on Wayfair.com, I found what I believe to be the perfect carpet for our living room.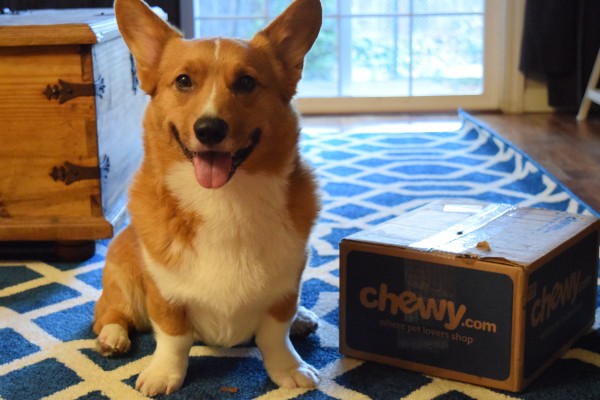 As soon as I made that purchase, I knew that I needed to get some carpet cleaner. Once again, this isn't just because Rooney might track mud on the carpet, this is also because I spill…. a lot.
So, I went to my good friends at Chewy.com because I know their fast shipping would get me everything I needed very quickly.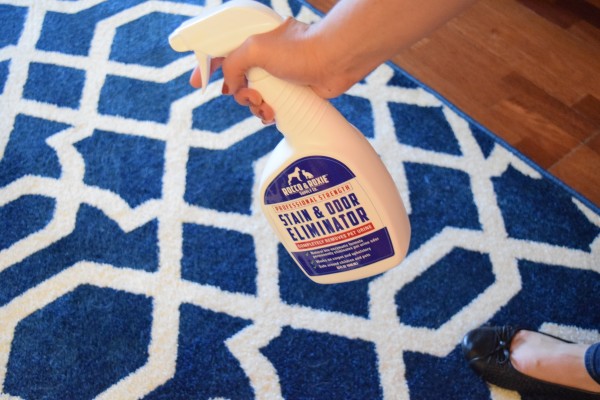 Last month, I ordered some Rocco & Roxie Treats from Chewy.com and Rooney thought those were fantastic! After having success with a company, I typically like to stick with them for other purchases, therefore, I thought I would try the Rocco & Roxie Stain & Odor Eliminator.
Love it we did. Fortunately, we didn't have to use it on our new carpet, but we did have a spill upstairs and the stain & odor eliminator worked like a charm. Unfortunately, I wasn't thinking fast enough to be able to capture the before and after of the actual spill. However, not only can you no longer see a stain, but the whole room smelled like a lovely fragrance for the afternoon.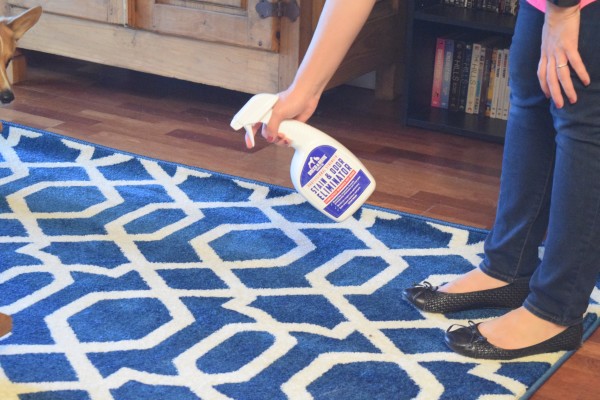 In my opinion, it is important to always have carpet cleaner (if you have any rugs or carpets) if you have pets in your home. You never know when you might need it, and its always good to have it ready in advance.
Tell me, do you have any special tips or tricks for removing stains from carpets or rugs?
Chewy.com has been a lifesaver for me in many situations because they ship your purchase the same day if you place your order before 4pm EST. I highly recommend using Chewy.com for your everyday pet purchases.
Disclaimer: My Kid Has Paws is a member of the Chewy.com Blogger Program. Each month we receive a product from Chewy.com in exchange for our honest review. However, My Kid Has Paws, only shares products that we love and enjoy.