The seasons are changing.
Right now in front of our eyes, the weather is going from hot to cold, the leaves are changing, and pumpkin EVERYTHING is hitting the stores. Even here in Northern California where the weather is mild, and our temperature has yet to drop below 75 during the day, the seasons are still changing.
Having experience in the veterinary industry, I know that this means one thing…
Allergies.
To be more specific, this means Rooney is going to start itching any second. As a matter of fact, as I look over at him right now, he is itching and scratching.
However, Rooney is not alone. Many pets suffer from seasonal allergies (also known as inhaled allergies or atopy). Depending on the severity of the allergy, or the foliage that is native to your local area, your dog may suffer from some of the following symptoms:
Itchy Skin: How do you know if your dog's skin is itchy? Your dog may be biting, scratching or licking their skin. Rooney has the habit of itching his ears with his feet and then chewing on his feet.
Inflammation: Your dog may have inflammation and redness in their ears or on their skin.
Ear Infections: Infections can include discharge (yellow or even black) and redness.
Hotspots: Hotspots are areas where your dog has irritated their skin from scratching, chewing or biting. These areas often lose fur and can be red and irritated. If left untreated, these areas can cause infection and attract maggots (yes, you read that right, I have seen it…and it's terrible).
Drs. Foster and Smith have a great graphic that breaks down the symptoms by area:
Allergies are aggressive and often take a long time to control, this is true even for myself.
So what can you do to improve your dogs allergies?
Oils and Supplements: Pending your individual dog, and the availability of the product in your area, you can use a combination of supplements and oils that are healing for the skin and can reduce itchy symptoms (The Bark).
One specific example is Spirulina: Spirulina contains a rich source of essential fatty acids that promote a healthy skin and coat and has natural anti-inflammatory properties (HealthyPets.Mercola.com). This is a nutrient I am looking into adding to Rooney's food.
The reason I am "looking into it" is because I won't add anything to Rooney's diet unless I talk it over with my veterinarian to get their take on the newest available supplement.
Local Honey: The emphasis here is on LOCAL, raw (not heated), and organic honey. By ingesting local honey, your dog is ingesting small amounts of local pollen. This ingestion allows their body to react less to the pollen when exposed (Whole Dog Journal). In addition to the exposure benefits, honey also acts as an anti-inflammatory.
The important thing to remember when considering adding honey to your dog's diet is that it isn't a solution for every dog, so be sure to discuss this with your veterinarian. Also, this is not a "more the merrier" solution. The amount of honey you give your dog should be small. In most examples it's as little as a teaspoon for a large dog, so please be sure to discuss the amount with your veterinarian.
Soothing Shampoo: If your dog has allergies, they probably are suffering from itchy skin several times throughout the year. To provide them with some itching relief (assuming that they have no open wounds or hotspots to be treated), you can select a fragrance and dye free shampoo. I also choose shampoos with oatmeal for Rooney, which often leave him feeling clean, smelling good, and his skin isn't left irritated.
As someone who suffers from skin sensitivities, you would be surprised what can irritate itchy skin. For me, it's everything from the shampoo I select, to the soap I use, to the laundry detergent I purchase. If any item is suddenly changed, it feels like someone lit my skin on fire. Now although what I suffer from is different from season allergies in dogs, I can speak to the relief of using a soothing shampoo or soap.
For Rooney, we use Only Natural Pet Shampoo and Conditioner. They have updated their packaging since we received these bottles a few months ago. However, the products have been great, and you can read our review here.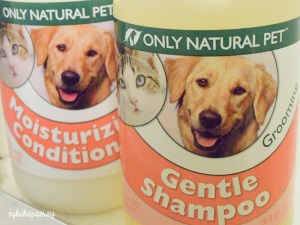 It is important to know that the irritation caused by allergies can come on suddenly. I might notice Rooney itching a little bit one day and the next day he might already have a hot spot. Which means, that the more you can do in advance, the more you prevent your dog and your wallet from suffering.
Before adding any supplement to your dog's diet, please always discuss with your veterinarian.
Additionally, if you have tried the above solutions and are still seeing no signs of relief in your dog, I recommend speaking with your veterinarian. Often, it means that your dog's allergies are too severe for natural remedies, OR your dog isn't suffering from inhaled allergy, but perhaps another kind of allergy.