This week on My Kid Has Paws, we will be discussing/have discussed lots of different kinds of food and treats.
Some of you may be asking yourselves, why would Rachel be sharing information about so many different kinds of foods? Here is the answer: because the #1 question I was asked as a veterinary technician was, "What kind of food should I feed my dog?" and the answer is not simple, but complicated.
I have always maintained that if you get a group of veterinarians together and ask them "What kind of dog food do you recommend?", you will likely receive a different answer from each and every individual. There are simply too many variables that go into the "food purchasing decision" for there to be one correct answer for all dogs. If you would like to read more about my thoughts on the challenges associated with purchasing dog food, please read my post Buying Dog Food is Like Buying A Pair of Shoes.
Today, I am going to share with you some information regarding the Brothers Complete dog food brand and give you a chance to try some for free!
Brothers Complete dog food was a company born out of frustration. The family owned a dog food store in Florida where they sold the healthiest dog foods available on the market. However, many of the pet parents who purchased these foods would eventually discover that their dog was suffering from health issues. After many years of research, the family decided they would create a dog food that would make your dog healthy from the inside-out. If you would like to read about their 10 critical decision-making factors that supported their production decisions, you can read more at the bottom of their Learn More page (talk about transparency!…I love it!).
What I love about Brothers Complete is that many of their recipes are made for dogs suffering from food allergies. I previously discussed the importance of understanding the different types of allergies your dog can have in my post Understanding Canine Allergies. If your dog suffers from food allergies, it can be a HUGE challenge to diagnose and find the correct tolerable food for your dog. However, once your have accepted and conquered that challenge, many (if not all) of your dog's allergy symptoms will be solved!
Here are some of Brothers Complete recipes: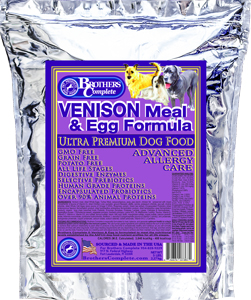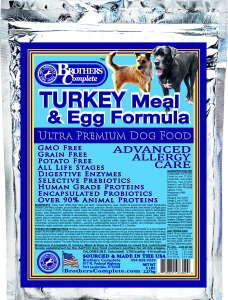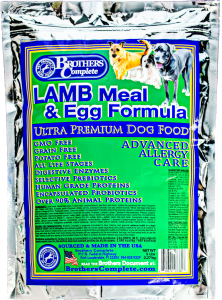 In addition to being a solution-focused dog food company, they are also a USA made, family-owned company!
If you would like to try Brothers Complete for yourself, please enter our giveaway here: