The recent Valley Fire in Northern California has left many pets in need of care and homes.
As of today, the fire is 97% contained. However, the damage has already been done. Many pets were lost and so many people and animals are left without homes due to the fire.
My friend Kim is amazing. She went up to Middletown to help care for the fire victims. While up there, she came across two kitties that were very badly burned. Both kitties have received extensive veterinary treatment, and have a long way to go. They may need homes in the future, but for now, they are recovering at their foster homes.
Kim asked me to share her story and the story of these kittens in hopes that we can make a difference in their lives:
"The Northern California Valley Fires of September 2015 ravaged most of Butte and Cobb counties.  Many families were evacuated, many homes were destroyed, many lives were forever changed. These fires have drawn an abundance of nationwide media attention and the area was declared a national emergency.  What has been grossly overlooked in the national media coverage are all the injured and displaced animals affected by these fires.  
On the weekend of September 19th 2015, several veterinary staff registered with the California Veterinary Medical Relief Corps drove for several hours up to Middeltown, California to volunteer their services for the weekend and help care for some of the animals that had been victimized by the blaze.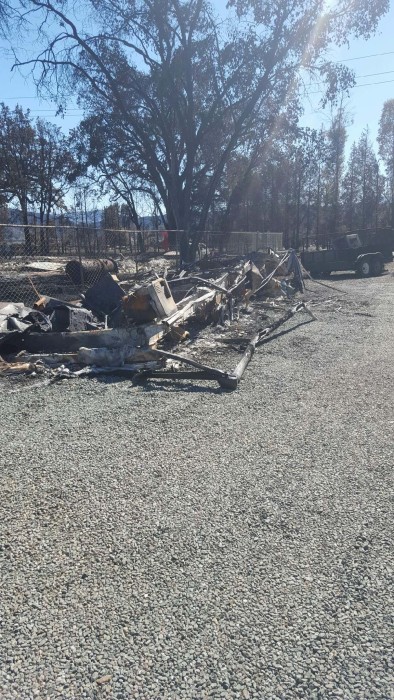 Upon arrival at the animal hospital, it was immediately apparent that there was plenty to do. They were surrounded by so many afflicted animals.  Their injuries and illnesses varied from third degree burns, to severe respiratory distress from smoke inhalation, gastrointestinal illnesses from contaminated water, all the way to parvovirus and distemper from the fire spreading disease by burning through otherwise inaccessible areas.
After spending the weekend working on so many fur-baby fire victims, it became apparent to the volunteers that there were 2 cases in particular that required 24-hour medical care and specific treatments that went beyond what the animal hospital in Middletown could provide because they weren't a 24-hour clinic.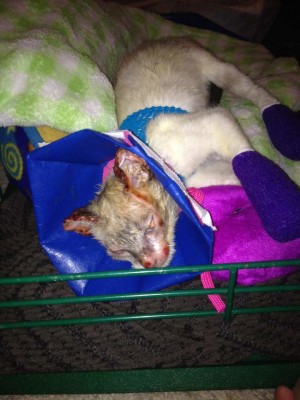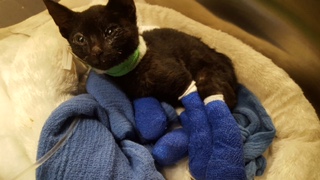 Both of these "cases" were kittens, not more than 3 months old.  One little siamese girl, and one all black domestic short-haired boy that the volunteers had grown quite attached to, and it was decided that they would be brought back to the Dublin location of SAGE Veterinary Emergency and Specialty Centers.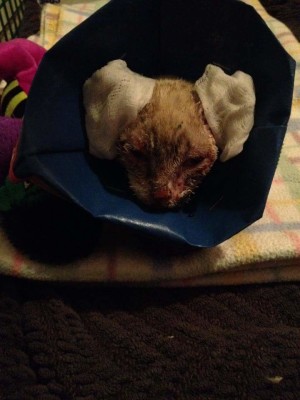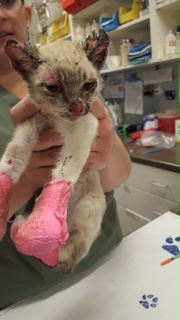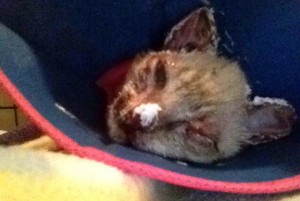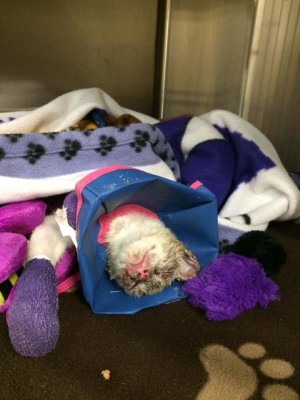 The siamese, now named Phoenix, had 2nd and 3rd degree burns on all 4 of her paws, her ears, her face, and her tail.  All her fur had been singed, and she was in need of 24-hour care, including daily sedation and bandage changes, surgical debridement of the dead tissue so new tissue could take its place, and constant round-the-clock pain control.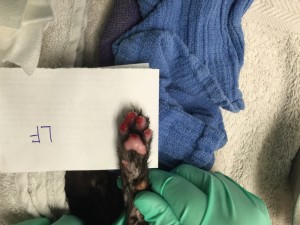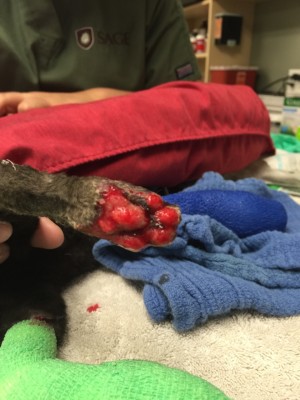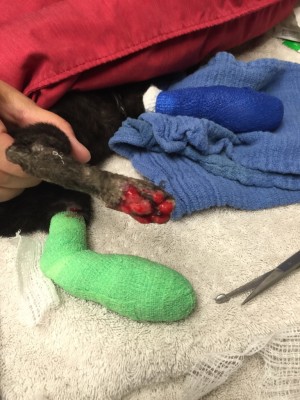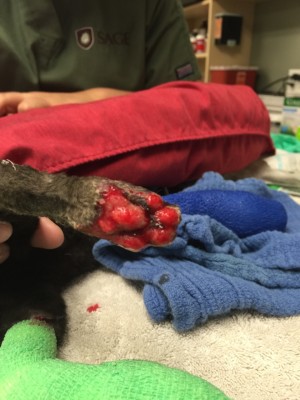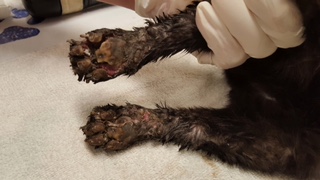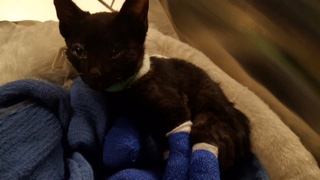 The little black short-haired boy, now named Coal, had 3rd degree burns on all 4 of his paws, he was extremely dehydrated and malnourished, and was too sick to eat or drink on his own.  He too needed 24-hour care including IV fluids (administered through an IV catheter in his jugular vein because he was too dehydrated to have one in his little arm), round-the-clock pain control, daily bandage changes, and daily blood work to make sure his little internal organs were strong enough to continue to produce the things he needed to heal.
Both of these kittens have found foster homes with nurses from SAGE Veterinary Centers, and although they are both thriving and healing well, they will still need daily care for weeks (and possibly months) to come.
Please help these two Valley Fire victims by contributing donations to fund their medical care.  Whatever you can spare would be greatly appreciated.  The smallest amount collectively makes a HUGE difference!"
If you are able to help these kittens, please click here to make a donation for their veterinary care:
From the bottom of our hearts we thank you for your help and support!