Have you ever been told that your pet would be "monitored overnight"?
Think for a second about what that term means to you, and then see if the following information matches your definition.
Unfortunately, "overnight monitoring" or "monitored overnight" doesn't mean the same thing in every veterinary or boarding facility, and I believe this causes a lot of confusion among pet parents. Determining the appropriate level of monitoring necessary for your pet when boarding overnight depends on a few different variables. Specifically, the level of care that your pet needs, AND the facility.
One of the best examples I can give comes from my years as a vet tech.
During the holiday season, a family brought in their cat named Tank for his annual exam, a few days before Tank was to board at our hospital. Tank was an overweight male cat who had a history of urinary issues (and he was one of my favorite patients). During his annual exam, his mom mentioned that he was drinking and urinating excessively at home. We knew this might lead to a diagnosis, so we began running bloodwork and a preliminary urinalysis. After a few tests, we determined that Tank was diabetic (Diabetes in Cats: PetMD).
Tank was going to need insulin injections to regulate his blood sugar. Standard procedure is to determine their ideal insulin dosage by performing a glucose curve. Essentially, Tank would need to come into our hospital for a day, and we would record his blood sugar every 2 hours over the course of 10-12 hours. However, we only had a few days before Tank was scheduled to board with us at the vet hospital.
Our veterinary hospital didn't have a complete boarding facility. However, we did offer overnight boarding for cats. Although the cats had a place to sleep comfortably overnight, no one would be at the hospital during non-office hours. Normally, Tank staying the night would be no problem, but in light of his new condition, we didn't feel it was wise to leave him unattended overnight so soon after starting him on insulin. Therefore, we referred his mom to our local emergency facility where Tank would have veterinary staff nearby to check on him in case his blood sugar dropped suddenly.
In this example, Tank wasn't going to be monitored overnight either way. However, some pet parents may have made that assumption based on a few things:
1) Boarding at a Veterinary Hospital = Overnight Monitoring: Unless your veterinary hospital is open 24 hours a day, it is likely that they will not have staff on site overnight. Therefore, your pet will only be available to veterinary staff during regular business hours. Secondly, unless the veterinary staff determines that your pet is in need of monitoring, they will simply be fed twice daily, given their necessary medications, and walked regularly (unless we are talking about cats, of course). At our hospital, we also kept brief medical record that included: daily food intake/output, necessary medications, and daily weight. This record helped us monitor the pet's health during their stay. On occasion, we determined that a pet needed additional monitoring and brought them to the doctor for an exam. If necessary, the cat would be brought to the main part of the hospital to be monitored.
2) Emergency Hospital = Overnight Monitoring: This definition depends on the facility and the classification of your pet (i.e. boarding versus patient). The true definition of overnight monitoring (as far as I am concerned) means that your pet's vitals are being recorded, and your pet is being physically checked on every hour at minimum. If your emergency hospital offers boarding, it is not safe to assume that they are also monitoring your pet overnight.
These assumptions can lead to significant communication issues between pet parents and veterinary staff. Therefore, to clear the air, it is wise to ask the following questions when considering a facility for your pet to stay:
1) Is your hospital open 24 hours a day? If not, will someone be here with my pet during non-business hours?
2) Will my pet be monitored by your veterinary staff as if they were a patient?
3) If my pet doesn't need monitoring throughout their stay, how often will your staff check on my pet?
4) What type of medical record is kept while my pet stays at your facility? i.e. do you track their weight or food intake?
5) How far away will my pet be from veterinary staff while boarded?
6) Is your boarding facility separate or connected to your veterinary hospital? i.e. are they operated as two completely separate businesses or the same business?
7) Do your hours change over the holidays?
Lastly, it is important to understand that boarding facilities don't necessarily have veterinary staff on site. That's right. Although your pet may be receiving medications and being watched by the employees of the facility, it does not mean that they are receiving veterinary care. There is no guarantee that they have any veterinary background or experience. Here are pertinent questions to ask your boarding facility:
1) Does your staff have veterinary experience? i.e. do you have a veterinarian or veterinary technician at the facility at all times?
2) Does someone with a veterinary background administer medications to my pet if they need them?
3) Is your staff required to be Pet CPR certified?
4) What type of medical record is kept while my pet stays at your facility? i.e. do you track their weight or food intake?
5) Is someone at the facility 24/7 or only during business hours?
6) If there are times when no one is at the facility, where will my pet be housed?
7) Do your hours change over the holidays?
Although some of the answers to these questions may seem simple and intuitive, these questions may provide you as a pet parent with better insight to the term "monitoring".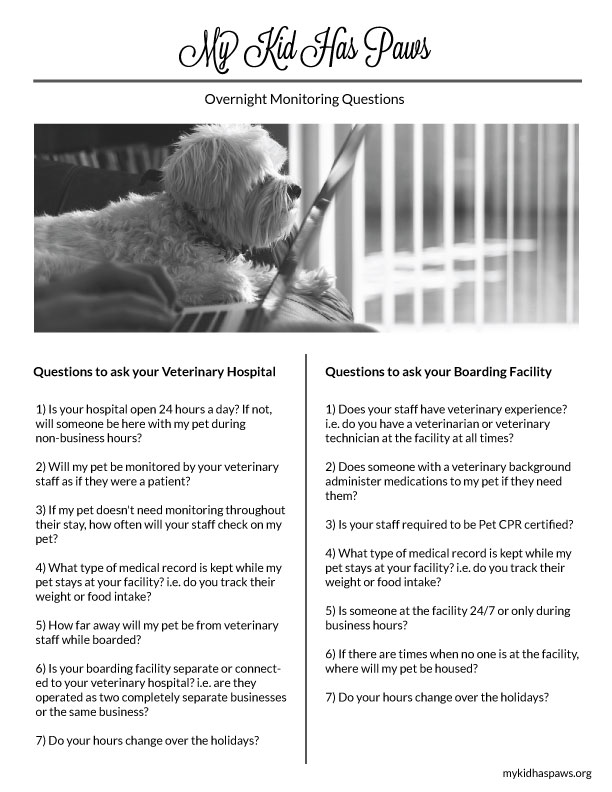 Have you ever been in a situation where your boarding staff or veterinary hospital did not meet your expectations?
To read Carol's Mom perspective on this same topic, please visit her at Fidose of Reality, here!