I don't know about you, but I suffer from a variety of different travel illnesses; car sick, air sick, sea sick…you name it!
Which means that I have to take special precautions when traveling. If we are on a curvy road, it is best if I drive because keeping my eyes on the road helps me keep my stomach settled. On any plane or boat ride, I take Dramamine and order ginger ale. Like most people who suffer from motion sickness, I found this out the hard way. I was about 6 years old, and I was coloring in the back seat of my mom's car when we discovered that looking down in the car was not for me.
Considering you may be traveling this holiday season, I thought it would be appropriate to address motion sickness in pets and what you can do to prepare for your trip. It's important to understand that both cats and dogs can experience motion sickness. To identify motion sickness in your pet, you should look for the following symptoms when traveling by car (PetMD):
Yawning or crying out in distress: Rooney is what I would call a talker. He is always verbally expressing his opinion, and occasionally, he cries out in the car. However, he has the habit of doing this to get our attention. So, if your dog is very vocal on a regular basis, cries or vocalization in the car may not be a sign of motion sickness. Cats can also cry out in distress while in the car. We would often see cats arrive at the veterinary hospital still crying loudly from the car ride. Knowing what is normal for you pet can be helpful to determine if this is a sign of motion sickness or not.
Excessive Licking: Excessive licking can be a sign of nausea and stress or a combination of the two. Dogs often exhibit this behavior when they are uncomfortable in some way. When I worked at the veterinary hospital, we would occasionally see some patients excessively lick while recovering from surgery. In these cases, it was often a combination of anxiety (from being in the hospital) and possibly some nausea from the anesthesia. In any case, be sure to keep checking on your dog throughout the trip for this symptom.
Excessive Drooling: Drooling is a sign of nausea in both dogs and cats. Your dog may drool a bit if you are traveling in warmer temperatures. However, excessive drooling is what you want to avoid.
Posturing: Occasionally, pets will look very stiff and uncomfortable. They might even refuse to move and almost look frozen. In this case, they are expressing their true discomfort regarding the car ride.
Vomiting: Because your pet can't shout out, "HEY! I don't feel good back here!", vomiting in the car may be the only symptom you see associated with your pet's motion sickness.
Urinating/Defecating: Lastly, some pets may even urinate or defecate every time they get in the car. I had a feline patient named Bailey, who defecated every single time he came to the veterinary hospital. Unfortunately, he had diabetes, and therefore, his trips weren't infrequent. We eventually started doing his exams at his house, so he didn't have to experience the anxiety/nausea associated with the car.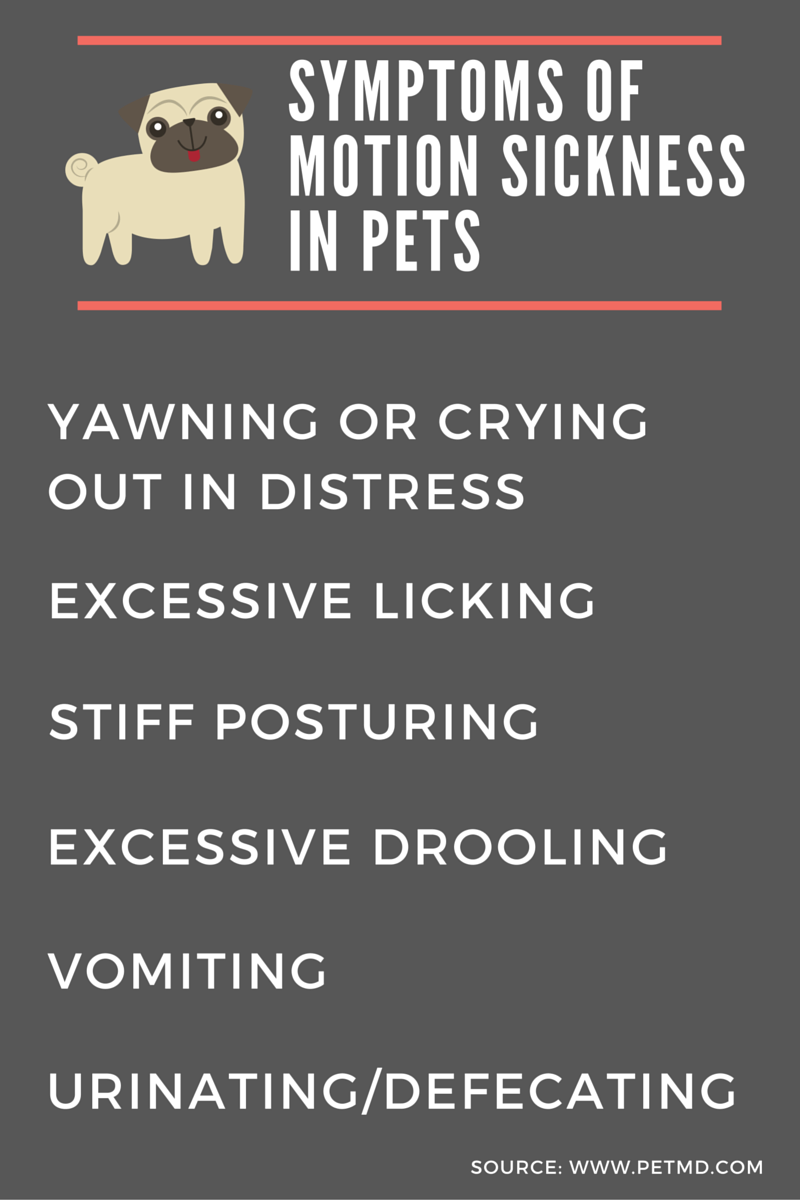 My pet expresses these symptoms, now what?
If you have discovered that your pet does indeed suffer from motion sickness, here are some suggestions:
I highly recommend consulting your veterinarian before travel. Your veterinarian may prescribe some medications that can help your pet feel more relaxed and less nauseated during travel. If you are uncomfortable with giving your pet medications for motion sickness, please ask your veterinarian about holistic alternatives.
In addition to keeping them safe and secure while in your vehicle, you can keep them in a place where you can monitor them for motion sickness symptoms. Some research suggests that your pet should be in the middle seat in the second row, rather than in the very back of the car where more movement can be felt.
It is possible that your dog needs to get used to traveling in the car, and you will then need to desensitize them to the car over time. Be sure to provide your dog with lots of positive reinforcement while they are in the car. Additionally, take them to places they enjoy like the park or on a playdate, not just to the veterinarian or groomer. It is always good to start with short car rides and work your way up to longer trips.
Lastly, if you have a young dog, it's possible that your dog will outgrow the behavior as their equilibrium develops (PetMD).
If you know that you need to travel for this holiday season, please get a feel for how your pet will do in the car ahead of time. Based on my experience, it's great to know what you are up against, and be prepared.
Does your dog or cat suffer from motion sickness? What solutions do you use to help them?