I don't know about you, but I love hiking. There is nothing more fulfilling for me than taking a nice long hike with Rooney and breathing in all the fresh air!
I try to hike with Rooney as often as possible. The inclines help improve his muscle confirmation, which helps improve our running. Additionally, the new smells are always something to look forward to for Roo. To ensure that we are fully prepared for our hike, I always bring a backpack with the following hiking essentials:

Hiking Essentials:
Water: Whenever you take your dog on a long adventure, and the water sources are unknown, it is always a good idea to bring water along with you. I think this is particularly important when hiking because you never know how long the hike will take you, or how tiring the trip will be. The more water you have available, the better for both of you. For a 1 hour hike, I usually bring 1 large water bottle for me, 1 full water bottle for Rooney, and 1 backup. During warmer seasons I bring 2 backup water bottles. I highly recommend the Gulpy water bottle for dogs or the Popware for Pets Collapsable Travel Water Dish, which is available at Chewy.com. For myself, I really like any water bottle that contains a straw. Whenever I drink out of water bottles with straws, I drink 2-3 times the amount of water I would otherwise, which helps to keep me hydrated.
Treats/Snacks: Treats are always a nice way to distract your dog if they become too interested in the wildlife, or start to sniff something unknown (yesterday, they helped me get the attention of a lost dog on the trail- see Instagram post below). Additionally, if your hike turns into a longer adventure than you planned, it might be nice to take a 30-45 minute break and let your dog eat a little bit. Most importantly, it is always good to have food on you in case there is a real emergency. We like to take Petcurean's Grain & Gluten Free Duck Jerky Treats & Snack Bar.
Poop Bags: I always have poop bags with me. Rooney will poop 2-3 times minimum on every outing. In addition to poop bags, I also carry The Fifth Paw which is a poop bag holder and the best thing ever (in my opinion)!
First-Aid Kit: Once again, you NEVER know what's gonna happen when you go on a hike. It's always a good idea to carry a Pet First Aid Kit with you. If you don't want to buy one, and you would like to make your own, please refer to this post: DIY Pet First-Aid Kit.
Paw Protection: If you are up against the elements, you definitely want to pack boots to protect your dog's paws from hot pavement or snow. Additionally, when the terrain becomes rocky or full of gravel, these boots can come in handy. Regarding Corgi legs; I can't seem to find a boot that will fit on Rooney's legs properly, and I would be open to suggestions from Corgi parents.
Layers: Once again, even though the plan is to make it in/out of your hike in 2-3 hours, you never know what mother nature has in store for you. Always bring an extra layer for both you and your dog. I just ordered a thicker jacket for Rooney from PrideBites (which I can't wait to show you). However, in the meantime, I take Rooney's Gold Paw Fleece and his water proof rain jacket with me in my backpack.
ID: If anything were to happen to you or your dog it is critical that you both have identification on you. Make sure that you carry your own ID/driver's license and that your pet has a current ID tag, microchip, or both! If you or your pet have any special medical conditions, make sure to have that information on the ID as well. (You won't believe this, but I wrote this part of the blog post yesterday before our hike, and, sure enough, my cousin and I found a dog on the trail and were able to get her home safely thanks to her microchip – see Instagram post below).
Sun protection: Even when the weather doesn't seem sunny, it is always good to wear sun protection. I wear a tinted moisturizer every day that has SPF 30 in it. However, don't forget that if your dog has a thin or white coat, they are more likely to be sunburned and could benefit from sun protection as well.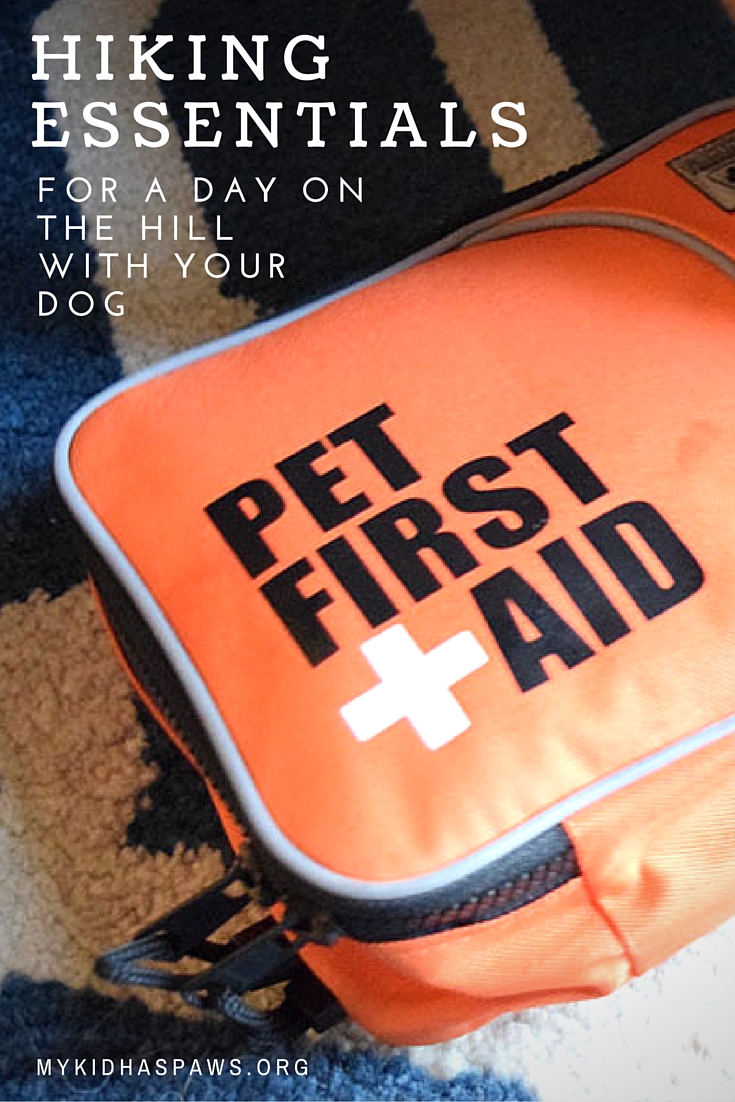 Gulpy | Popware for Pets Collapsable Travel Water Dish | Camelbak Water Bottle | Pet First Aid Kit (similar) | Northface Backpack (similar) | PrideBites Jacket | Gold Paw Fleece | Rain Coat (similar) | Earth Rated Poop Bags | The Fifth Paw
Do you like to hike? What are your hiking essentials?
If you are taking the January Challenge, how is your challenge going? Are you meeting your goals?
On a side note: Yesterday my cousin and I went hiking with our dogs, and we ended up finding this sweet girl on the trail. The good news is that we were able to reunite her with her parents within a few hours. A prime example of how microchips get pets home quickly and safely.
Disclaimer: I am a Petcurean Blogger Advocate. I have been compensated in exchange for providing my opinion. However, My Kid Has Paws only discusses products I truly believe in. In fact, I feed Petcurean to Rooney every day. Additionally, My Kid Has Paws is a member of the Chewy.com Blogger Program. Each month we receive a product from Chewy.com in exchange for our honest review. However, My Kid Has Paws, only shares products that we love and enjoy