Ahhh….January. The time of year when gyms suddenly become packed and your Facebook feed contains only photos of what your friends and family ate (only the healthy meals of course!). The January fitness craze is present every year, and in some ways, it can be a bit overwhelming. However, if it means that people will get out and exercise with their pets more often, then I think it's a good thing!
In case you missed it, yesterday I wrote a post about Resolutions & Challenges. I have decided that 2016 will be full of mini challenges that might allow us pet parents to pick up some good habits, or even learn something that could improve our pet's health. Since posting my blog post yesterday, I have received some great feedback and it seems like this is something that could be a lot of fun!
So today I would like to introduce you to January's Challenge: 31 Days of Exercise with Your Pet.
Now, I can appreciate that we are already 4 days into this month, but that doesn't mean it's too late to commit to a challenge. This challenge can be whatever you want it to be, just make sure you stick to it. Here are some examples:
If you don't currently walk your dog consistently, walk your dog every day for the rest of the month.
If you already walk your dog consistently, walk them further for the rest of the month.
Have you every thought of running with your dog? Maybe this month is a time to start. Remember start slow and let your dog work up to longer distances over time.
Have you ever wanted to hike with your dog, but you haven't had a chance? Make it a point to hike with your dog a certain number of times this month.
The point is to push ourselves to commit to providing our pets with more exercise and doing so more consistently. That means making sure we have the right equipment so that we don't make excuses for weather. That also means coming up with a plan to reach your goal.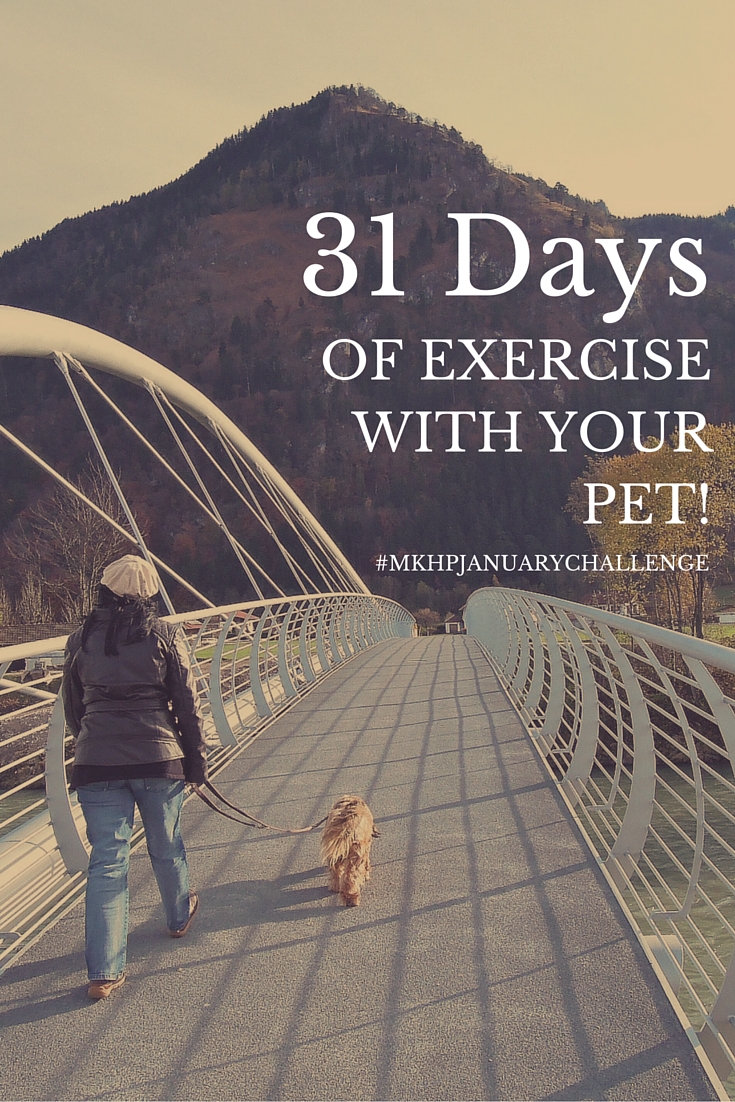 Since my theme for this year is CONSISTENCY, my goal is to walk/run Rooney a minimum of 6 days a week for at least 20 minutes. When I completed my most recent challenge, I set a minimum but pushed myself to see how far I could get throughout the challenge. The minimum really helped on days when I didn't feel motivated, and it also gave me room to be flexible so that I could still complete my goal.
Notice the title of this challenge didn't say dog, but pet. Yes, cat parents that means you too! Your challenge might be that you commit to spending 20 minutes a day making sure your cat gets exercise, whether it's indoor or outdoor. Don't forget, your cat can go on a walk, and may even be very interested in this concept. If you would like to learn more about walking your cat, I will refer you to my friend Tracy from Pawesome Cats who wrote Train Your Cat to Walk on a Leash in 5 Easy Steps.
Are there benefits to exercising your pet more often?
Yes! Obviously, more frequent and consistent exercise decreases your pet's risk for obesity and diabetes. Additionally, I have noticed that Rooney is more calm and, therefore, better behaved when I have taken him for a run or walk. Spending time with your pet and giving them the exercise they need also strengthens your relationship with them. Nothing makes me happier than looking down at Rooney while we are on a walk, and he looks up at me with the happiest expression.
How can MKHP help?
Throughout this month I will be sharing with you tips for hiking with your dog, winter outdoor equipment for exercise, and a running schedule designed for dogs. Additionally, I will be posting on social media to remind you of this challenge and your goals.
How can I participate?
These challenges are really for you and your pet, so don't feel pressure to share or document. I just hope that in some way, we can make improvements together this year. However, if you would like to participate on social media, just tag a picture of you completing your challenge and use the hashtag #MKHPJanuaryChallenge.
So tell me, what will be your challenge for this month? How will you accomplish your goal?