Recently, I was contacted by a reader named Gabrielle, who is determined to press upon pet parents the importance of early cancer detection. Gabrielle reached out to me via my Facebook page and shared with me that she just lost her dog Zoey to cancer. Zoey was diagnosed with a tumor on her spleen. Unfortunately, it is very common for these tumors to grow unbeknownst to the pet parent, and often the detection is too late. Gabrielle reached out to me hoping that I would write a blog post about early cancer detection and cancer screening. So in honor of Zoey, here is my take on cancer screening:
Cancer is one of those things we just don't want to think about. I'm almost positive that cancer has affected everyone reading this blog post in one way or another. It's terrible, and sadly, cancer only seems to be increasing in the lives of our friends and family members.
My family has a strong history of cancer. As a result, I seek frequent preventative testing to ensure early detection should I have to fight such a terrible disease. While many of us know our genetic history, or have an opportunity to know if our family is likely to have cancer, for our pets it's unusual for pet parents to know their exact genetic history.
This is where breed information and cancer screening can help.
Breed Information:
As a pet parent, it is important to know what diseases are common for your dog's breed. Why? So you can keep an eye out for symptoms, and possibly cure the disease with the appropriate treatments. For example, if you have a Boxer, it is important to know that Boxers are at an increased risk for cancers such as lymphoma, hemangiosarcoma, and mast cell tumors (Vetstreet). Therefore, as a Boxer parent, you would want to keep an eye out for changes in their usual behavior, appetite, and bowel movements, in addition to checking them regularly for unusual bumps and swollen lymph nodes. Any of these signs or symptoms would then be treated immediately.
If you are unsure of your dog's risks, ask your veterinarian.
I realize that not all pet parents have breed information. More often than not, we guess at the breeds of our mixed dogs. In these cases, there are two things that you can do:
Ask your veterinarian what breed they think your dog is. Industry professionals see an incredible number of dogs every year. Therefore, it is easy for us to spot certain characteristics of breeds to help you better determine your dog's breed.
Canine HealthCheck: Rooney and I tried Canine HealthCheck this past summer. This at home DNA test screens your dog for a number of inherited diseases and genetic mutations. This type of genetic testing can provide you with very valuable information about your dog's health. For example, while I know that Corgis, in general, are prone to Degenerative Myelopathy, I now know that Rooney actually carries the gene for this disease. Meaning, my knowledge of symptoms is crucial for early detection and the quality of Rooney's life.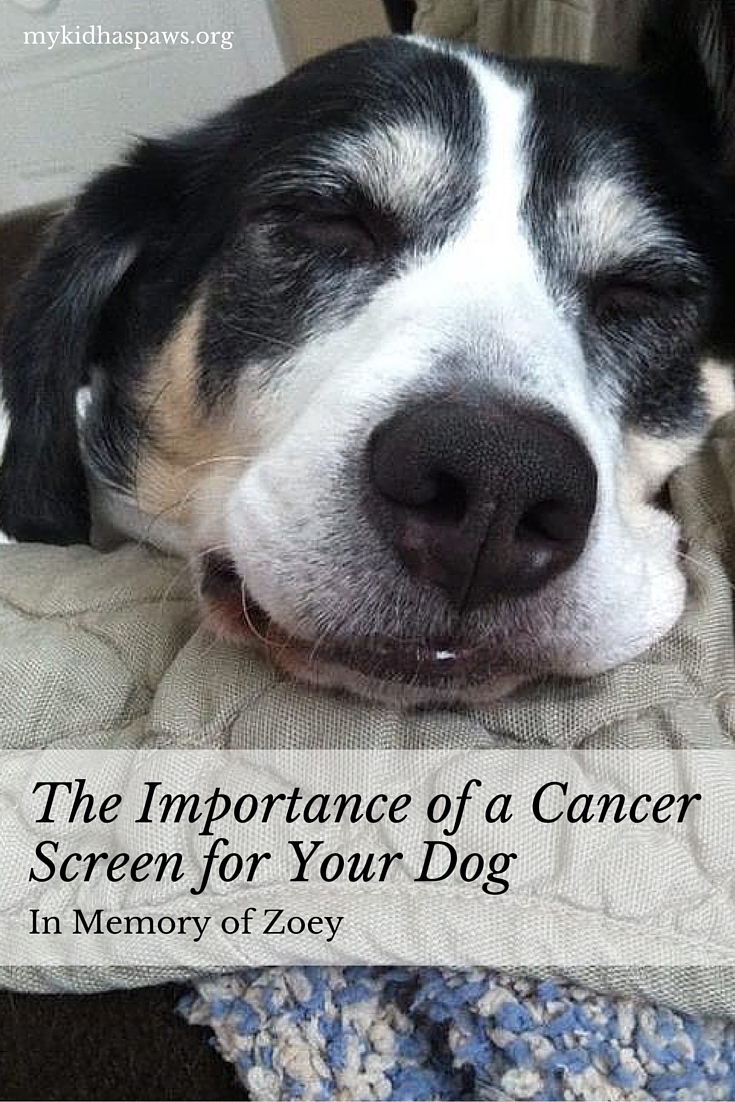 Cancer Screen: 
Whether or not you know you dog's breed, it is worth your time and effort to invest in a cancer screen. What do I mean when I say cancer screen? Specifically, I am referring to a number of basic tests that your veterinarian can run on an annual or bi-annual basis for your dog. Depending on your veterinarian's recommendations this may include the following tests:
Abdominal/Thoracic X-ray
Ultrasound
Bloodwork
Urinalysis
How often should you do the cancer screens?
This all depends on your dog's age, breed risks, and size.
Age: While young dogs typically see their veterinarian once a year for their annual exam (these are very important), when your dog becomes a senior it is worth it to increase your veterinary visits to bi-annual exams.
Breed Risks: As mentioned previously, some breeds are at much higher risks for cancer than others. So your veterinarian may recommend more frequent screenings for individual dogs.
Size: The size of your dog can determine when they are classified as a senior. For example, giant breeds tend to be considered seniors around 6.5-7.5 years old. While large breeds may be considered seniors at 8-10 years old, and small breeds at 9-11 years old, or even later. It all depends on the average life span of the breed. Therefore, if you have a household with one giant breed dog and one medium size dog, you are going to need to adjust their healthcare accordingly.
Why wouldn't my veterinarian recommend this to me in the first place?
Due to backlash throughout the years regarding client's financial hardship, veterinarians may not suggest preventative tests, but rather only suggest the tests that are absolutely necessary in order to save you money.
If you want to begin cancer screens for your dog, you need to open those lines of communication with your veterinarian and make the request.
What is my plan?
Rooney has yet to have an ultrasound, but I do have baseline chest x-ray on file for him, and I do request annual bloodwork just in case. When he turns 8 (he is 5.5-years-old now), I will conduct a cancer screen, and will do so every year moving forward. When Rooney's veterinarian recommends we increase to bi-annual screens, I will abide.
What has been your past experience with preventative testing? In Zoey's memory, are you willing to have a cancer screen for your dog?