I work full-time, and so does my husband. We will probably always work full-time.
While some people and thought leaders have expressed that working full-time and having a dog is unfair and unacceptable, I must disagree. My immediate response to these people, is to ask them the following question: So you don't think veterinarians or veterinary technicians should have dogs?
Usually, this gets them thinking, and rarely do they have an intelligent response.
While I could go on defending why I think pet parenting and working full-time is acceptable, I will leave that for another blog post.
Right now, I would like to address the biggest challenges pet parents who work full-time face, and how to overcome them.
Challenge 1: Travel
Many people who work full-time end up having to travel for work. Sometimes, these work trips are scheduled on short notice. When this happens, you can get stuck trying to find a space in your local dog hotel or kennel.
If you know that traveling for work is a possibility, be sure to have not only 1, but 2-3 pet sitters that you can call on for last minute overnight arrangements. Kennels and doggie hotels can get full, and pet sitters can only take or stay with so many dogs. That's why it's important to have backups AND have backups who are familiar with your dog and vis versa. Nothing is scarier for your dog than you suddenly leaving them with a stranger. Not to mention the stress it might put on you if you have to choose whoever is available rather than who is the best.
Challenge 2: Time
When you work full-time and have a commute, your work week hours can be crazy. Sometimes, you may spend more hours away from home than you do at home (including sleep). Giving your dog dedicated time is really important for keeping your relationship strong. I don't think anyone reading this blog wants a dog in their home for show. You want to have a strong bond with your dog. You want them to love you as much as you love them. So here are some of my ideas for spending quality time with your dog even when you have a crazy work schedule:
Walk them. Providing your dog with the exercise they need is not only crucial for their health and good behavior, but it strengthens your bond. If you don't have time to walk them for 30 minutes in the morning, aim for 2 shorter 15 minute walks (one in the morning and one in the evening). I recently started a new work schedule, and I get up at 5:30 to take Rooney for a walk once or twice a week, and on other days I try to walk him in the evening when I get home.
Play games. Right now, many pet parents across the U.S. can't walk their dog every day due to the weather. In these situations, you can always play games with your dog. Treat puzzles can provide lots of activity and stimulation. However, if your dog only wants to destroy treat puzzles (Yes Rooney, this is you), you may want to try some indoor nose work. Playing games with your dog for 20-30 minutes gives them lots of mental stimulation and makes them feel loved.
Training. Work on basic or advanced tricks with your dog. Similar to playing games, this activity will give your dog 20-30 minutes of quality time, which in turn strengthens your bond.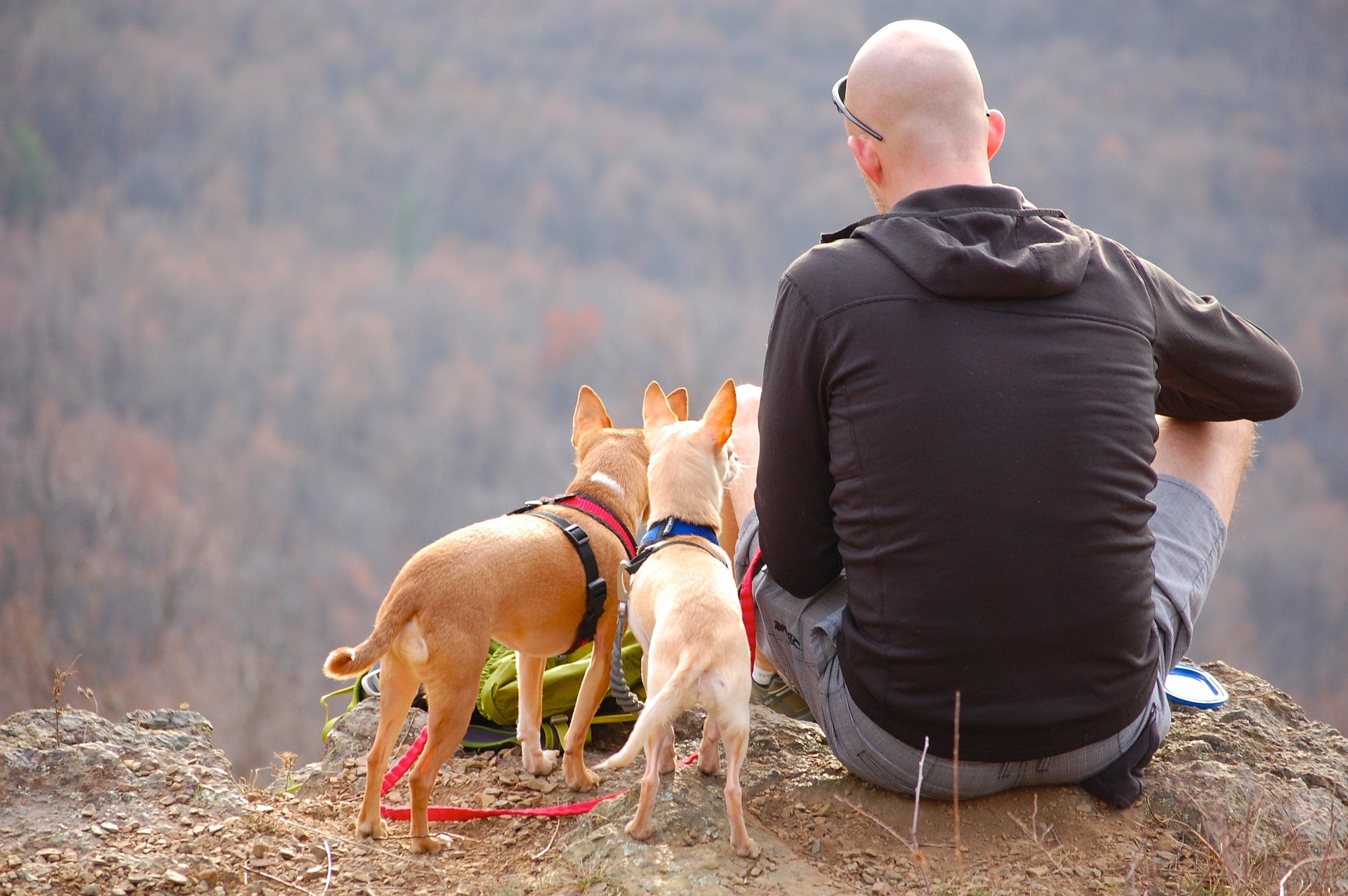 Challenge 3: Exercise
I know that I mentioned walking with your dog above, and while that provides your dog with some of their needed exercise, it may be more of a bonding activity for you and your dog, and they may need even more exercise. If you work full-time I would recommend providing your dog with one or two of the following options:
Dog Walker. Even if you walk with your dog several times a week, your dog may need longer more challenging exercise intervals. If this is the case, you may want to find a good dog walker. If you live in an urban area, chances are, there is an app for finding a dog walker. For example, if you live in Los Angeles, San Francisco, Chicago, Seattle, or New York, you can use Wag, or if you live in Los Angeles, Orange County, or San Diego, you can use ZingyPet.
Doggy Day Care. This is an option I am currently looking into for Rooney. It's important to understand that doggy day care comes in many different shapes and sizes. You may be looking for more of a large doggy day care that has flexible hours in a public location, or you might prefer a smaller more private doggy daycare. Either way, Rover.com is going to be a great resource for finding dog walkers, doggy day care, and dog boarding in your area.
The added bonus to doggy day care is that Rooney can commute with me, which gives us more time together. While dog walking and doggy day care can get a bit expensive, it is worth it to consider these activities as a supplement to the time you spend with your dog.
The best advice I can give as a pet parent who works full-time is to incorporate your dog into as many of your activities as possible and evaluate the quality of time spent with your dog. Try your best every day and remember…they only have you!
Was there anything I left out? What challenges do you face as a pet parent who works full-time?