If you have visited any pet blogs in the month of February, you are already well aware that February is National Pet Dental Health Month!
That's why this month's challenge is going to be 20 Days of Dental Health!
Specifically, I am challenging you to actively take steps toward improving your pet's dental health for 20 days. Here are a few examples of steps you can take:
Research: Teach yourself more about pet dental health! Why is it important? How does dental health affect the overall health of your pet? What exactly is a pet dental?
Get Your Dog Used to Brushing: If your pet has never had their teeth brushed before, you may need to desensitize them to the process. A great way to do this is to simply start handling their mouth and checking their teeth every day. I will discuss more on technique in another post.
Brush Their Teeth: If your pet is already used to you handling their mouth and perhaps you have even brushed their teeth a few times, I challenge you to brush their teeth 20 days in a row so that you can make it part of your routine!
Find an Alternative to Toothbrushes: It's common for pets to not tolerate teeth brushing. If that's the case with your pet, there are alternatives to toothbrushes. My friend Carol from Fidose of Reality has some excellent suggestions.
Find a Supplement: There are supplements available for pets to improve their dental health. I have not tried any of these with Rooney yet, but I hope to try VetriSCIENCE Perio Support for cats and dogs as a way to improve Rooney's dental health.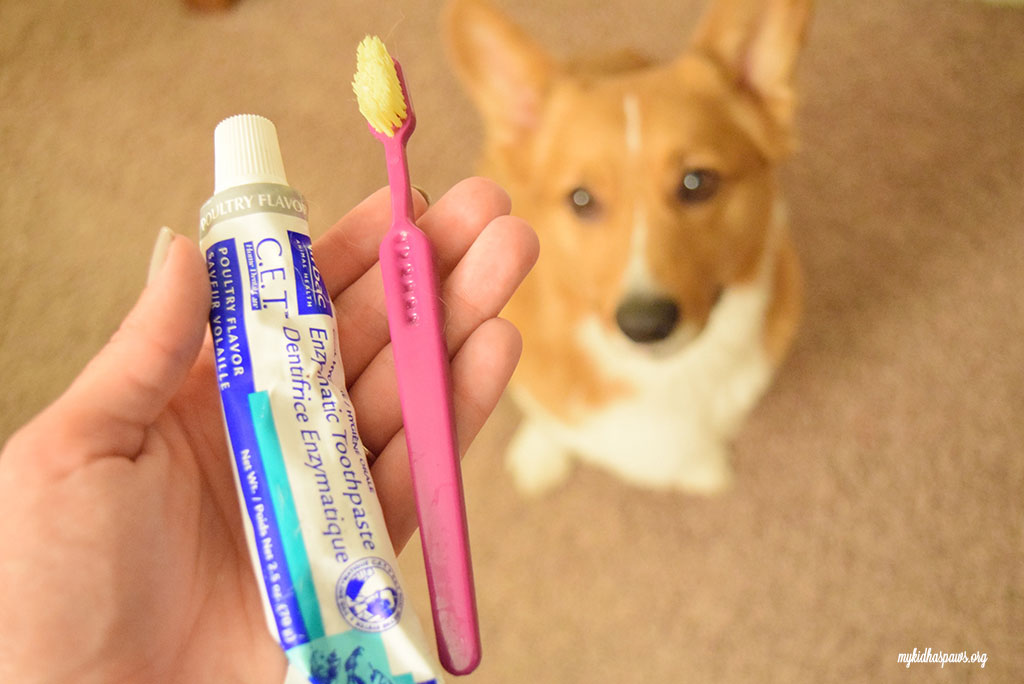 For the next 20 days, I will be brushing Rooney's teeth each night. Rooney doesn't mind the brushing, and he loves the Poultry flavored C.E.T. dental toothpaste. I'm even taking some before/after pictures to see if we can notice a difference.
So what do you say? Will you join me for a month of improved dental health?
---
January's Challenge was 31 Days of Exercise With Your Pet. Did you challenge yourself to more exercise? How did it go?
I committed to walking Rooney more often. While I didn't reach the 6-7 days a week that I hoped for (we walked about 4 days a week), we still upped our usual exercise. By exercising more frequently, I noticed that Rooney was calmer at night and now walks much better on the leash. My hope is to continue with the minimum 4 days a week and see if I can't improve that number as 2016 continues.
I want to recognize our friends Bentley & Pierre from Barking from the Bayou for increasing their activity in the month of January! Great job!