Although Northern California is inundated with rain right now (and many other areas are still covered in snow), Spring is right around the corner, and with Spring comes allergies.
As a lifelong sneezer, I can tell you that bad allergy days are the WORST! You spend your day with watery eyes, a runny nose, a headache, and very little energy. The worst part is knowing that your pet is also suffering from seasonal allergies!
Many veterinarians describe seasonal allergies as inhaled allergies or atopy. It is important to understand that inhaled allergies are different from food or flea allergies. It is also important to know that inhaled allergies in pets do not present the same systems as in humans. For example, while I might have watery and itchy eyes, Rooney will actually display itchy ears and skin.
The following are symptoms of inhaled allergies or atopy (Dr. Fosters & Smith):
Chewing of the feet
Licking of the paws & flank
Rubbing of the face
Red or infected ears
Hotspots or facial scabbing in cats
Wheezing
So you know that Spring is right around the corner, and you know that any minute your dog or cat is going to start itching or displaying other symptoms that are going to result in a trip to the vet's office. Not to mention, as an allergy suffer you know your symptoms are only a few weeks away.
Therefore, I thought I would share 4 ways reduce allergy symptoms for you and your pet's today!
1. Wipe Their Feet
Dogs and cats drag in a lot of allergens from the external environment. While you do your very best to clean your floors and vacuum the carpets regularly, this might not be enough to prevent the spread of allergens throughout your house. Therefore, I recommend wiping your pet's feet before they come back into the house. This is especially important for dogs since cats will groom their own feet throughout the day (not to mention, they might not let you clean their feet). This one small task can help you reduce allergens in your home.
What should you use to clean their feet?
Make sure that you clean your pet's feet with grooming wipes that are specifically safe for your pet (be sure to read the instructions). Here is a list of wipes from Chewy.com.
2. Wash Their Blankets (& Yours)!
Similar to wiping your pet's feet, washing their blankets and your own at least once a week can help reduce allergens in your home.
You may be thinking to yourself, okay I can wash my dogs blankets, but how the heck am I supposed to wash their beds and toys? If your pet doesn't have a machine washable bed or toys, I highly recommend you take a look at Pridebites! All of their beds, blankets, and toys are machine washable!
That's right, their beds have a removable fleece cover that you can easily keep clean, further reducing allergens for your family AND reducing any pollen or allergens your dog might have brought in from outside.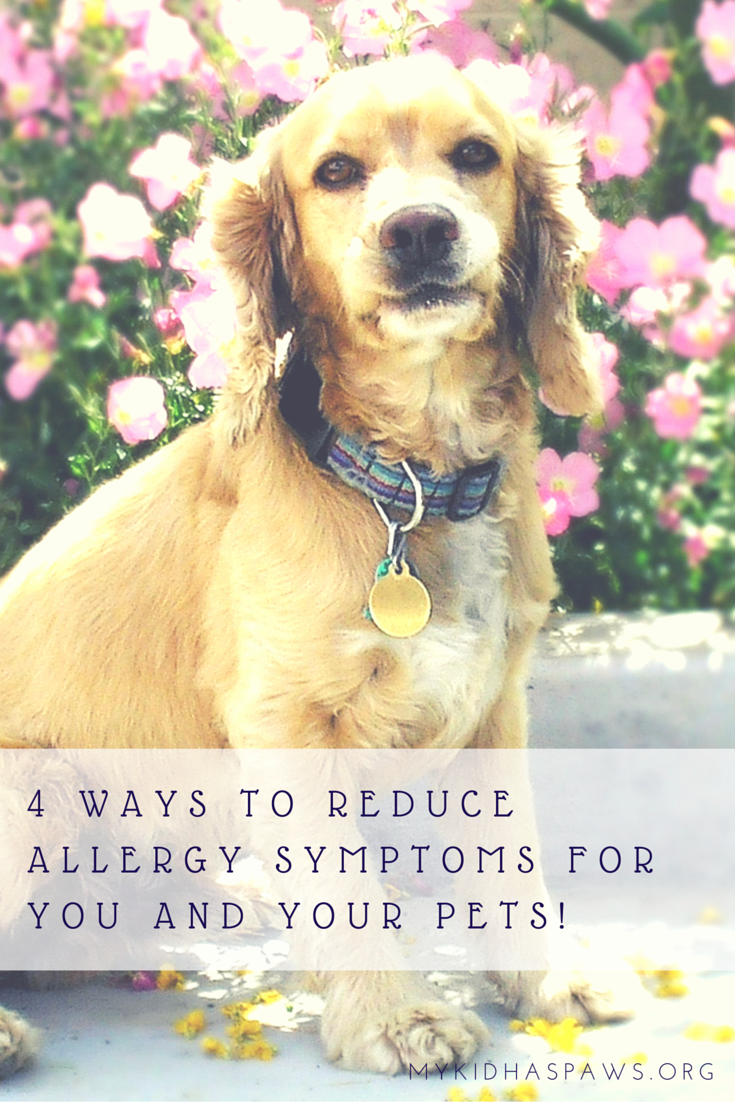 3. Bathing
To improve your pet's allergies, you should bath them regularly. This applies specifically to lazy cats (i.e. the cats that choose not to groom) and to dogs.
I highly recommend using a soothing shampoo, I use Organic Grooming Shampoo & Conditioner from Only Natural Pet for Rooney. These shampoos are made from natural ingredients that won't irritate your dogs skin. Not only will this improve their itchy skin, but it won't irritate their skin if you keep up with regular baths. In general, dogs don't need to be bathed more than once a month (Merck). However, I would suggest getting a recommendation from your veterinarian on the frequency of bathing based on your dog's coat and allergies.
4. Start Prevention Now
Allergies are a long-term problem. Cats and dogs can be prescribed long-term seasonal medication and supplements for allergy treatment. For example, Rooney receives a topical medication that reduces his allergy symptoms and aids in allergy treatment, but I only give it to him during certain times of the year. Many veterinarians recommend the use of local honey and supplements to promote a healthy coat and may aid in the reduction of skin allergies. If you know that your cat or dog struggles significantly with inhaled allergies, talk to your veterinarian now and see if there is something you can start today to prevent an allergy breakout in a few weeks.
As for you, start taking your daily allergy medication BEFORE your symptoms begin. My mom informed me of this excellent information, and it has significantly improved my dad's seasonal allergies. It would improve mine too except that I forget to take it until it's too late, so don't be like me 🙂
PLEASE NOTE: many allergy medications contain steroids and should not be given to your pet long-term, please DO NOT start your pet on any medications, even if they have been prescribed in the past, without first consulting your veterinarian!
So those are my suggestions. Do you have any suggestions for reducing allergies?
Disclaimer: I am a PrideBites PAWtner and an Only Natural Pet Affiliate. This post contains my affiliate links. If you purchase a product via these links and use my discount code, I will receive a commission. Neither PrideBites nor Only Natural Pet are responsible for the contents of this post. My Kid Has Paws only shares information about things we believe our readers will enjoy.
---
Additional helpful information:
3 Ways to Improve Your Dog's Itchy Skin
Why Is My Dog So Itchy? Understanding Canine Allergies