Water is the elixir of life! It's the most important thing we can provide for ourselves and our pets every day.
But what if your local water supply wasn't healthy enough for you or your pet?
Trupanion, Rooney's pet insurance company, released a study in April 2016 that found a correlation between pet health and water quality. Specifically, they cross referenced the urinary tract related claims they received from pet parents across the U.S. with the Environmental Protection Agency's hard water ratings. The findings were consistent with much of my experience in the veterinary hospital. Here are a few key takeaways:
1. Pets living in areas with extremely hard water were more likely to develop a urinary condition.
2. Santa Cruz, Santa Clara, and Thousand Oaks have some of the highest hard water ratings in the state of California.
3. Male cats living in areas with an "extremely hard water" rating were three times more likely to develop urinary issues as compared to male cats in areas with only slightly hard water.
4. Cats are 40% more likely to run into urinary health issues than dogs.
Basically, hard water poses a larger threat to cats especially if they are male. However, based on this research, hard water does indeed increase the chances that your pet will experience urinary issues.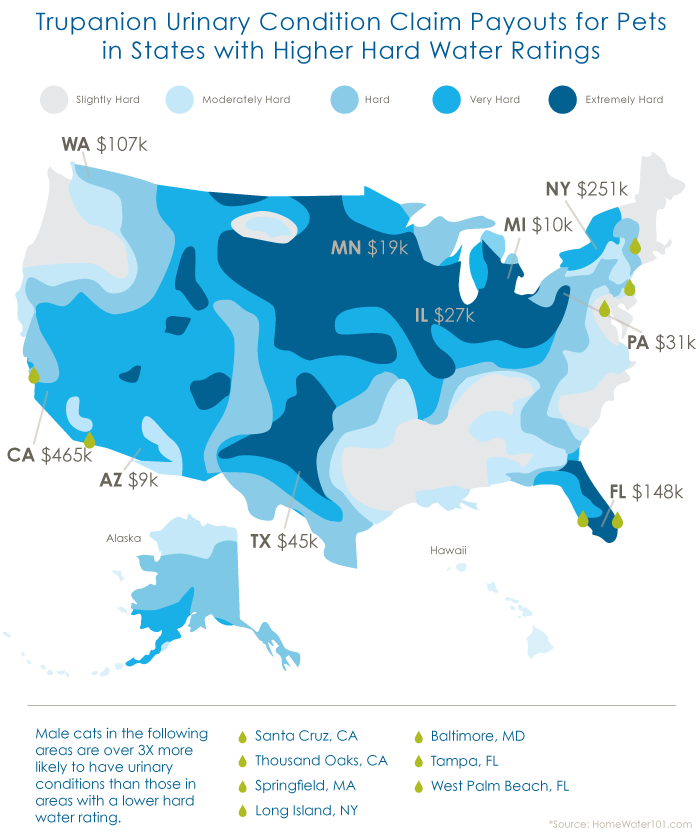 The Trupanion team was generous enough to provide me with additional information for the Bay Area regarding hard water and urinary claims.
1. In the Bay Area, Trupanion has paid over $225,000 toward urinary conditions in cats and dogs, with $6,000 going toward crystalluria specifically.
2. The most commonly claimed conditions are Urinary Tract Infections, Incontinence, Blood in Urine, Urinary Obstruction, and Crystalluria.
Let's break down this information a bit further:
1. Hard water is classified as having more Magnesium and Calcium.
2. When looking at all Trupanion claims, they found that the following urinary issues were the most common: urinary tract infections, cystitis, urinary obstruction, and crystalluria.
3. When examining the hard water ratings, they found that claims of crystalluria (crystals in the urine) were more common.
What does this information mean for you as a pet parent?
1. Get your pet a filtered water fountain. Petsafe has a Drinkwell series with Carbon filters hat can protect against hard water, but the filters have to be frequently cleaned to prevent Calcium buildup.
2. Take bottled water with you on hikes and other outdoor activities.
3. Make sure your pet drinks enough water. Water is crucial for appropriate kidney function and is essential for avoiding urinary tract infections and diseases.
4. Look into getting a water softener for your home. In some cases, this might be the best option for your family pending the treat of hard water.
What tips and tricks do you have for avoiding hard water?
I want to thank Trupanion for providing us with such important information.