As I mentioned last week, we took a vacation recently as a family, and it was so much fun!
Rooney, my husband and myself were so lucky to take a week-long road trip through the Southwest!
Roadtrip Summary:
The Southwest road trip started out visiting Paso Robles and Orange County, and then stopped in Prescott, Arizona and finally landed in Albuquerque, New Mexico to enjoy a beautiful stay at the Hotel Andaluz.
Activities with Rooney:
We certainly took Rooney for a record number of walks in one week, and we had a lot of pit stops where we enjoyed some playtime, but these were the main highlight activities of the trip.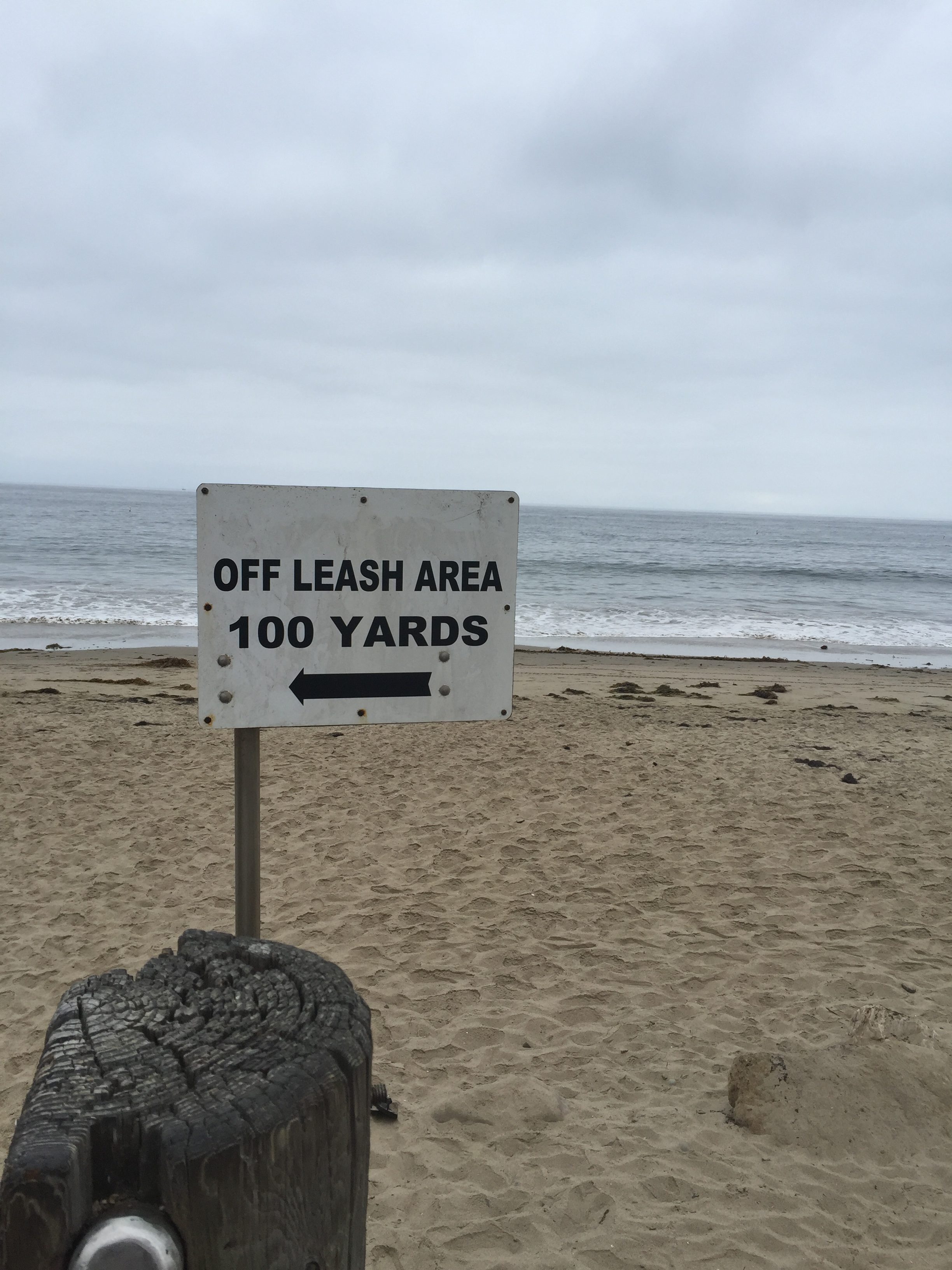 Arroyo Burro Beach, Santa Barbara: This beach was a strategic stop on our drive through California. Rooney loves the beach and I wanted him to be able to put his paws in the sand and the ocean at least once on our trip. He had lots of fun!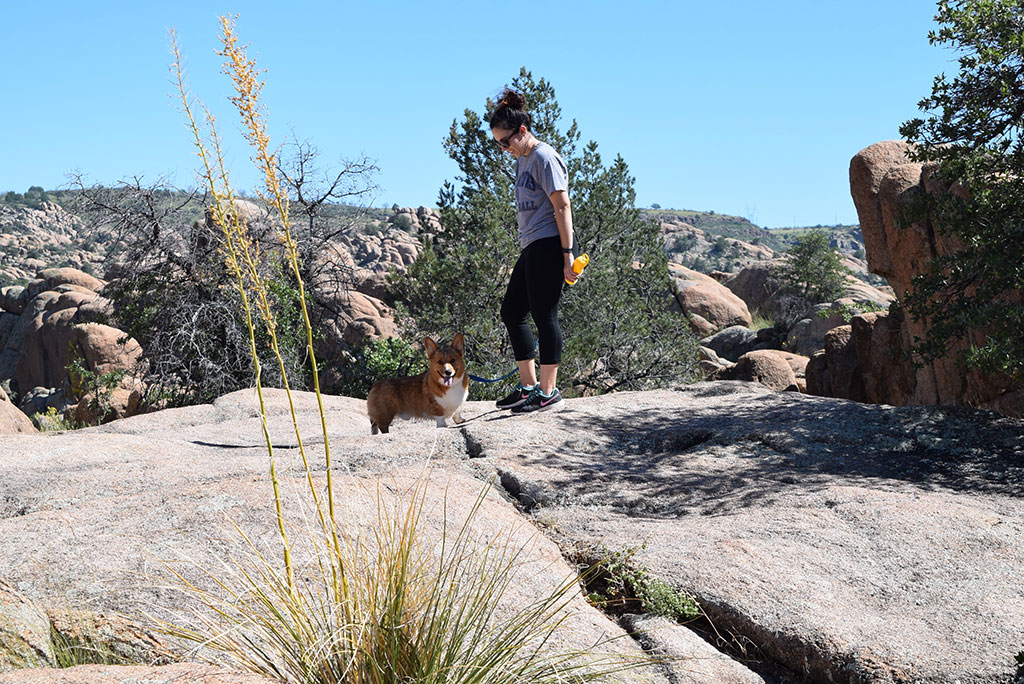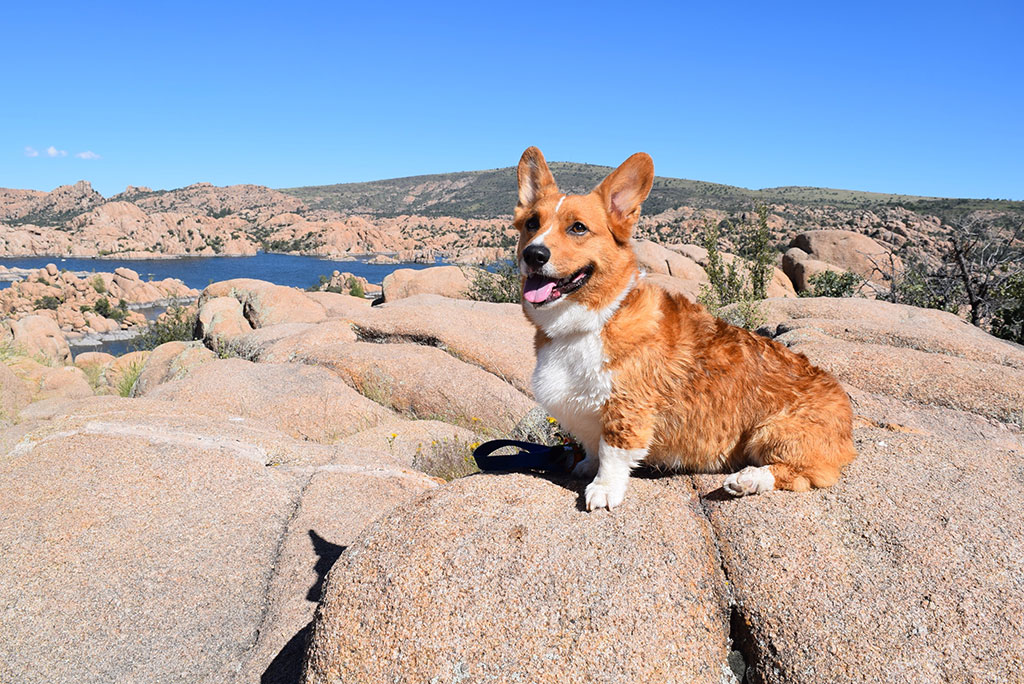 Watson Lake, Prescott, Arizona: A beautiful mostly flat trail where your dog can enjoy some on-leash exercise. Rooney even enjoyed a little swimming, although he wasn't supposed to. (I have a water dog disguised as a Corgi). Also, as an added bonus, parking is free on Wednesdays, which just so happened to be the day we were there.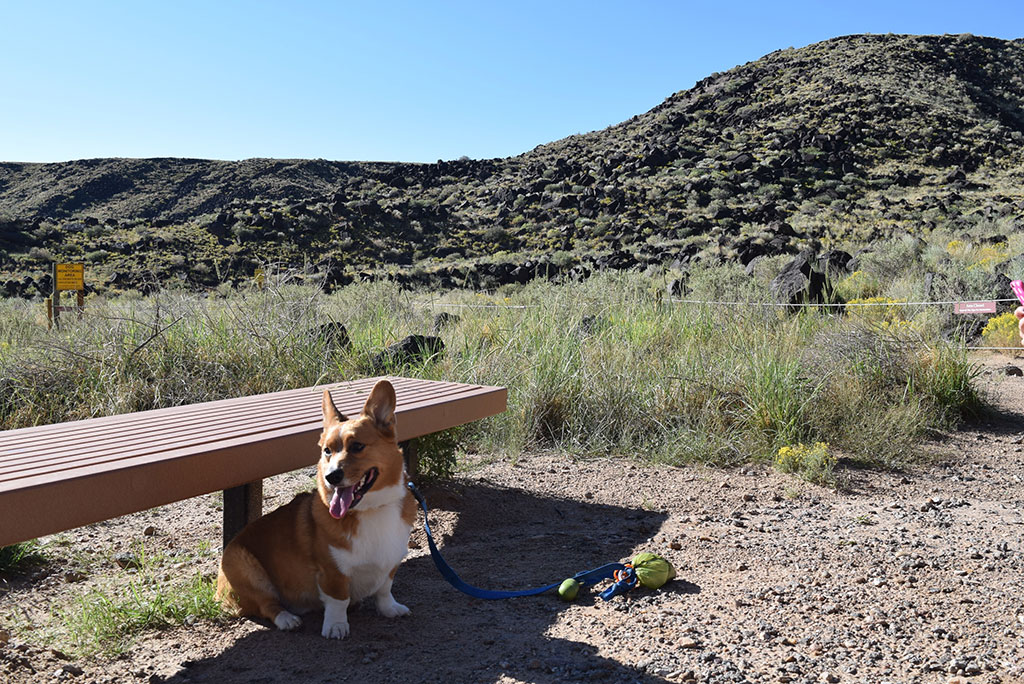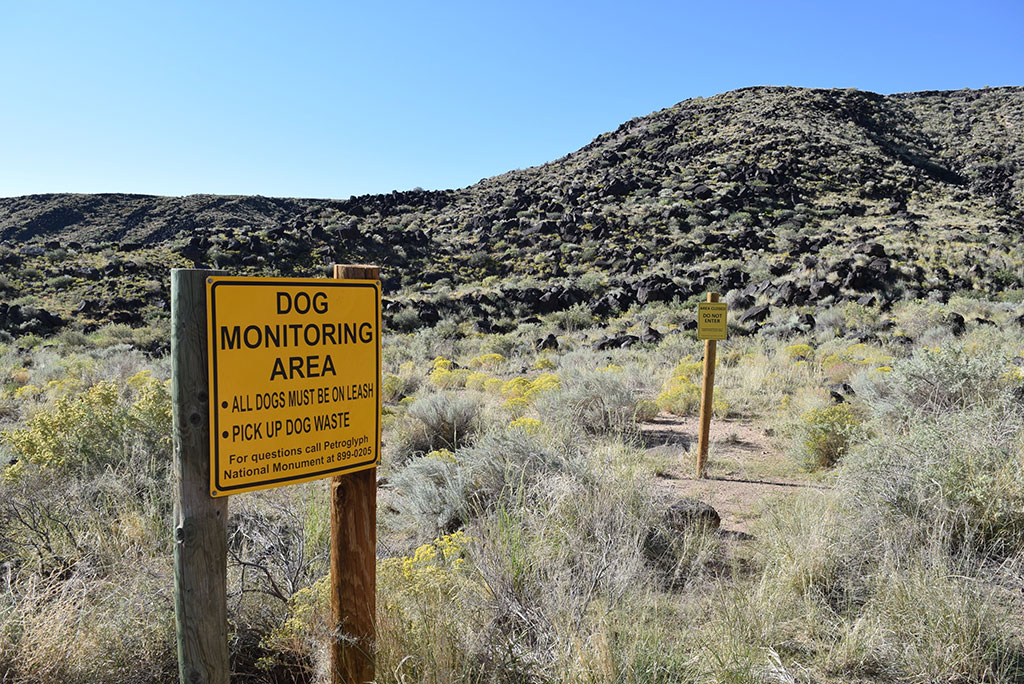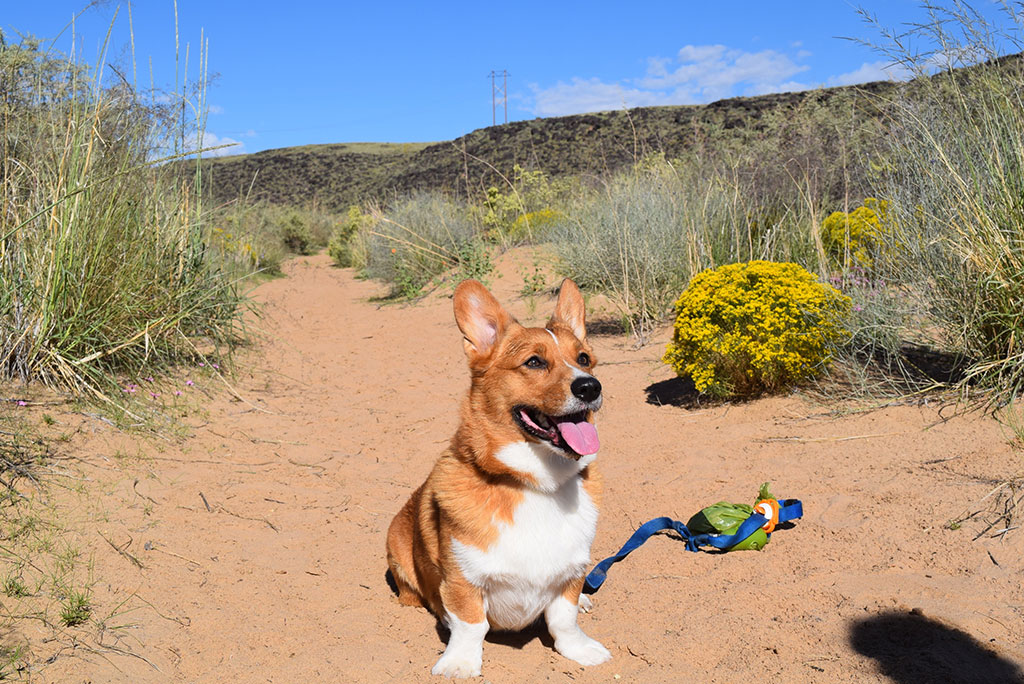 Petroglyph National Monument: A beautiful quiet trail where you can enjoy some culture and history. I highly recommend going early in the morning during summer months to avoid the heat and potential rattlesnake sightings.
Roadtrip Essentials for Rooney:
Crate: Rooney loves his crate and that made traveling so easy. In the car, we wanted him to be crated not only for his comfort but also for his safety. Not to mention, we would bring his crate into the respective hotels and Rooney would immediate know he had a safe place to lie down and relax that was familiar. I think this helped him adjust to the daily changes on our road trip swiftly.
Water: This may seem like a no-brainer, but the best thing we purchased before leaving on our road trip was a case of waters from Target. This saved us from having to buy water bottles for ourselves and Rooney and allowed us to keep Rooney hydrated throughout the trip. I felt that this was particularly important in the desert. I don't know about you, but when I visit the desert, I immediately become dehydrated. Traveling for long hours in the car didn't help either since you don't want to have to stop and use the restroom every hour. Therefore, I provided Rooney with extra hydration by putting water on his food every meal and keeping water out and available constantly while we were in the hotel.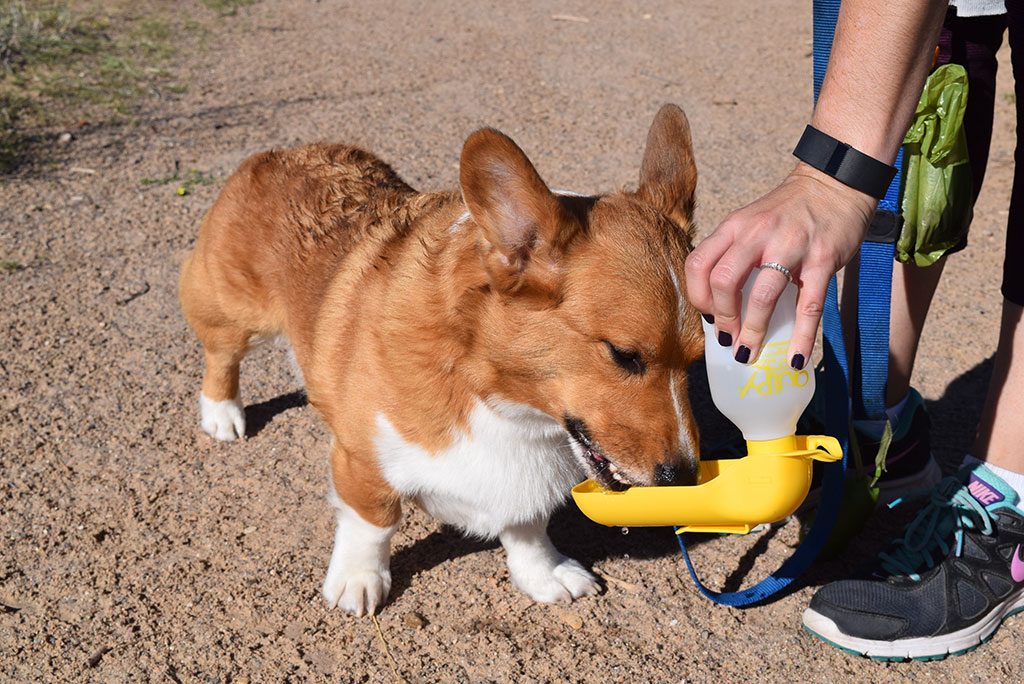 Additionally, while we were on the road, I brought my favorite item of all; the Gulpy. The Gulpy is hands down my favorite way to bring water anywhere for Rooney. It is easy to refill and because it reduces spilling water, I can provide Rooney with water while we were driving, hiking, and walking on the beach.
Towels & Blankets: I kept a towel in the car specifically for dirt, mud, and sand. Rooney loves to be messy, so I wanted to be prepared to protect the car where necessary. We, of course, had blankets in Rooney's crate at all times, but we also had an extra one to cover his crate in the hotel room to provide him with a little more peace and quiet. This came in handy particularly in Laguna as we were in a room right next to the big heavy exit door.
Earth Rated Poop Bags: Simply because picking up after your dog is always important, especially when companies go out of their way to welcome your dog, it is your basic duty to pick up after them.
Wag N' Go: The Wag N' Go is an amazing product designed by the founder of Wag the Dog UK. After visiting their website, it seems as though they are out of stock for now. However, I would definitely sign up for their newsletter because this product is so amazing. In one lightweight bag that fits easily across my body, I was able to carry; 10 days worth of food and treats, poop bags, toys, and a blanket for Rooney. For my initial Wag N' Go review, please visit here, and for a video review visit here.
Best Roadtrip Tools:
BringFido.com: When we were looking for activities to do with Rooney, we used BringFido.com to make sure outdoor places were pet-friendly and to get a sense of the best time of day we should visit. This info came in handy particularly in New Mexico when we visited the Petroglyph National Monument in Albuquerque.
There weren't a lot of reviews, but we did see that someone recommended bringing lots of water and a hat since it gets hot. Due to that recommendation, we decided to take that trip first thing in the morning to avoid the heat, and that turned out to be the best idea! While it was only 78 degrees in the park while we were there, being at a high elevation definitely made it feel hotter than high 70's at home. We were also sure to bring two water bottles for Rooney which he gladly finished during the 2.5-mile walk.
We also used BringFido.com to find pet-friendly hotels for our stay in Laguna Hills, California and Prescott, Arizona. Not only were the websites descriptions and pet fee information crucial to making our decisions, but the reviews were very helpful for setting expectations for our stay.
TripAdvisor: 
My husband and I were both up for finding new foods to try on our trip, so I used TripAdvisor to locate some excellent restaurants in both Arizona and New Mexico. Rooney gets restless at restaurants due to the amount of food he can't have and the number of people who simply aren't' petting him, and so we opted to leave him to rest at the hotel during dinner time. Therefore, the following restaurant recommendations are more focused on food than dog-friendliness.
Restaurants:
Papa's Italian Restaurant: I had the best Chicken Alfredo I have ever had in my life! And the owner brought out a sample of the house minestrone soup for us to try and it was delicious!
El Gato Azul: We happened to visit this restaurant during happy hour and that gave us a chance to try a few items from the menu without going over budget. My husband had the Green Chili Mac & Cheese which he really enjoyed and I had the Baked Brie Nachos Tapas.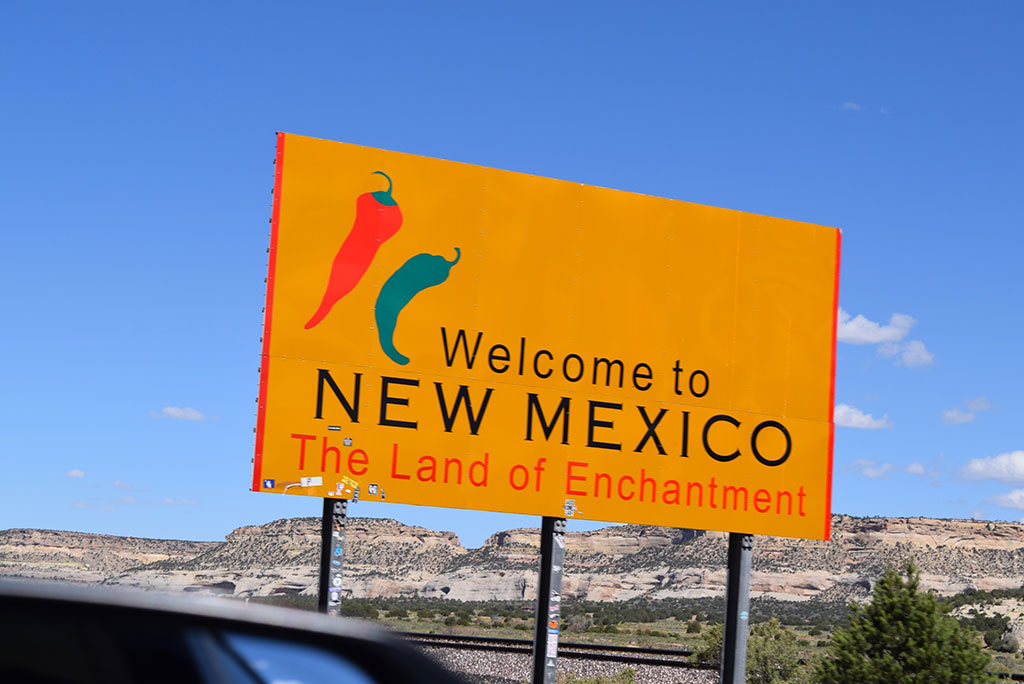 Monroe's Restuarant: This restaurant was a unique mix of Mexican and American food. However, all of it was good and the service was excellent!
Anatolia Doner Kabab House: On the last night of our stay, we were looking for something different to eat, so we decided to try a Turkish restaurant located near our hotel. We both really liked the Feta Cheese Rolls and the Bak-love-ah they had on their menu.
Hotel Stays:
Orange County Hotel: The Hills Hotel, Laguna Hills, CA. This hotel was very nice and clean. The best thing about this hotel is that there is a nearby neighborhood just up the hill that has a large park where we could take Rooney to stretch his legs and get some exercise.
Prescott, Arizona Hotel: La Quinta Inn & Suites. This hotel was very clean and the staff was friendly. We saw a few other dogs there as well. Most importantly, they had a lot of grass on the property, which was very helpful for potty breaks.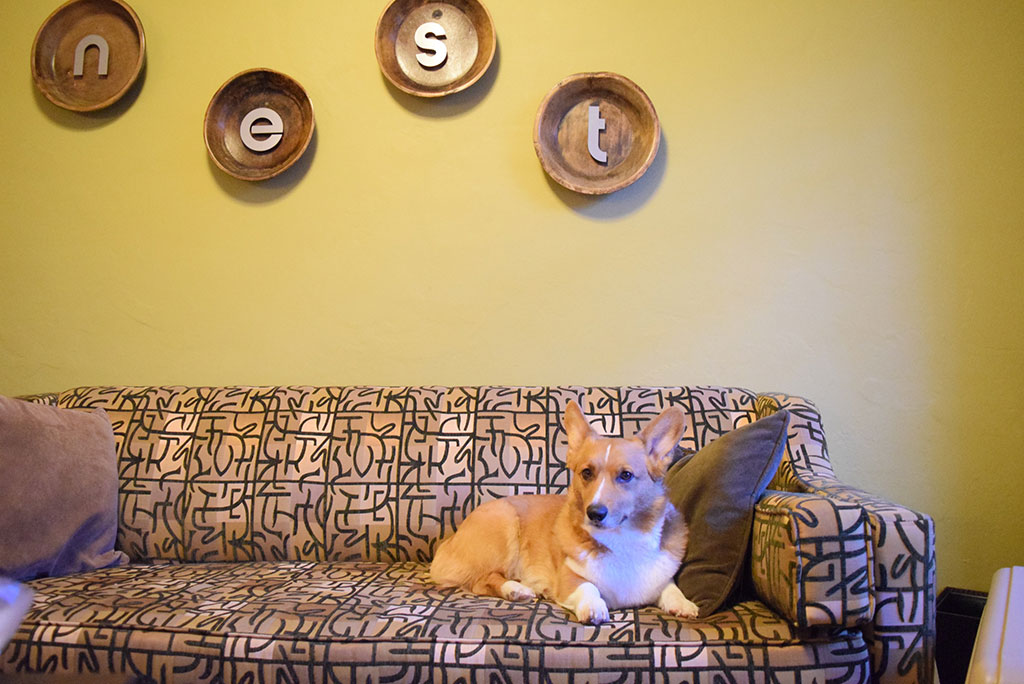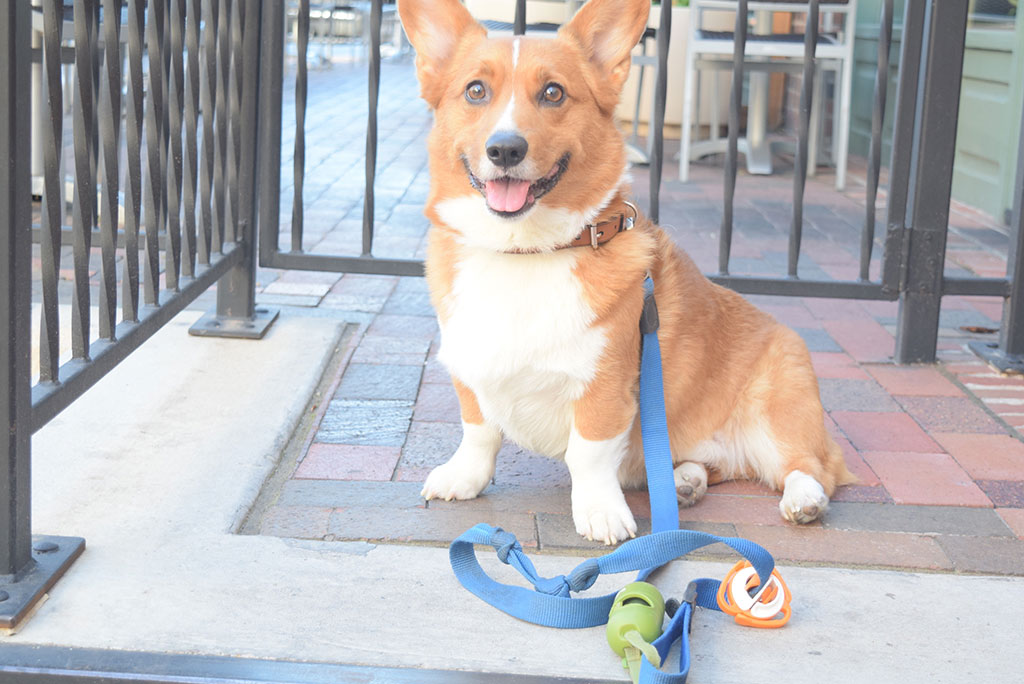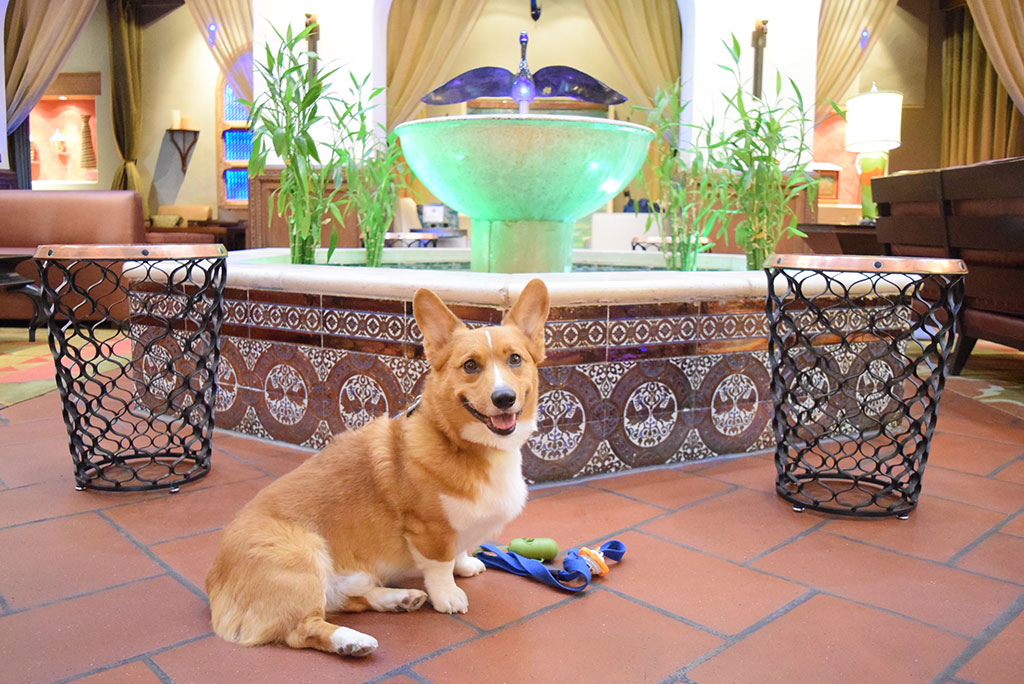 Albuquerque, New Mexico: Hotel Andaluz: We won this stay and it was amazing! The talented blogger and good friend Carol Bryant, of FidoseofReality.com, hosted the giveaway for a two-night stay for two people and their dog at the gorgeous Hotel Andaluz! (That's right, if you haven't already signed up to be on her mailing list, please do yourself a favor so that you don't miss any more of her amazing giveaways!). This hotel was simply gorgeous! The lobby is full of Southwestern aesthetics and ornate fixtures. The rooms are clean and contain the perfect amount of flare to remind you that you are staying in the Southwest, not to mention a beautiful couch for Rooney to rest his head. Located in Downtown Albuquerque, the Hotel Andaluz is home to an active night-life based in culture and music. Beautiful and elegant hotels like this one aren't often pet-friendly, but this one is! Rooney was welcomed and greeted and proved to be quite popular with during our walks in Albuquerque.
I want to thank Carol again for hosting an amazing giveaway!
Now it's your turn to share. Have you ever traveled the Southwest? What places do you recommend?