I don't know about you, but I am constantly looking for an excuse to bring Rooney with me everywhere I go. Mostly because my husband and I both work full-time so I want as much of my down time to include Rooney-friendly activities as possible.
While we all know that bringing your dog with you and leaving them in the car as you run errands is a non-option in almost every weather condition, tying your dog up outside a store in an urban area can be just as dangerous. However, the call of the urban dog parent is being heard by a New York company called Dog Parker.
According to the Wall Street Journal, New York is home to 1.1 million pets, which makes the Big Apple the perfect test market for a new urban pet parent solution. The Dog Parker is a collective of smart dog houses that are outside storefronts in NYC that focus on safety and comfort for your dog while you are inside.
When I first saw this device, I had many questions:
How do they keep it clean to avoid diseases and infections?
How do they regulate the temperature?
How do I know others won't try to take my dog?
Turns out, the Dog Parker was designed with many of these same concerns in mind.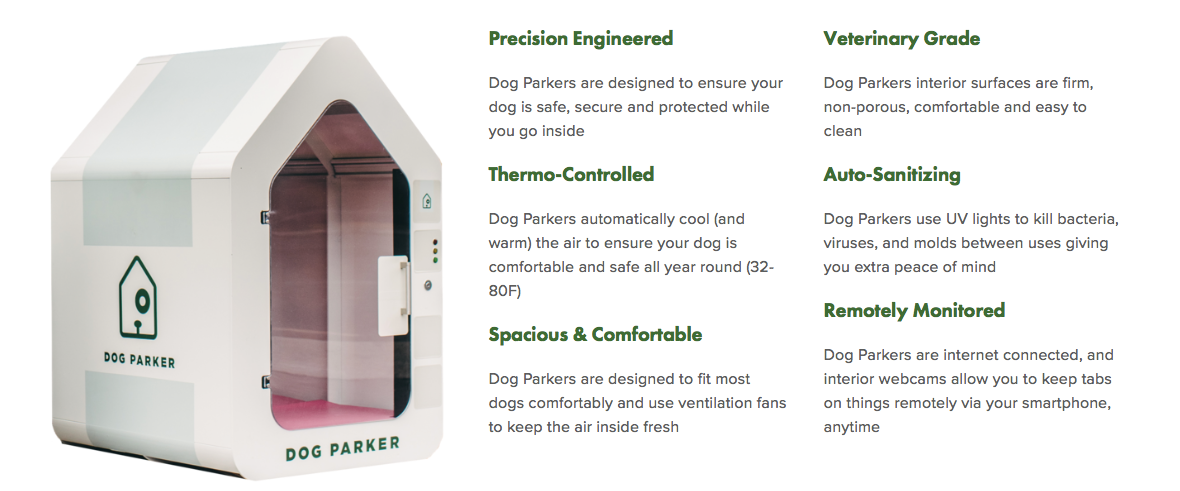 How does it work?
Let's say for example that you want to take your dog to the dog park, but on your way home, you need to pick up a few things at Whole Foods. You would then locate an available Dog Parker via the map on the app. Reserve a Dog Parker up to 15 minutes before you arrive, and unlock it with your cell phone. Then you can monitor the temperature, and view your pet via the webcam, while you are in the store.
Obviously, there are plenty more questions to be answered:
What if there is a power outage?
How does the Dog Parker lock? Can someone come and manipulate the lock?
Can someone break the glass?
However, I am excited to see that solutions are arising to allow people to spend more time with their pets while they get to be safe from dangerous temperatures.
Can you relate to wanting to bring your dog everywhere?
Would you adopt a solution like the Dog Parker?
Disclaimer: I was in no way compensated for a brief review of this product. My Kid Has Paws only shares products and services that we believe our readers want to know about.