I think that every pet parent wants to make sure that their dog's life is as enriched as possible!
That's why I want pet parents to know about PAW5.
PAW5 is dedicated to improving the life of every dog by providing the right amount of stimulation and enrichment for your dog's life. Therefore, PAW5 has created thoughtful products that engage your dog's mind and provide them with the necessary exercise to avoid boredom.
Boredom in dogs can be one of the number one reasons for behavioral problems and can strain your relationship with your dog. PAW5 keeps in mind that many pet parents work full-time and lead very busy lives. That's why they created the #PAW5EnrichedLifeChallenge!
By using PAW5's products (in addition to DIY and other activities) to learn, think and play with your dog, you can improve their mental, physical and emotional health.
"Dogs need enrichment, plain and simple. They need to interact with their environment, their humans, and other dogs in a number of different ways in order for them to grow and lead fulfilling lives. Presenting them with new challenges, toys, adventures, and opportunities is the key to having a happy and healthy dog, and we're hoping our Enriched Life Challenge will show people how realistic and easy it can be." –  PAW5TM Co-Founder, Dennis O'Donnell
PAW5's Challenge shows pet parents that enriching a dog's life is about more than just walks and exercise and every interaction with your dog is an opportunity to improve.
The #PAW5EnrichedLifeChallenge includes 6 different categories of enrichment so that pet parents can discover which one's work the best for their pet.
1. Sensory
"This includes anything and everything that stimulates your dog's senses – sight, hearing, smell, taste and touch. This is where playing in the grass, rolling in the dirt and splashing in water come in. You can also support this through TV programming, music and scent work."
2. Feeding
"This is how you can make feeding time challenging, engaging and fun. It's about putting hunting and foraging skills to use, employing the power of their nose and their brains to get to the good stuff!"
Check out Rooney using the PAW5 Rock N Bowl for dinner!
PAW5 Rock N Bowl from Rachel Sheppard on Vimeo.
3. Toys+Puzzles
"These products encourage your dog to engage and manipulate them to get the desired results…normally treats. But it also includes plush, rubber, rope and fetch toys, and the regular rotation of these so that your pup continues to engage with them."
4. Environmental
"Adding something new to your dog's environment can peak curiosity and sometimes increase physical activity. Build a ramp in the backyard, place a mirror in the living room, go play on a playground, go for a hike in the woods."
5. Social Interaction
"Social Interaction with other people and other dogs builds trust and with other people and other dogs builds trust and self-confidence. Whether you are going to the dog park, to the pet store, in car, or to a friend's house, engagement with new environments, new people and new dogs will help keep your pup well socialized."
6. Training
"Training is an incredible time to bond with your dog, building trust, rapport, and some much needed listening skills. Whether you are training the basics or have moved on to trick training, the time spent doing this has great benefits for your dog and your relationship."
Now that you know the 6 different ways that you can enrich your pet's life, you can participate in the #PAW5EnrichedLifeChallenge!
Below is a schedule that you can use to complete the challenge for this week! Each day is designed to provide your dog with all 6 categories of enrichment throughout the day. For those of use who work full-time and aren't home mid-day, move these times to adjust to your schedule and try as many as you can!
If you have social media, feel free to post videos and photos with the #PAW5EnrichedLifeChallenge on your social channels. However, please feel free to post updates in the comments, or send me an email with videos and photos to share at mykidhaspawsblog@gmail.com!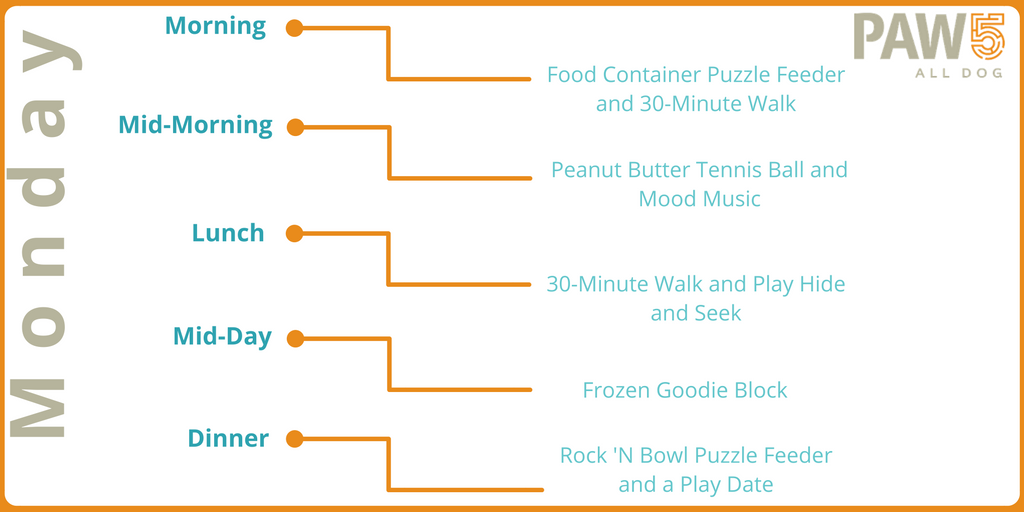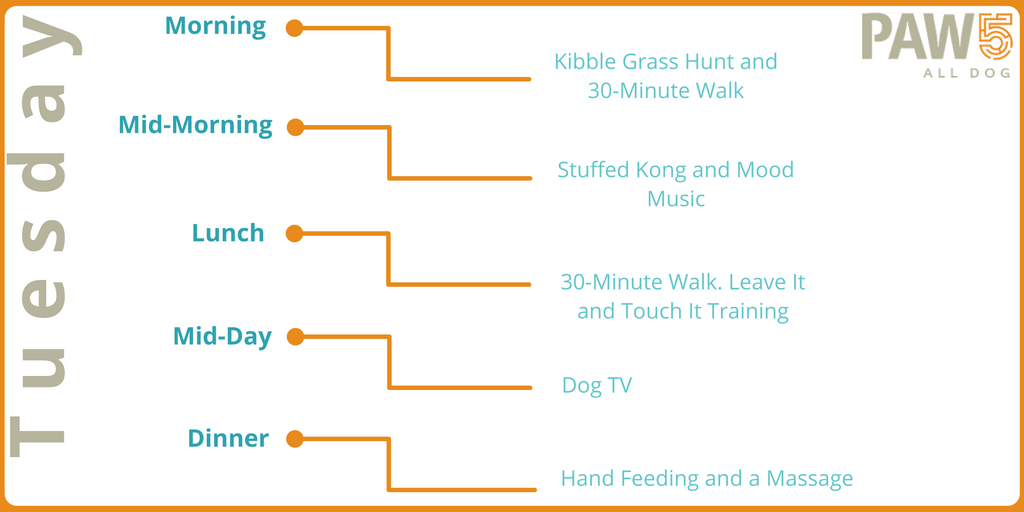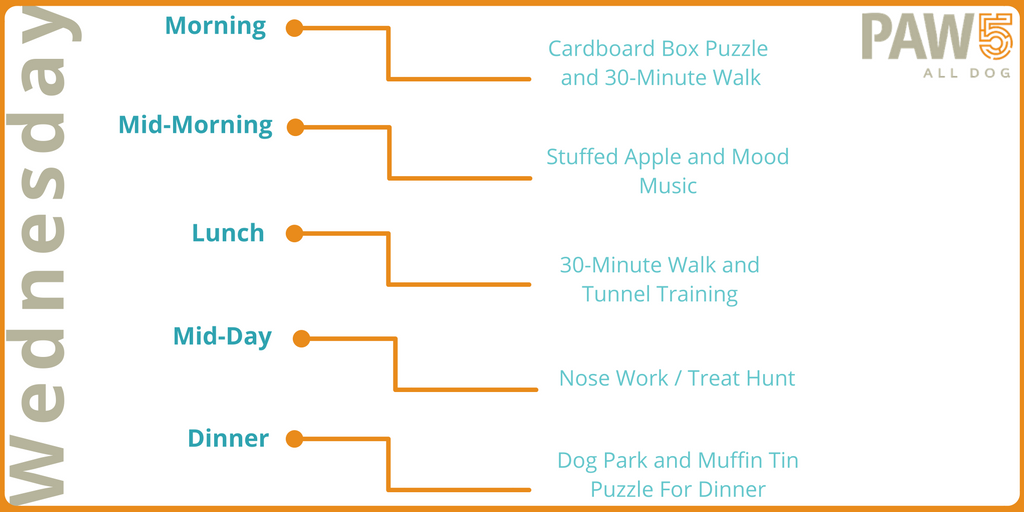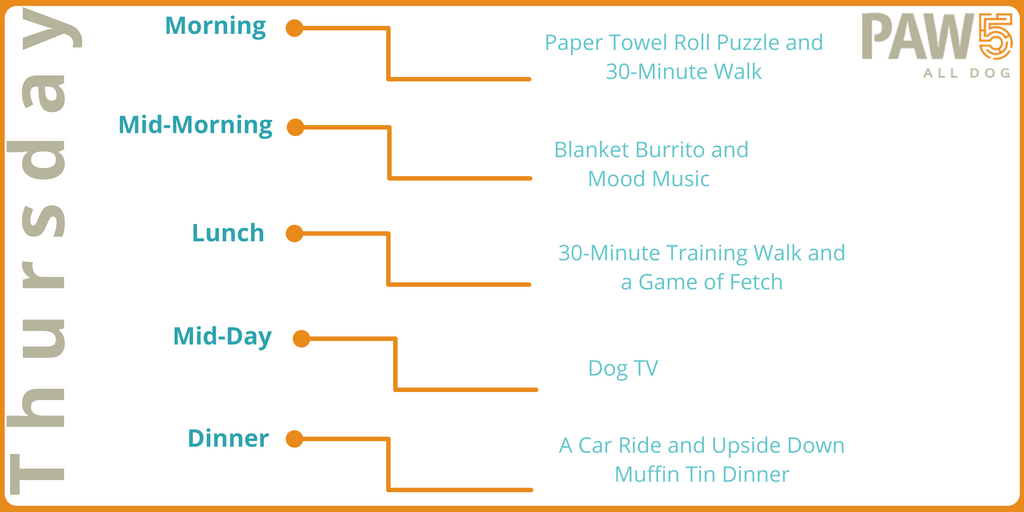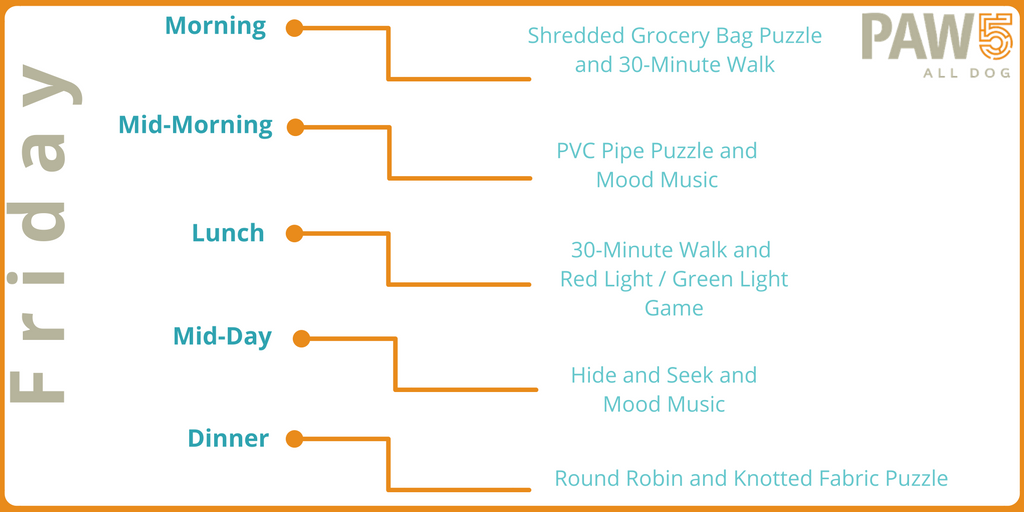 Challenge Prep
Now that you know all about how the challenge is going to work, you just need to do a little prep work!
Here are the items you will need in order to increase enrichment:
Supplies you'll need from around the house:
An old tupperware or food container with lid
Peanut butter
A large tupperware or food container, no lid
Chicken broth
Cardboard box
Blanket and two chairs or a pop-up tunnel
Muffin Tin
Empty paper towel roll
Pillow case or dish towel
Rubber bands
Paper grocery bag
Supplies you may need to purchase:
Seven tennis balls
Rock 'N Bowl or any other food puzzle
Kong or any other treat toy
PVC pipe with holes
For DogTV and Mood Music:
Whether or not you participate in the challenge, PAW5 wants to give you the opportunity to make mealtime more fun and enriching with their Rock N Bowl!
Therefore, it's GIVEAWAY time!
Disclaimer: I am an affiliate for DogTV, so I may financially benefit from a paid subscription. Additionally, I received a PAW5 Rock N Bowl to try, but I shared it with my readers because I feel that it is a very good product.