If you have followed our blog for a while, you might know that occasionally, we put together campaigns to support local dogs who need veterinary care and a forever home (Check out the inaugural foster campaign and success story, Bella the Basset). My good friend Kim Adams is a veterinary technician at our local emergency veterinary hospital. When she sees a dog in need, she always goes the extra mile to make sure they get the care they deserve and a forever home. A few days ago, she met Finn. Today, I want to share with you Finn's story.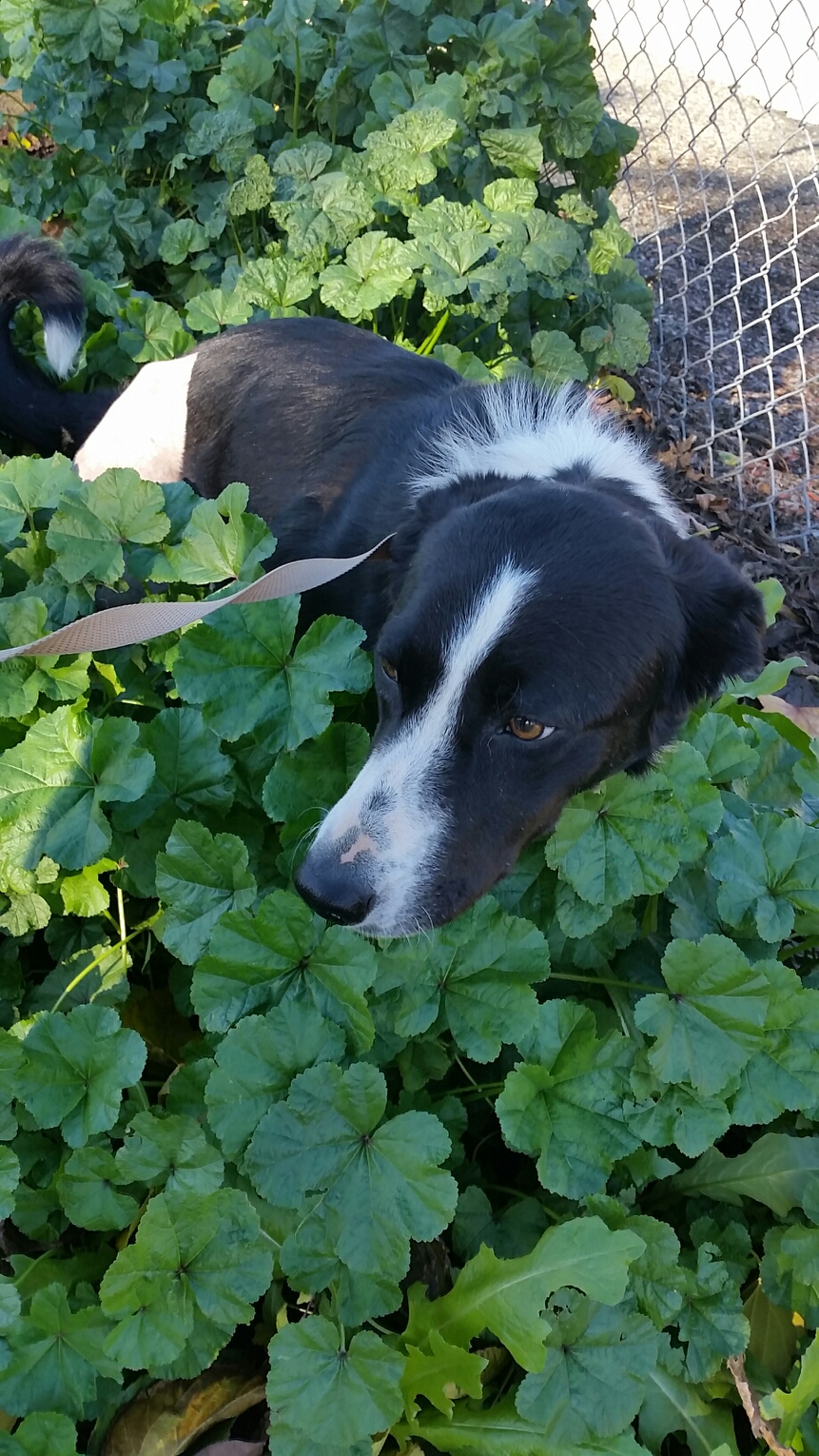 This is Finnegan (Finn for short). He is a 1-year-old (as of Halloween this year) male neutered purebred Border Collie.
He was brought in to SAGE Dublin ER on December 15th because he was limping and not using his right rear leg. When he arrived at the clinic, the technician who received him was told by the owner that he had been stepped on/kicked by a donkey on the ranch he was living on. It was later discovered that he had actually probably been hit by a car which the owner didn't see happen. (There were also several small wounds and abrasions in various places that the medical staff found once he was anesthetized and being prepped for surgery, further supporting that Finn was hit by a car).
He was given pain meds and the staff took X-rays and found that the right femur was broken (see photo). The only treatment option was surgery. This is not an injury you can splint or allow to heal with any expectation that the pet will be pain-free or able to walk normally ever again without surgical intervention.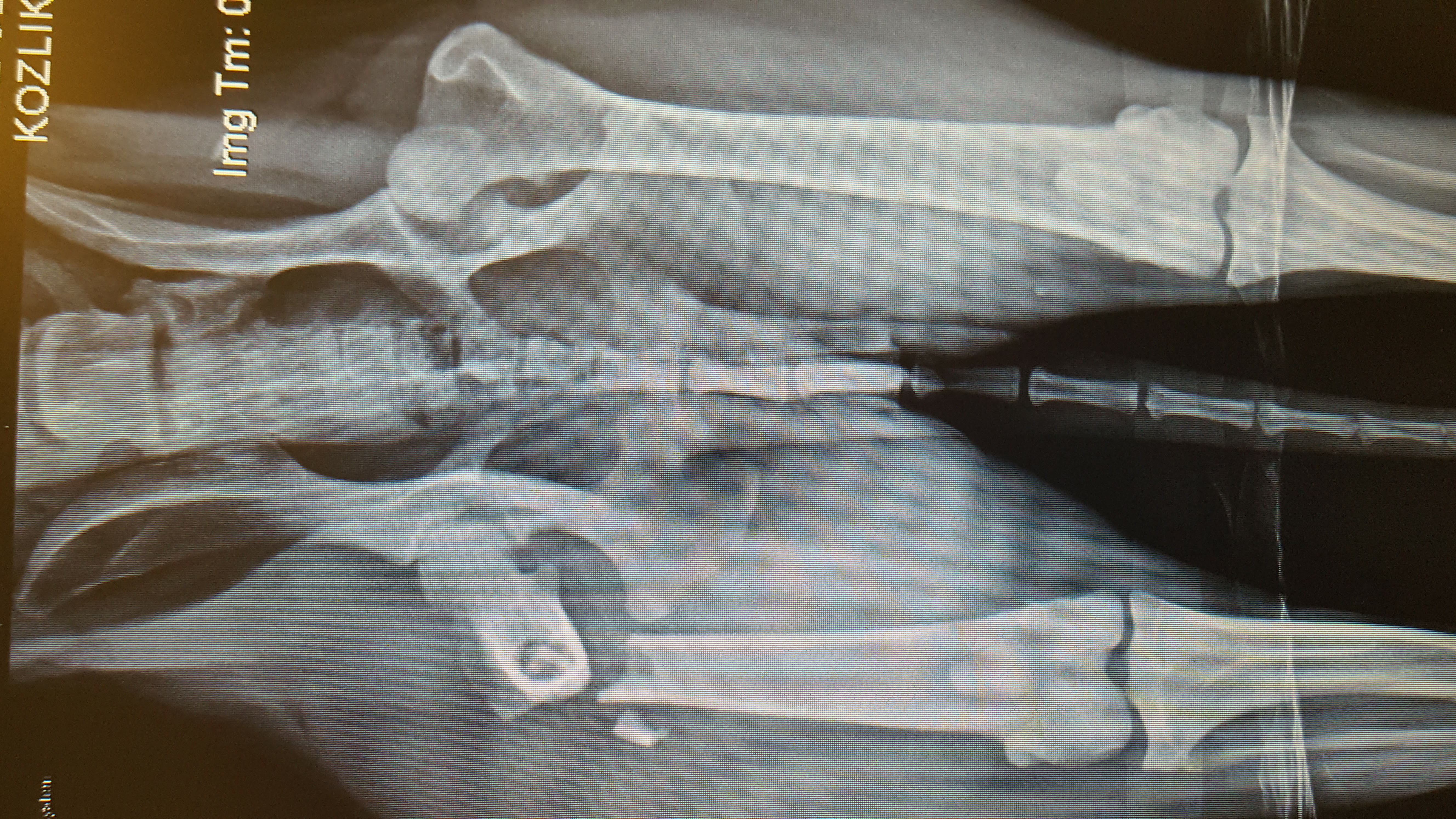 When the veterinary technician reviewed the surgical estimate for pinning and plating the bone (ranging from $6000-7000), the owner immediately declined it. He looked upset and crest-fallen, saying he may have to euthanize the dog, knowing that not operating and fixing the leg would be cruel and against medical advice. My good friend and veterinary technician, Kim Adams, told him we won't euthanize him, he can sign a Relinquishment of Ownership form and she would take Finn, fundraise for his procedure, and foster him until we found a home for him.
Finn is excellent with kids and other dogs (he's very submissive to other dogs, and great with kids. He chases cats, and will not do well with chickens. But he's a fantastic house-dog (even though he has spent most of his time outside). Based on the info his owner provided he knows "Sit", "Stay", "Lay down", "Come", and "Load"- he will back up and get a running start, then jump in the back of a pickup truck. He's house-trained and has no other pre-existing medical history. 
He was super sweet when he was brought in to the veterinary hospital, wagging his tail and giving kisses despite his limp and obvious fracture. He was very healthy on exam (normal bloodwork, no evidence of heart murmur, etc), and made it through his surgery late in the afternoon of December 15th with flying colors. 
He is now recovering in CCU at SAGE-Dublin. His fracture was not clean, he had several small bone fragments that broke off making aligning his femur and pinning it in place a challenge, but they were able to stabilize it and get the hardware installed after about an hour of fine-tuning and lining everything up just right. 
The funds we are raising will go toward the cost of his surgery, x-rays, medications, and ongoing treatment in the CCU as Finn takes some time to recover before we find him a forever home.
We would be so grateful if you would take the time to share Finn's story. If you would like to donate to Finn's campaign, please visit his GoFundMe page here. Stay tuned for updates!