Many people will be traveling to see their families this holiday season and what better way to travel than with style and comfort for your pet? Therefore, I would like to introduce you to Solvit's Car Cuddler.
When traveling to see your family, you might be in for a very long drive. For example, some of my friends and co-workers will be driving for 20+ hours to see their families this holiday season. What you don't want to do on a road trip is sacrifice your dog's comfort or safety. Especially when you take into consideration that comfort becomes increasingly important if your dog suffers from arthritis or hip dysplasia.
In the past, I have used a few different car covers, but I have always had a hard time finding something that protects our car seats, works with Rooney's seatbelt, and doesn't sacrifice Rooney's comfort. Solvit's Car Cuddler definitely combines style and comfort with utility. The center of the car cover is faux sheepskin, so it is soft and cozy for Rooney. Plus, the side bolsters mimic the feel of a dog bed which keeps Rooney comfortable in his seat and prevents him from running around the back seat as far as his seatbelt allows.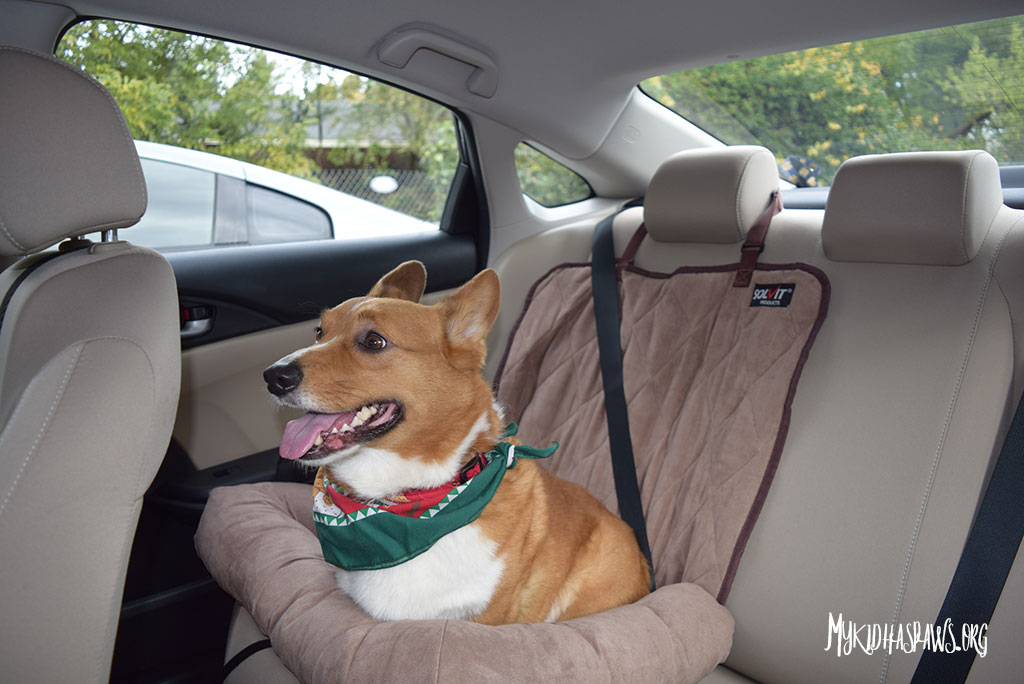 Not to mention, this cover is the perfect size for a Corgi; not too big, but is big enough for their long body. (They even use a Corgi in the promo photo!) And, it works well with our sedan! (Most of the covers we have used in the past fit well with our old SUV, but not our sedan.)
Are you planning any road trips for the new year? Could you use a new car seat cover of your own?
If your answer is yes, then you will be happy to know that Solvit was nice enough to let us host a giveaway! Good luck!