I have always preferred the winter months to the summer. Most likely because my birthday is in the winter and I absolutely love Christmas time. But one of the downfalls of winter is dry skin. Dry skin brought on by winter conditions is not something that is unique to humans. Pets too can suffer from dry, itchy skin in the winter. If you have never suffered from dry itchy skin, consider yourself a very lucky person. Not only can dry, itchy skin be uncomfortable, but it can also cause your pet to scratch excessively, which can damage their skin. Because this problem affects many pets and people during the winter time, I want to introduce to you a new product from Isle of Dogs which was created to battle this exact problem.
Caring for Winter Skin
To properly care for your pet's skin, veterinarians recommend the following:
Avoid over-bathing: bathing your dog too often can reduce the natural oil production on the skin and can lead to chemical irritation
Use a soft brush: brushing your dog's skin can help remove the dead skin buildup, remove loose fur, and stimulate the hair follicles and natural oils on the skin.
Consider changing your dog's food: If your dog has suffered through winters in the past, you might consider switching to a food with more omega-3 or omega-6 fatty acids. We feed Rooney Petcurean's GO! Sensitivity + Shine Duck Recipe which has Omega oils to promote a healthy skin and coat. If you are considering changing your dog's food or adding supplements, please consult with your veterinarian so that you can make the best choice for your pet.
Consider a humidifier or fan: if you are able to increase air circulation in your home, you can prevent allergens from building up on the carpet.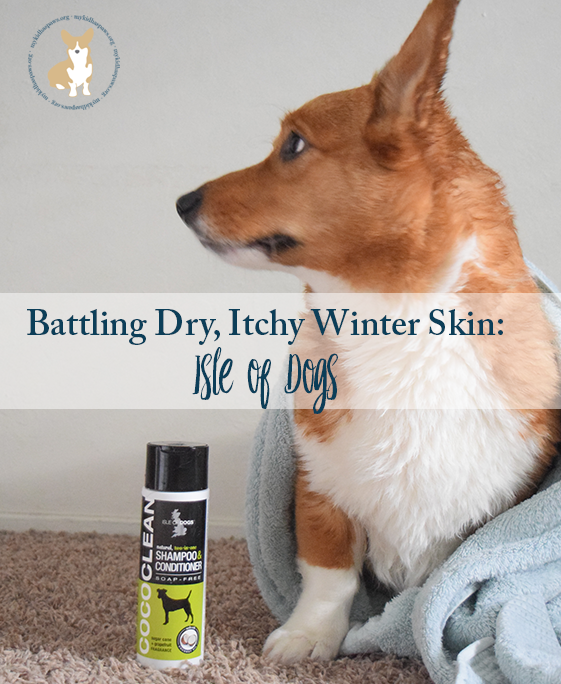 How Isle of Dogs Can Help
Isle of Dogs CocoClean Shampoo and Odor Neutralizing Brush Spray were designed with coconut oil due to the many benefits this natural ingredient can provide:
promotes a healthy and soft coat
relieves dry, itchy, flaky and irritated skin
strengthens hair and reduces protein loss
can improve the health of the protective skin barrier
natural deodorizer
Not only does the coconut oil counteract the symptoms typically associated with winter skin, but the Brush Spray can also help you reduce the number of baths you typically give your dog by keeping them fresh between baths. Additionally, the spray is only effective if you brush your dog, which improves the dry, itchy winter skin.
What Do I Like About Isle of Dogs
The Brush Spray: Rooney loves to jump in mud and any available puddle which doesn't leave him smelling great. The brush spray provides me with an opportunity to keep Rooney smelling good without overbathing him.
Paraben free: I have made an effort to remove parabens from my soaps and shampoos this past year because I suffer from a lot of skin issues. It makes me feel good to be able to provide Rooney with the same quality of ingredients.
The fragrance: Rooney currently smells very good. I even used the brush spray after a trip to the bay and Rooney smelled good despite having salt water on his coat!
Shampoo & Conditioner combined: I love that the shampoo and conditioner are combined into one product. While Rooney actually doesn't mind a bath, it's always nice to make bath time as quick and efficient as possible. For those who have pets who don't like baths, this is an additional bonus.
Your Turn!
Isle of Dogs was generous enough to allow us to host a giveaway! Tell us why you think Isle of Dogs CocoClean is perfect for your dog in the comments below and submit additional entries to win a bottle of Isle of Dogs CocoClean Shampoo and Odor Neutralizing Brush Spray.
Does your dog suffer from dry, itchy winter skin? What has helped your dog's skin?
Disclaimer: I am a Petcurean Blogger Advocate. I am provided with compensation for my opinion on Petcurean products, however, Petcurean is the food we feed Rooney every day. Additionally, I was provided with Isle of Dogs CocoClean products in order to provide my opinion. However, My Kid Has Paws only shares reviews we believe benefit our readers.