Recently, many of our friends and family members have been blessed with new babies. I noticed that when pet parents welcome a new baby into their home, it can be overwhelming. In addition to caring for the new baby, many pet parents find themselves trying to get their dog to adjust to the new housing situation, which is inevitably difficult and stressful. This got me thinking, if you know a pet parent who recently had a baby, you can help them in the months following a new birth. Here are some ideas:
Take Their Dog for a Walk
From my very limited experience, it seems like it could really help new parents to offer to walk their dog. Dogs are likely to feel cooped up and stressed when their parents have been at the hospital and will be spending a lot of time taking care of their new baby indoors. If you live nearby, offer to take their dog for a walk and see if they want to get out of the house as well. Fresh air can do wonders for a stressed household.
Give Their Dog A Bath
Or take them to the groomers! These are things that new parents might not have time to do as they adjust to a new sleep (or lack thereof) schedule. Additionally, new parents can take months to adjust, and it might relieve a bit of stress to know that their dog is well-groomed and cared for even though they are really busy.
Bring A Gift for the Dogs
Everyone brings a gift for the new baby in a person's life, but don't forget about the dogs! A new toy, interactive puzzle, or bone is the perfect thing to make a dog feel special! When my cousin's baby was born last fall, my aunt remembered to bring toys over when she visited the family, and her dog was so happy!
When you are picking out toys for a house with a new baby, keep a few things in mind:
Pick out a toy that doesn't squeak or make any excessive noise
Pick out something durable so that the new parents don't end up with a mess
Consider an interactive toy; it's likely that a dog in a new household will feel a little cooped up and stressed. Giving their dog an energy outlet is a great way to help them feel less stressed in their new environment.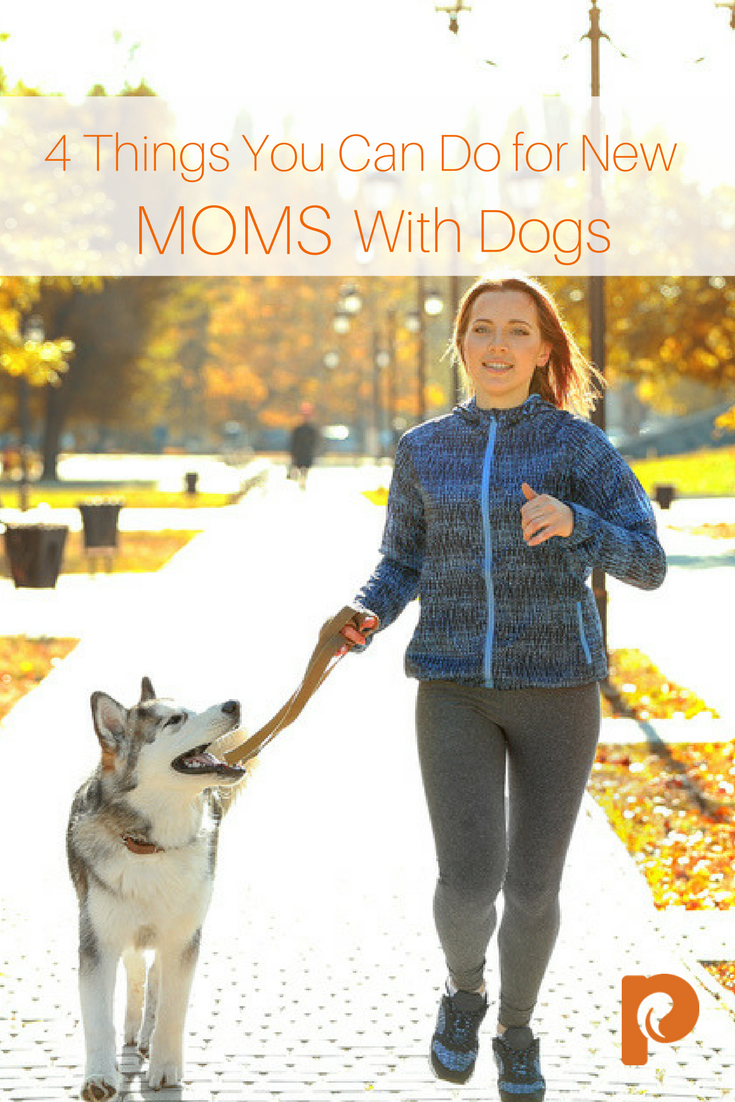 Bring Over High-Quality Dog Food – Petcurean
Often, people think to bring food for the humans, but what about the dog? Perhaps the new parents didn't have time to get dog food right before the baby arrived. Or, it's possible that they haven't had much time to leave the house in the early months since the baby was born. Bringing over a bag of a high-quality food like Petcurean just might be the best thing you can do for new parents.
"Petcurean kibble contains every ingredient; every protein, carb and fat source, vitamin and mineral your pet needs to sustain and nourish its life."
Not sure which recipe to bring over to the house? Petcurean has a Food Finder on their website that can help you figure out which kind of food would be perfect for their pet or their pet's lifestyle.
Don't live by a Petcurean retailer? Or, do you live far from the pet parents whom you want to help? Place your order on Chewy.com and have the shipment sent to their house! (Rooney's recommendation is to add a few toys to the shipment as well.)
So, what do you think? Would it be helpful for someone to step up and care for your dog as you adjust to a new baby?
Disclaimer: I am both a Chewy.com and Petcurean blogger. I was provided with food and compensation so that Rooney and I could provide our honest opinion. However, My Kid Has Paws only shares reviews we believe benefit our readers. Additionally, Petcurean is the food we feed Rooney every day.