For reasons I can't quite figure out, bully breeds and Pit Bulls are discriminated against left, right, and center. As a result, the data surrounding bully breeds and Pit Bulls is disheartening.
In 2014, the ASPCA pulled data from 30 shelters from their Comprehensive Animal Risk Database and learned that Pit Bulls were the ranked first in intake, first in euthanasia, and third in adoption. Considering that the 2014 State of Pet Health from Banfield, showed that Pitbulls were ranked 5th most popular among Banfield clients, the numbers don't quite add up.
Dr. Emily Wiess from the ASPCA hypothesized that the relinquishment of large breed dogs, or in this case, Pit Bull-type dogs was due to the lack of suitable housing where you can have a dog or Pit Bull. Not to mention the increased breed-specific legislation in recent decades.
So if people like Pit Bulls, and want to give them loving and caring homes, but can't, how are we ever going to make progress for the Pit Bull breed? Here are 6 ideas:
1. Know Your Facts & DeBunk the Myths 
The amount of data supporting that 1) Pit Bulls aren't really dangerous, just advertised as more dangerous than other dogs, and 2) Pit Bulls actually make great family dogs, is astounding, yet the stereotype persists.
There are lots of articles and stories available that aren't actually supported by fact or animal science and, therefore, shouldn't be used in arguments against Pit Bulls or Bully Breeds. However, when someone wants to say something that is presumptuous and wrong, all you can do is fight with facts.
What exactly is a Pit Bull? 
According to an article published in Anthrozoös (A multidisciplinary journal of the interactions of people and animals) in 1987, there are several factors that can attribute to breed biases, but one, in particular, continues to cause issues; "difficulty identifying a breed" . When people use the term Pit Bull, they are actually including 4 different breeds: the American Staffordshire Terrier, the Staffordshire Bull Terrier, the Bull Terrier, the Bulldog (possibly some additional breeds depending on the source) and a mixture of all of these breeds.
So, Step 1 is to educate yourself and others around you about how hard it is to identify a dog as a true Pit Bull. Identification is important because as of now, people are lumping many different breeds into the same category, and then assuming that one category is full of dogs that behave the same.
Do you think you can easily identify a Pit Bull? Try this online quiz: http://www.pickthepit.com 
After you have correctly defined what a Pit Bull is, it's time to start debunking myths. Some typical myths about PitBulls that can be debunked include the following:
Myth #1 Pit Bulls have lockjaws. 
You will see the work of Dr. I. Lehr Brisbin from the University of Georgia cited several times in reference to this research. In 1987, he gave a presentation at the Tufts School of Veterinary Medicine and referenced some interesting findings in his research and data.
1) The bite data available at that time was skewed due to a lack of AKC registrations for Pit Bulls. He stated, "Accordingly, registration statistics are an unreliable index of the general population, and reported relative bite-rate statistics by breed that use registration statistics have to be recalculated in favor of the pit bull terrier". If you indeed corrected the calculations to represent the number of Pit Bulls registered, Dr. Brisbin argued that you would see research listing several other breeds as more dangerous ahead of Pit Bulls.
2) Pit Bulls are no stronger than any other comparably sized breed: "Pit Bull terrier skulls showed no remarkable features that would support any claims that their bite is more powerful than any comparably sized dog."
Myth #2 & 3: Pit Bulls are inherently aggressive & breed specific legislation is helpful
In a study supported by the National Canine Research Council and presented to the AVMA in 2013, a team of veterinary researchers determined that most dog bite-related fatalities were, "characterized by coincident, preventable factors; breed was not one of these. Study results supported previous recommendations for multifactorial approaches, instead of single-factor solutions such as breed-specific legislation, for dog bite prevention."
How to Discern Fact from Fiction
When you, or anyone else, goes to research a breed, it is very important that you know how to identify sources that are not credible.
Look into the background of the author. Are they a veterinarian, veterinary technician, animal behaviorist, or another animal-related professional? If the answer is no, then consider their experience anecdotal, unless their claims are backed by credible sources.
Know your sources. Facts are not facts if they are from a generic website. You will notice that I don't include facts in my writing without also including a source. Sources are important and should be from professional websites, peer-reviewed journals, and veterinary institutions.
Support a Pit Bull or Bully Breeds Cause
Recently, I was contacted by Jody, whose daughters, Gigi & Ryan wrote a beautiful children's book called "Too Licky", all about the experience of adopting their rescue dog, Sugar. Along their journey to rescue Sugar, Gigi & Ryan learned about breed discrimination, and have decided to give 50% of the proceeds from their book sales to Shelter Organizations and Bully Breed Advocate Organizations. For more information, and to show your support, please check out their Kickstarter campaign here!
Share the Positive Stories
Between the dog fighting industry and the media, it's really easy to find negative stories about Pit Bulls, but harder to find good positive stories that debunk the myths and have the power to change people's perspectives.
Recently, I was contacted by Scott Smith, who writes for ConsumersAdvocate.org. Scott put together 15 stories from Pit Bull owners and rescues titled "Pit Bulls Straight From the Heart".
"One common theme throughout this story is that Pit Bulls are so grateful despite the horrors of their past. Once rescued and loved, their resentment seems to just dissipate. Boy, people could learn a thing or two from Pit Bulls, that's for sure." – Scott Smith, Pit Bulls Straight From the Heart
His post is a must-read as it includes feel good stories about Michael Vick's dogs who passed their Canine Good Citizen test, a Pit Bull helping a pregnant mom back to consciousness with Pit Bull kisses, a dog helping a pet parent recover from heart surgery, and so much more!
Contact Your Local Government to Eliminate Breed Specific Legislation 
According to the ASPCA, Breed-specific Legislation can be defined as:
"Breed-specific legislation (BSL) is the blanket term for laws that either regulate or ban certain dog breeds in an effort to decrease dog attacks on humans and other animals."
Breed-specific legislation affects more than just Pit Bulls. In some cities, the following breeds are also regulated:
American Bulldogs
Rottweilers
Mastiffs
Dalmatians
Chow Chows
German Shepherds
Doberman Pinschers
While some cities have taken a more pragmatic approach to dangerous dogs by individually tracking and regulating dogs who show active aggression, over 700 U.S. cities still have breed-specific laws in place.
The ASPCA elegantly outlines the problems associated with breed-specific legislation and the alternatives. If you live in an area where Breed-Specific Legislation is enforced, take action by calling your local representative. The ASPCA has outlined their complete positioning on Breed-specific legislation, providing facts for pet parents to use in their own communities.
It must also be considered that if limited animal control resources are used to regulate or ban a certain breed of dog, the focus is shifted away from routine, effective enforcement of laws that have the best chance of making communities safer: dog license laws, leash laws, animal fighting laws, anti-tethering laws, laws facilitating animal sterilization and laws that require guardians of all dog breeds to control their pets. – ASPCA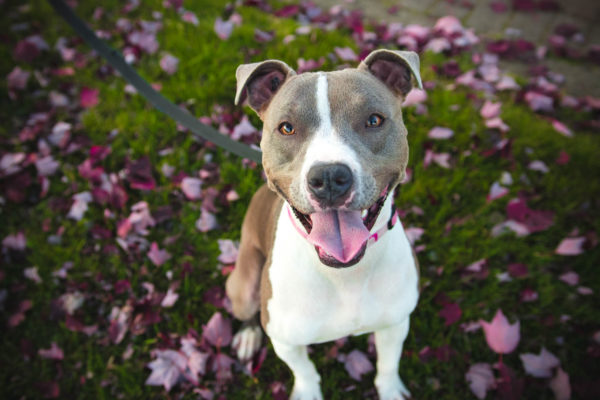 Support a Local Bully Breed Program
Search through your local rescues to see if there is a Bully Breed specific rescue you can support in some way. Suggestions for supporting a local rescue include:
Provide gently-used towels blankets, leashes, collars and other pet-related items from your home
Volunteer! Don't forget that volunteering comes in many different shapes and sizes. You can volunteer to help out at the shelter, or even lend your professional services. For example, if you are a marketer, you could help design marketing materials and campaigns for your local shelter or rescue.
Donate! Of course, donations are always welcome and will go a long way to help the dogs in your community.
Become a Foster Pet Parent
Being a foster pet parent can help your community by providing more space in shelters and rescues by buying more time for Pit Bulls to find their forever home. I recently wrote a post about why people should adopt and foster here. Here are the top 3 reasons to Foster:
3 Reasons to Foster for Your Local Rescue or Shelter 
You are helping a rescue help the community! Rescues and shelters need foster homes for pets so that they can take in more animals.
Short-term commitment. Not all people have the lifestyle to be pet parents. However, you might have a few months to dedicate to a local shelter or rescue.
Costs are covered. According to FosterFurKids.com, most rescues or shelters cover the costs and supplies associated with fostering a pet.
Any of the above ideas, even if you don't have a Pit Bull, can help you fight Pit Bull stigma and legislation, as well as actively support the Pit Bull community around you!