If I don't eat a breakfast that's high in protein, my energy will crash by mid-morning. That's because protein is such an essential part of not only our diets, but our pet's diets as well.
What is Protein good for?
According to Petcurean, "Protein consists of long chains of amino acids that can be found in both meat and plant sources. It works to ensure proper growth, development, body tissue repair, and a healthy immune system. While there are 10 amino acids that cats and dogs must get from their food, a cat's diet must also include taurine as their body is unable to naturally produce it."
According to PetMD, dogs are classified as omnivores (cats are actually classified as obligate carnivores – meaning, they REALLY need meat in their diet). Which means that dogs can get energy sources from a variety of different food materials, but making sure protein is included is essential to their daily diet.
If you aren't sure that your pet is getting enough protein, here are some signs often associated with a lack of protein in their diet:
itchy, flaky skin
coarse brittle fur
lethargy
low resistance to infection
What kind of protein is best for my pet?
Excellent question! Petcurean provided us with a lot of info about the different types of proteins available:
Plant-based Proteins:
Peas: A good source of beta-carotene, niacin, Vitamin B6, folate, phosphorus, and copper. It's also packed with dietary fiber, Vitamin C, Vitamin K, thiamin and manganese.
Organic flaxseed and sunflower oil: Both contain omega-6 fatty acids that promote healthy skin and a radiant coat. Flaxseed also boasts omega-3 fatty acids which are important for normal metabolism and optimal health.
Lentils and Chickpeas: Both are low glycemic carbohydrates that also provide a good source of protein, iron, phosphorus and copper.
Poultry:
Chicken Meal: A concentrated source of protein containing meat, bones, and cartilage that is dried and preserved naturally. It should never include feathers, heads, feet, or entrails.
Chicken Fat: Although human diets try to avoid fats, animal fat is good for your pet. Chicken fat is a great source of omega-6 which is considered the most important essential fatty acid for dogs and cats.
Eggshell Meal: A natural source of calcium to promote bone strength. Eggshell membrane is an added plus!
Pro-Tip: As obligate carnivores, cats must get their protein from animal tissue. For a protein-packed meal and a meaty flavor they'll love, try out Now Fresh Grain Free.
Fish:
Cod: A good source of high quality protein, phosphorous, niacin, and Vitamin B-12.
Dehydrated Cod: A concentrated source of protein that uses the entire raw material. The benefit of dehydrated product is the removal of water, but not the fat.
Krill: As the "superfood of the sea," krill is growing in popularity as a protein source. Rich in omega-3 fatty acids and astaxanthin, krill is also virtually free of pollutants and heavy metals.
Pro-Tip: Want to try a fish-based kibble? GATHER Wild Ocean features line-caught Alaskan cod and sustainably harvested krill to create a delicious and healthy meal for your dog.
Whole Meats:
Deboned Venison, Pork, and Lamb: All are great sources of protein that come from the animal's clean and de-boned flesh.
Novelty Proteins: This classification consists of proteins your pet may not have eaten before such as venison, salmon, or duck. Novelty proteins can sometimes help alleviate the symptoms of dietary sensitivities.
Pro-Tip: If your cat or dog has more challenging sensitivities, Petcurean's GO! offers a wide variety of options that were specifically created for picky eaters, those who need a grain free or higher protein diet, and for those requiring a recipe with unique proteins or a limited number of ingredients.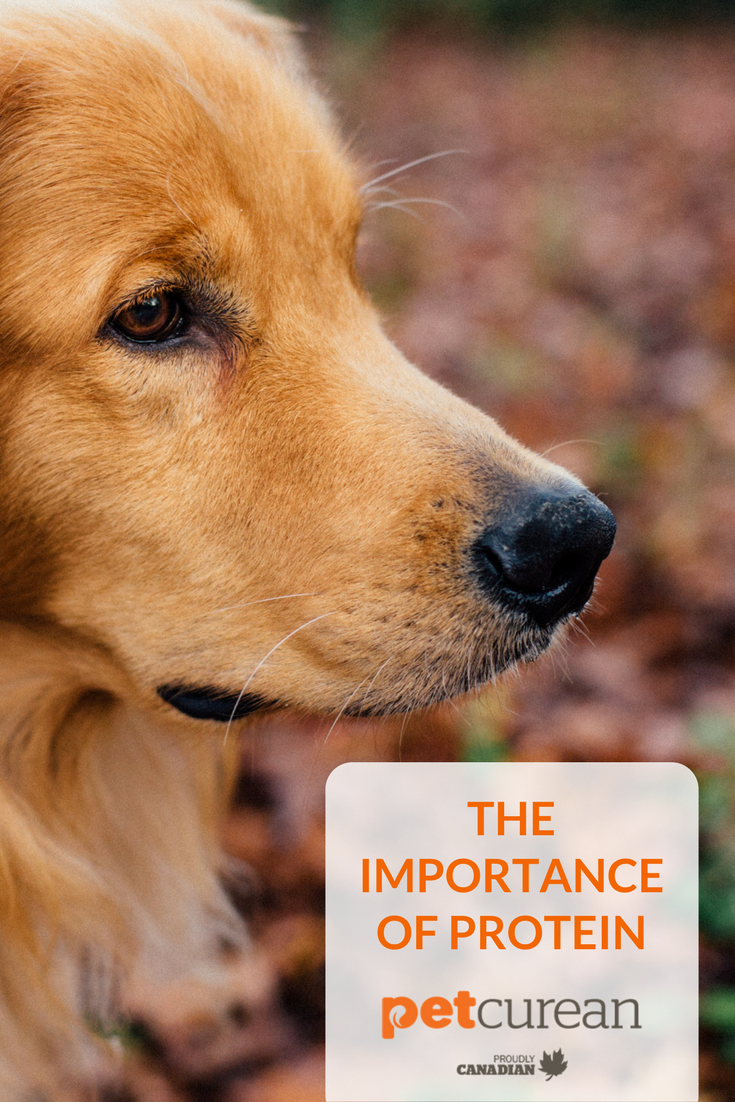 How can the appropriate amount of protein improve your pet's life?
Protein can help your pet perform better and have more energy. Meaning, they will feel better, play better, and possibly even compete better (if you are involved in dog sports).
What's the Petcurean difference?
Obviously, Petcurean wants to emphasize the importance of protein and has put a lot of research into the proteins that are placed in their pet diets. But I also wanted to share more information about their practices and standards because selecting a food for your pet is a very difficult decision that every pet parent needs to make.
This is what Petcurean had to say:
"Our recipes are crafted using the highest quality ingredients that are sourced through carefully selected suppliers. In fact, an ingredient supplier doesn't become a Petcurean supplier until they have met the health, safety and quality standards/criteria against which we hold all suppliers and partners. We meet and exceed regulatory standards set in both Canada and the USA. All of our products are manufactured at EU, FDA, BRC and CFIA certified plants, which ensures that they meet an exceptionally high standard of sanitation, cleanliness and manufacturing practices. All ingredients used within our recipes are tested for salmonella, as well as several other bacteria and toxins, prior to being received at our manufacturing facilities. Our recipes are then tested again, at each part of the manufacturing process, and before shipping, using standards set by Health Canada. We use near infra-red technology to ensure the safety and nutritional integrity of our products.

We value transparency. Most of the information regarding our quality and safety standards is contained in the FAQ pages of our website. We also have a toll free number which is answered by live personnel for any questions you may have, and a nutritionist on staff who is ready to help customers with any questions regarding nutrition or our recipes." – Dr. Jennifer Adolphe, Senior Nutritionist at Petcurean
Whatever food you decide to feed your pet, make sure that you do your research. What is the protein source? Is it a main ingredient in your pet's food? Does the food make sense for this stage of your pet's life?
Disclaimer: We are part of the Petcurean Blogger Advocate program. However, we feed Rooney Petcurean every day. My Kid Has Paws only shares information about products we like and we believe our readers will enjoy.