Many people find themselves in the process of moving this time of year. As a matter of fact, according to the Census, most people move between the months of June and October. If you have already moved this year and I didn't get you this post in time, I apologize.
However, for those of you who still have a move in your future, I want to talk today about some move-in essentials for your pets!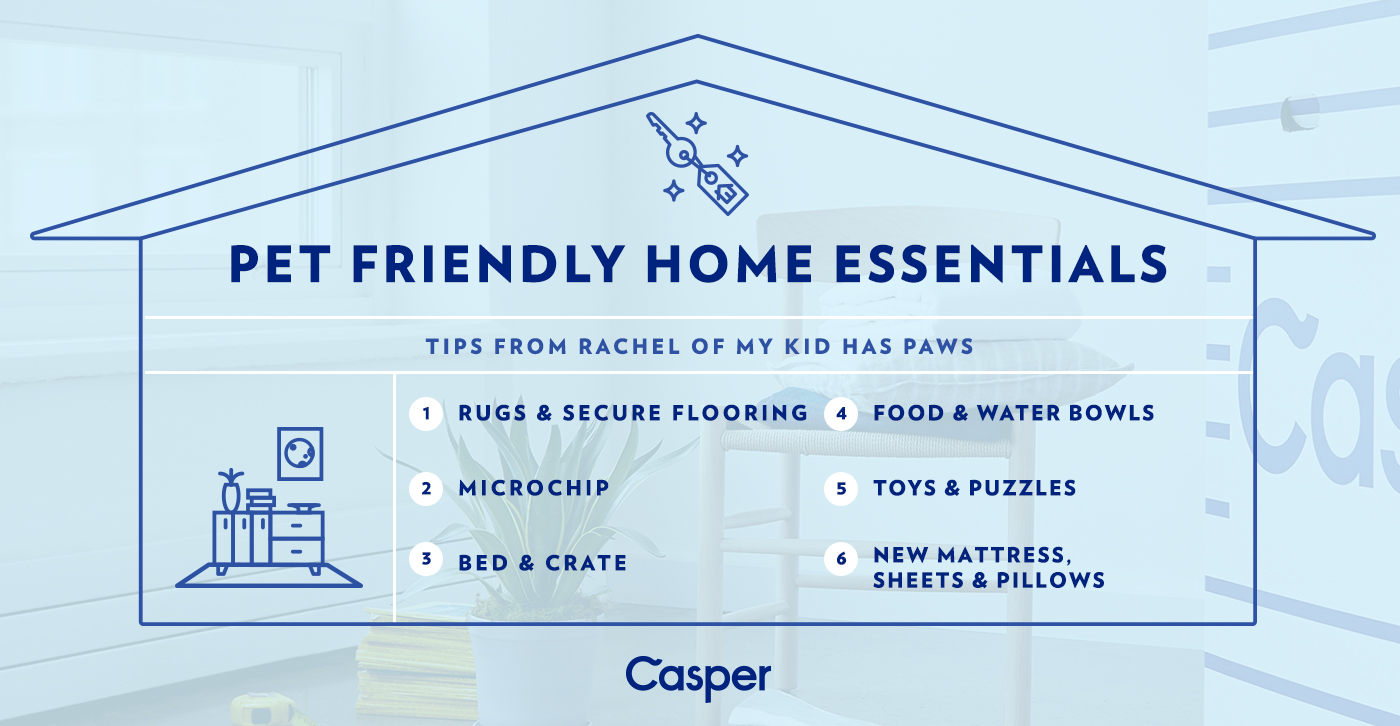 Rugs & Secure Flooring
This is especially true if you are moving with senior pets. You are going to want them to feel safe and secure moving around your new home, and that can be difficult when the flooring is slippery. If possible, before your pets walk into the home, try to put throw rugs or yoga mats on the ground so that they feel comfortable and secure while entering your home.
Microchip & Proper ID
A microchip and proper ID is SUPER important for your pet on move-in day. While you may be used to closing the door behind you, you will likely have movers, or family and friends, helping you move stuff in and out of your house, and they may not remember to keep the door closed.
In the event your dog or cat escapes, having your up to date contact information and your new address on both the microchip and ID is crucial for making sure your pet is safe in your new home on the first night.
Bed & Crate
In addition to making sure your pet can be returned to you if they escape, it's also important to make sure they don't escape in the first place. Creating a spot in your new home for them to be safe and secure from the noise and the bustle is important. Make sure to keep their most familiar blankets and beds with them where possible.
During the summer months the weather might be too warm to have your pet in the yard while you bring stuff in and out of the house, making a crate or bed in a cool spot imperative. If the weather isn't too warm to have your pet in the yard, I highly recommend double checking the stability of the fence before letting them sniff their new yard.
Food & Water Bowls
For many pets, where they eat, drink, and sleep can quickly become their home. One of Rooney's #1 priorities is "where is my next meal coming from?". Setting him up with access to water and some food will go a long way to getting Rooney adjusted to his new home.
Toys & Puzzles
Let's talk entertainment. While it is possible that your pet might be too stressed to want to play with toys and puzzles, they might make them feel more comfortable and will provide them with mental stimulation while you are moving things into your new home.
Mattress Sheets and Pillows
Whether you are buying a new mattress or setting up your old one, it will make your pet feel more at home if they can see and smell familiar items. In many cases, this means taking a nap on your bed. Try to make things look and feel as similar as you can for your pet. Bonus tip: Look at the room and home from your pet's perspective and try to eliminate any added stresses from their environment (PetCentric.com).
Bonus Tips:
Have a New Veterinarian Picked Out
Because you never know what is going to happen, I would have your pet's records already faxed over to your new veterinarian's office (as well as a copy with you in case of emergencies).
Take a Week to Help Your Pets Adjust
This was a great idea from PetCentric.com. If you can work remotely or take a week off, that could really help your pet adjust to the significant changes that come along with any move. Having you around will help them feel more confident and comfortable in their new space.
What steps have you taken to reduce your pet's stress during a move?