Disclaimer: This post is sponsored by CleverPet Hub. 
I have been so very excited to share with my readers more information about the CleverPet Hub, a smart puzzle and game console made especially for dogs. But, before I begin our three part series on our CleverPet Hub experience, let me give you a little bit of background.
Herding Breeds and Their Need for Mental Stimulation
We have all heard the phrase, "A Tired Dog is a Happy Dog" and that is most certainly true in my experience as a dog mom. I have been lucky to experience a variety of dog breeds in my life, everything from Chows to Chihuahuas, and Labs to Spaniels. But, keeping a herding breed at this tired/happy level, was something new I hadn't yet experienced, until I met Rooney. Herding breeds need mental stimulation and physical exercise in order to remain happy, challenged, fulfilled. The work they have been bred to do is challenging and requires a level of intelligence that sitting around our houses does not. Of course that's not to say that Rooney doesn't get regular walks, daycare, and training. However, having a tool that can help us provide regular and consistent mental stimulation to our dogs, beyond our normal exercise, is imperative for the overall health of many breeds.
But, you don't have to take my anecdotal experience with herding breeds at face value, you can also reference the research of Dr. Brian Hare, who leads the Duke Canine Cognition Center. According to Dr. Hare, it's important to note that your dog (and all dogs) have different cognitive abilities:
How your dog communicates
How he/she remembers things
What he/she can infer (in other words, spontaneously solving novel problems that he has never been seen before)
and How he/she responds to the emotions of others
According to Dr. Hare, it is important that pet parents understand 1) what cognitive abilities our dogs have 2) how we can we stimulate these abilities to keep our dog's mind in tip-top shape, especially as they age.
One of the best ways I can do this for Rooney is provide him with challenges to solve that are mixed with play. For this type of solution, I look to puzzles.
Rooney's History with Puzzles
Rooney's history with puzzles isn't great. Mostly because he is impatient (like his mom). So, his solution to the puzzles available at your local pet store is to destroy them so that he can get to the treats faster. I equate this to the way I open a chip bag; effective, but messy.
So when I got an email from CleverPet I was really excited to try something much more high-tech and sturdy. I assured them of a few things:
Rooney will try to destroy it. To that, they said they had tested the sturdiness of the CleverPet Hub on wildlife animals and it held up. To that, I said, touché.
Rooney likes puzzles (I thought this was true before, but now I know), we just haven't figured out how to get one to survive. They assured me that some dogs take time to get to know the CleverPet Hub, but once they do, it can provide a level of mental stimulation they need.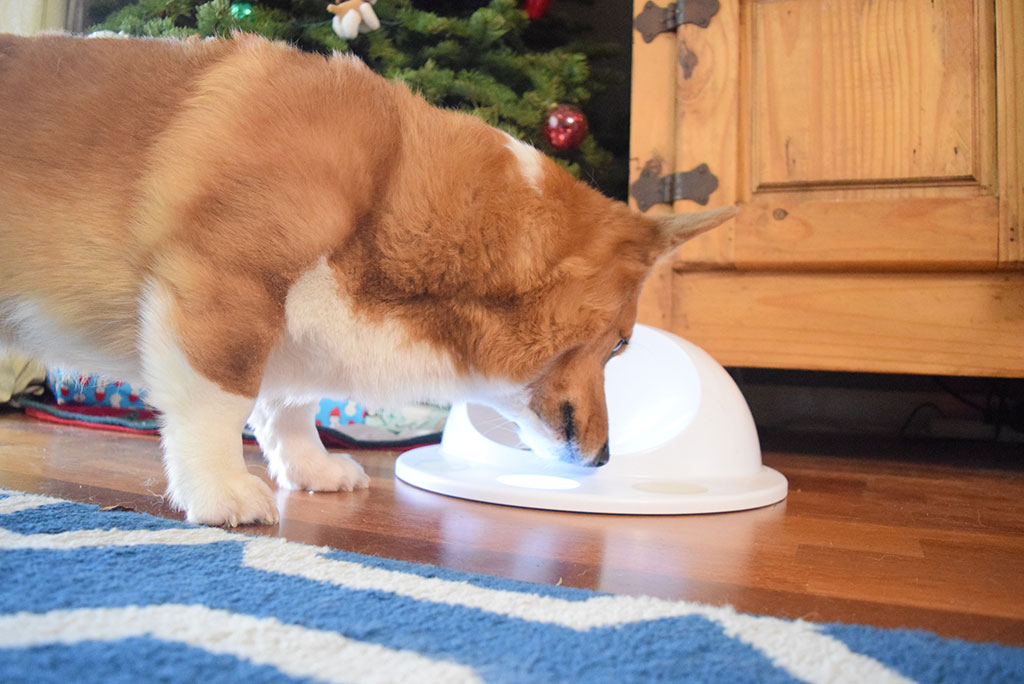 Our First Experience
So, I brought the CleverPet Hub home and I followed the instructions for set up, downloaded the app, and plugged it in. Even though Alex from CleverPet told me that some dogs take sometime to get used to the noise associated with the food delivery, I thought Rooney would have no problem with it because very few things startle him.
However, sure as the sun rises, Rooney was startled by the noise and began to vocalize his opinion of it (Corgi parents out there know what I mean by "vocalize"). Noises associated with "what the heck is that?!?".
So my husband and I were giving Rooney treats by the CleverPet Hub and leading up to it (very high-value and yummy treats). But we couldn't get Rooney to accept the noise yet.
My First Mistake
So then I thought to myself, my friend's dog Grayson (Aussie Cattle Dog/Border Collie mix) will like this puzzle right away and when Rooney sees him playing with it, he will want to play with it too! See, Rooney is very competitive (again, like his mom), and I thought this might motivate him to get used to the food-delivery sound.
While all of that was technically true. Rooney did indeed want to play with the Hub because Grayson was playing with it, and the competition did work. It only worked while Grayson was present. Because we used my friend's Wifi to link the CleverPet Hub, we left the Hub with Grayson for a few days so that he could play with it and see how he liked it.
Mind you, Grayson is definitely the "your dog knows 1,000 words" kinda smart and he went through the levels very quickly. He had no problem whatsoever with the noise associated with the delivery of food and very quickly got used to the Hub and figured out the lights.
My mistake was not taking the Hub to Grayson's house, or using competition to try to get Rooney to like it. It was not taking the time to get Rooney used to the CleverPet slowly but surely in our home with some level of consistency right when we got it.
How do I know that was a mistake? Read on.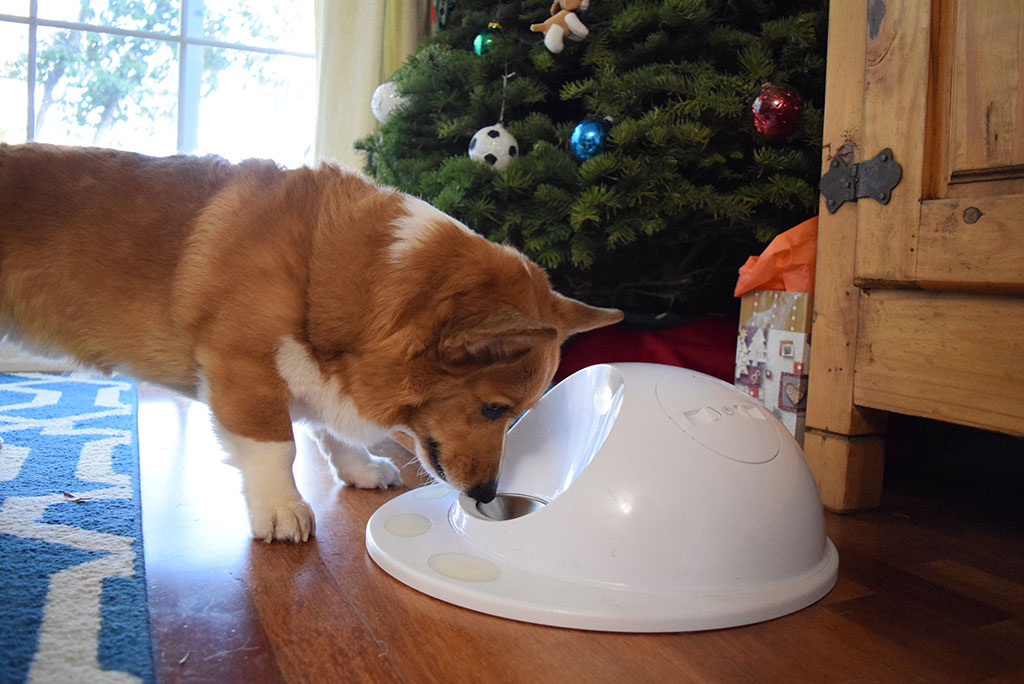 I Finally Got My Act Together
Rooney continued to vocalize at the CleverPet hub when we turned it on and tried to give him treats by it on-and-off for the next few weeks. However, we weren't consistent with this. We were trying to get him used to it every few days with no type of plan or consistency.
Once I finally got my act together and said to myself, "Rooney will get used to the CleverPet, we just need to be consistent and do more research in order to be successful".  So I emailed the CleverPet support team, you can even do this directly through the app, and said that I was having a hard time getting Rooney used to the food-delivery noise.
Their first suggestion was to feed Rooney by the Hub while it was off, and then start turning on the Hub and continuing to feed Rooney in a bowl next to the Hub. The whole goal was to try to build a positive association with something I knew Rooney would love and benefit from. So for the next week, we fed Rooney by the Hub in a separate bowl with the Hub unplugged. Then, we plugged the CleverPet Hub back in and continued to feed him near it for a few more days. While Rooney would jump a little at first, he ultimately would be too focused on his food to react to the CleverPet Hub food delivery sound while he was eating. "The Sound" that was so startling to him before was quickly becoming background noise.
On Thanksgiving Rooney would be getting a special meal from Petcurean, so we were sure to feed that to him by the Hub as well.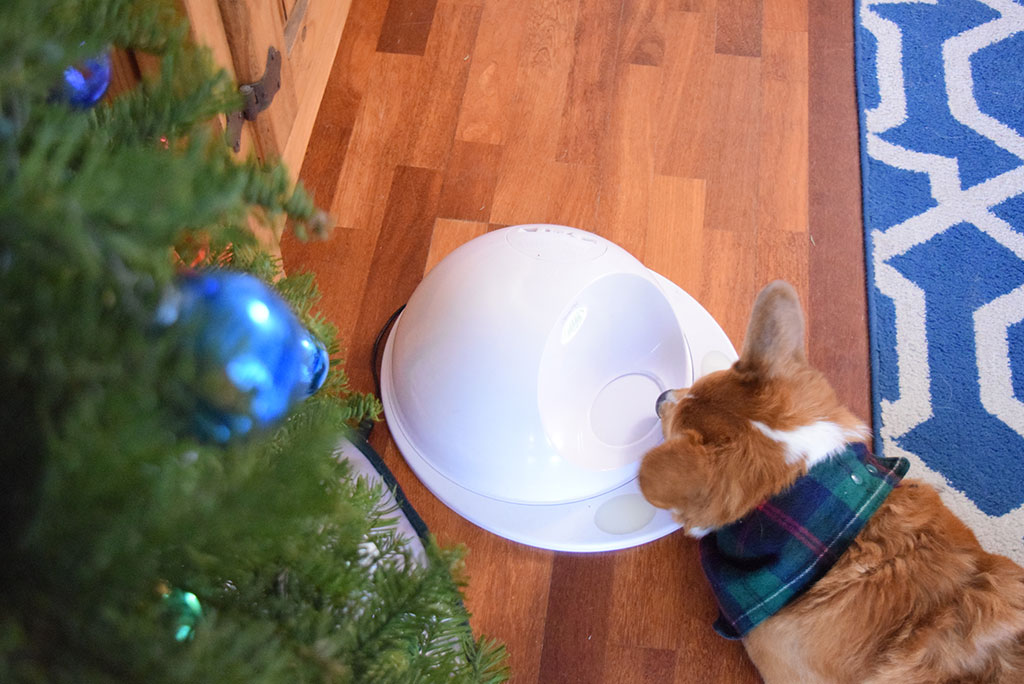 Success! – Almost
Positive association with the CleverPet Hub achieved. Now all we had to do was get him to eat out of the Hub.
So, then we started to use the Hub itself as a bowl. We would unplug the CleverPet Hub and pour Rooney's breakfast or dinner on top of the feeding area. Then, Rooney became used to the Hub itself being a source of food. After a few days, we turned the CleverPet Hub on, and used a few high value treats mixed with kibble to get Rooney used to it.
The key to success here was for me to walk out of the room. I turned it on, and went upstairs to continue cleaning the house, and I heard Rooney eating out of it. I realized at that moment, if I was watching him, he wasn't fully focused on trying to figure out the Hub, he was more like, "Mom, help me figure out how to get food outta this thing". Which is probably because we are associated with Rooney's food and have been for almost 6 years. However, once I removed myself from the equation, that was the final step in getting Rooney to interact with the CleverPet Hub.
Real Success
Rooney zoomed through the first two levels in a day, and then has been slowly working through the CleverPet Hub levels in the past few weeks. On weekends, and days I work from home, Rooney is fed his breakfast through the Hub which keeps him busy while I am working and also provides him with mental stimulation. Not to mention, he LOVES it! While I was writing this post, he started to fall asleep on it! I'm so glad we took the time and necessary steps so that Rooney could have something that makes him happy and fulfilled!
There are so many cool features associated with the CleverPet Hub and the app, but I'm going to go over those in the next post. However, let me know in the comments below if you have any further questions about our CleverPet Hub experience!
Disclaimer: Rooney and I were provided with a CleverPet Hub so that we could provide our honest opinion. My Kid Has Paws only reviews products that we believe our readers will enjoy.