This blog post was made possible by Petcurean Pet Food. 
Winter is officially upon us.
While many Californians are lucky, our hearts go out to the many people and pets who can't play outside right now, no matter where you live, winter can pose a danger to your pet. Therefore, today I would like to share with you some tips for preparing for the winter season. Specifically, we will focus on how to keep your pets safe, happy, and healthy until Spring.
Winter Safety for Pets
Petcurean, the food we feed Rooney every day, is recommending the following precautions to ensure safety for your pets throughout the winter:
Use a humidifier
Cooler weather usually brings dry air, so using a humidifier will help to keep the noses and throats of our dogs and cats from drying out. It's the same for their coat and skin.
Taking care of your pet's coat, skin, and feet might take some extra effort this winter. If you notice that your pet's skin and coat are extra dry, talk to your veterinarian about switching to a soothing shampoo this winter, as well as changing the frequency of baths for the season. In addition to looking after your pet's skin and coat, be sure to check their paws (especially if they are running in the snow) for irritation and cracking.
Use pet-friendly snow melters
Choose pet-friendly ice and snow melters that won't irritate paws or stomachs, especially if your dog or cat licks its paws after being outside. 
Paw protection
Protect your dog's paws with a wax product designed to protect their paws that forms a dense, breathable bond, which helps prevent snow buildup during outdoor exercise. After walks, wipe away any snow or ice from your dog's feet, legs and belly.

For extended periods outside, you can purchase boots for your pup's paws. The first time you put them on your dog, there may be a comical reaction. Some dogs decide they simply can't move with those things on their feet. Others walk around lifting their feet up exceptionally high like a prancing pony. But don't worry, it doesn't take long to get used to the boots! Distract your dog with treats or a fun activity while he is wearing his boots and soon he will forget all about them. You could also try putting socks on your dog before you introduce the booties so he feels comfortable with something on his feet. Make sure the boots don't fit too tightly so as to cut off the circulation and invite frostbite.
Be safe and alert when walking at night
Poor weather and decreased daylight may cause limited visibility for drivers at night, so take extra precautions when walking your pets and make sure you use a leash. Nowadays there are all kinds of reflective aids to help drivers see you in the dark. Reflective collars, leashes, harnesses and vests for both you and your dog are great ways to stay visible.
When we walk Rooney at night, we are always sure to remain as visible as possible. We prefer to use reflective leashes and collars. I would also add that it is important to be very visible in the early morning hours as well. Specifically during the colder months when most people's windows are still frosted.
Coat or no coat?
If you live in a particularly frigid zone, you may want to consider a jacket for an extra layer of warmth for your pup while outside. Cats generally don't fare well in jackets but dogs who don't have a 'double coat' may benefit from wearing a jacket while outside for their walks. There is a huge variety available, from a simple sweater to a full-blown waterproof jacket with hood. However, do reserve the wearing of such warm apparel only for when you are outside.
Rooney has a few different jackets. One is for the snow that we hope to use on a trip to Tahoe next month. However, we usually stick to a light weight fleece jacket for Rooney's walks when it's cold.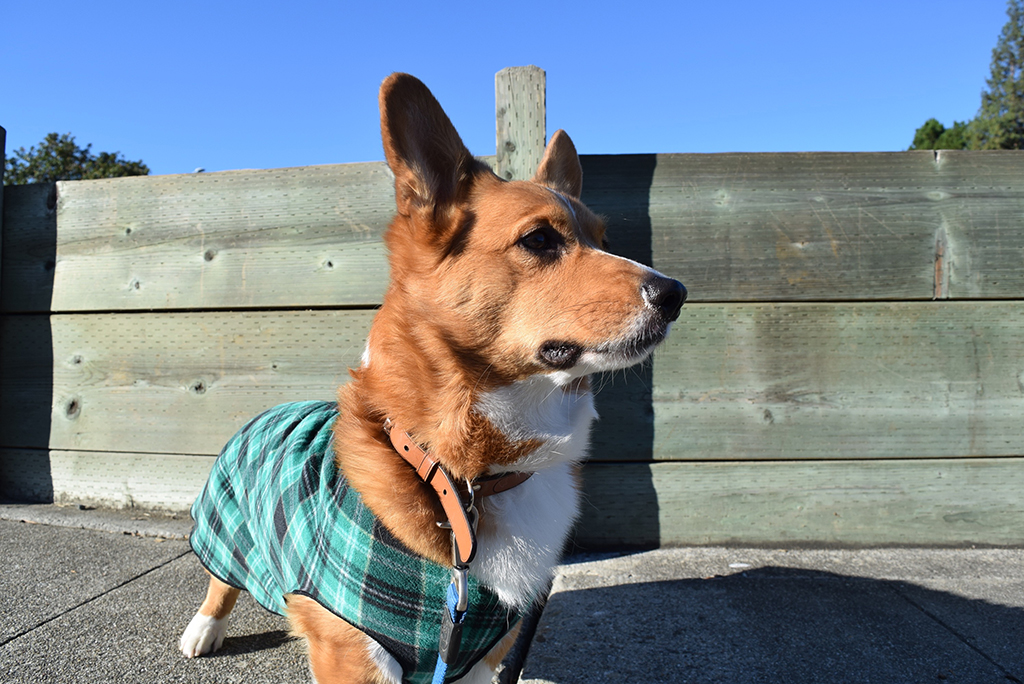 Provide shelter
Some pets spend a lot of time outside, either by their own choice or by necessity. I used to have a Border Collie whom I would find outside in the worst weather, soaking wet or covered in snow, despite the fact he had several warm cozy places to choose from! His preference was to always be outside, regardless of the weather. No matter what the reason, a warm, dry, cozy shelter is a must for dogs who are outside on their own in frigid temperatures, rain or snow.

Place the shelter out of the wind, under shelter if possible, and up off the ground. Provide some type of bedding; old blankets or even a deep layer of straw will help insulate. It is key to check the bedding in the shelter daily. Wet bedding will only make your pet colder. Fresh water is also necessary and if the water freezes where you live, inexpensive water bowl heaters are available.
In addition to the awesome advice shared by Petcurean, I would like to add two more safety tips that the veterinarians from Trupanion recommended:
Mushrooms
Keep your pets from eating mushrooms that pop up on lawns, under trees, in fields, and on logs. While some won't make your pet sick, a few are deadly. If your pet accidentally eats one, especially if they seem to have a reaction to it, or you know the mushroom is toxic, go to your veterinarian as soon as possible.
Because our winter season is also our rainiest season, many grassy areas in our neighborhood become overrun with mushrooms. On night walks these mushrooms are difficult to see, therefore, I am diligent about where Rooney sniffs at that time.
Car coolants
It's important to note that our cars leak substances that can be highlight toxic to pets. Specifically, coolant and antifreeze are highly toxic to pets. Trupanion recommends cleaning up any spills immediately, keep any remaining new coolant or antifreeze out of reach, and dispose of used coolant or antifreeze. Additionally, multiple sources urge you to consider switching to a propylene glycol-based coolant or antifreeze — while not completely nontoxic, it's significantly less toxic than other engine coolants.
Winter Health for Pets
Keep them inside
Lastly, if it is cold enough outside that YOU don't want to be out in it, you should assume the same for your pet, especially the very old, the very young, or the sick. Keep them inside with you.
How do you know when it's too cold outside for your pet? PetMD recommends assessing multiple factors before taking your pets outside:
Coat Type
Coat Color
Size
Weight
Conditioning
Age & Health
Windchill
Dampness Outside
Cloud Cover
Activity
Each of the above factors change whether your dog should be outside on specific days. If you aren't sure, check with your veterinarian. Many veterinarians even offer guidelines you can reference for extreme whether. For reference, I want to share with you this chart from PetPlan pet insurance: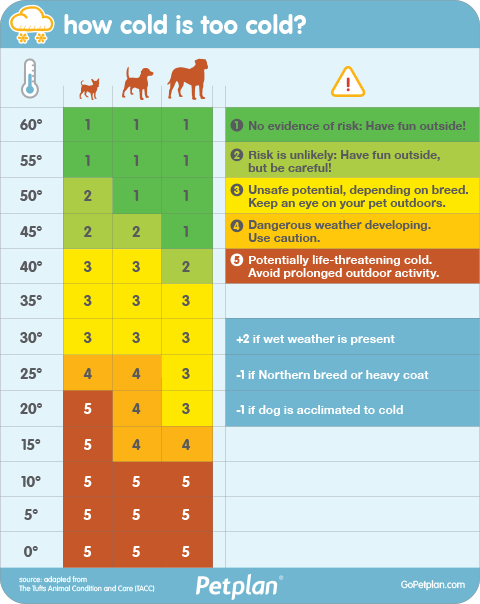 Indoor Exercise
One of the biggest challenges for both humans and pets is the decrease in exercise we all experience in the winter. Most of the year we spend time outside with our pets in the form of daily walks, hikes, runs, or even visits to the park. Unfortunately, extreme weather can really damage this routine. A few extra pounds on your pet in the winter may not seem too bad, but can be very difficult to loose and cause strain on your pet's joints. A few years ago I wrote a post for the Guild of Collies & Shepherds titled Top 5 Indoor Activities for Your Athletic Dog. Here, I outline 5 different ways you can provide your dog with exercise without having to leave the house. These activities can help you battle winter blues and extra pounds on your pet.
Allergies
Trupanion recommends checking your pet for signs of allergies this time of year and I must agree. Rooney has been very itchy this whole week and I have managing his allergies to keep him from getting hot spots or each infections.
Just like people who have seasonal allergies, your cat or dog may also react to pollen, dust, or other allergens. Pet allergy symptoms can be similar to ours — sneezing or coughing, runny nose, itchy skin, ear infection, and itchy, red, or watery eyes. If you think your pet might be suffering from allergies, call your veterinarian to discuss testing and treatment plans best suited for your pet's needs.
If your dog is new to you and you aren't sure if your pet has the wonderful gift of allergies yet (that's joke of course, allergies can be miserable), Trupanion outlined the 12 Dog Breeds Most Prone to Allergies:
Top 12 Dog Breeds Most Prone to Allergies
English Bulldog
French Bulldog
West Highland White Terrier
American Bulldog
Basset Hound
Rhodesian Ridgeback
American Pit bull Terrier
Shiba Inu
Bichon Frise
Boston Terrier
Miniature Poodle
Yorkiepoo
The flu season is not just for humans
Canine flu and bordetella, or "kennel cough," are both airborne diseases. If you see a dog that is coughing, keep your own dog away and avoid cross contamination. If your dog develops a cough or high fever, contact your veterinarian immediately.
Additionally, make sure that your dog is up to date on their bordetella vaccine. So many pets are boarded during this time of year, which can increase exposure.
Winter Happiness for Pets
Show them extra love with Tasty Treats
The holidays are all about showing love and appreciation so give your cat or dog some extra belly rubs and treats to make up for the chilly weather and any cold shoulders you may receive due to holiday travel. Petcurean's SPIKE treats for dogs are great because their packed with superfoods like Chia Seeds, Pomegranate and Kale, plus they're portable. For Cats, try Petcurean's new NOW FRESH Stews and Pates, you can feed these as a complete meal, but they're also perfect as a topper or served as an extra treat. Added bonus – they're made with 100% human grade, fresh ingredients including turkey bone broth, sweet potatoes, peas and carrots, and feature zero grains, gluten, wheat, beef, corn or soy.
We reviewed the new NOW FRESH Stews last month, and I can't say enough how much Rooney loves these things! We even used them as an extra treat to get him used to his CleverPet Smart puzzle. You can read more about that here.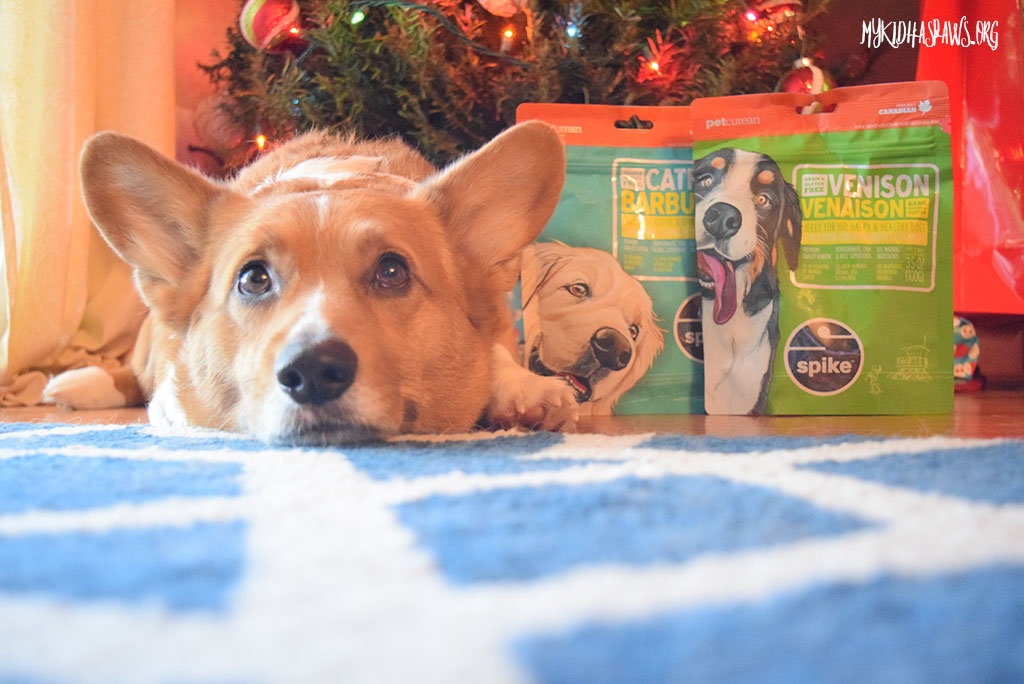 Spend Extra Time Training & Grooming
I would add that the winter can provide an opportunity to spend quality time with your pet. While you may feel a bit stir crazy at times, chances are your pet is feeling the same way. Take this as an opportunity to practice training and basic commands. Training your pet can strengthen your bond and provide your pet with a challenge.
Additionally, if your pet doesn't mind a little grooming, take the time to brush them thoroughly and perhaps give them a bath and trim their nails. When Rooney wants additional attention, I use that as an opportunity to spend time with him and brush him (with treats of course).
We would love to hear how you are preparing your pets for the winter season! What precautions do you take? Do you make any changes to your routine? Let us know in the comments below!
Disclaimer: I am a Petcurean blogger advocate. I was provided with food and compensation so that Rooney and I could provide our honest opinion. However, Petcurean is the food we feed Rooney every day and My Kid Has Paws only shares reviews we believe benefit our readers.
Main Photo Credit from Unsplash: