Pet-friendly workplaces are only becoming more and more common. And it's no wonder considering the amount of time most people spend away from their pets, it makes sense to offer a perk that increases loyalty, productivity, and employee health within an office.
According to a study conducted by Banfield Pet Hospital:
67% of employees and 81% of HRDMs agreed that [pets in the workplace] led to increased productivity; 82% and 91% believe it makes people more loyal to the company; and 86% and 92% say it decreases employees' stress levels
I am lucky that I work in a pet-friendly office. While I don't bring Rooney to the office with me everyday, I do have the flexibility to have him with me before and after his doggy daycare sessions. Not only does having a dog at the office decrease my stress, it also improves my daily activity. For example, on days that I take Rooney to the office, I often get 2-3 times the amount of steps as I would get on a normal work day.
Pet-friendly offices are so important for the future of employee and company health, that is why I am so excited to share with you this interview with Dani Kahn, Trupanion's Pet Director, where we talk all about the importance of pet-friendly offices and how to effectively implement a pet-friendly policy. Enjoy!
Do you think it's important for a company to be in a pet-friendly area in order to create a pet-friendly work environment?
While a pet-friendly office can be anywhere, Seattle, where Trupanion is based, is very pet-friendly and that definitely adds to the pet-friendly culture in the company.
How can a company begin the process of becoming more pet-friendly?
NOTE to all the startups out there! 
If you are part of the leadership team in your office, it's important to note that you will have more success with a pet-friendly policy if your company implements a policy from the beginning. Once employees start to bring pets with them to work, it's difficult to establish rules and guidelines.
How do you manage dog behavior in a large office with so many dogs?
Managing dog behavior in an office as large as Trupanion's with nearly 300 dogs is a full-time job. To be successful with a program as big as ours, it is imperative all pet owners take personal responsibility for their pets and follow our pet guidelines.
We anticipate certain etiquette for the pets in the office, and although we do not dictate the way team members train their pets, we expect pets to be well-behaved while in the office.
Education is key to success for us as most of our teams have strong animal husbandry skills. Having resources available for team members struggling with a specific issue, along with sharing our own personal successes with training methods, has proven effective time and time again.
Here are some tips for successfully managing a pet-friendly office:
Keep dogs on leash in common areas
Keep lines of communication open – make sure that employees feel comfortable discussing their pet's behavior with other employees and that people know where they can find more resources.
Educate on pet behavior: This is particularly true for breed specific behaviors. If employees aren't aware of common herding breed behaviors (whether or not they have a herding breed), this is important information to share with the staff.
Keep in mind that pets are smart and often adjust to a new environment and schedule within 2 weeks of regular visits to the office.
Do you believe that having pets in the office has a positive affect on employees? 
The impact having pets in the office has on employees goes far greater than words can express. Having pets in the office creates a warm inviting environment, reduces stress in everyday work, brings humor to heavy meetings, and eliminates the rush to get home at the end of our day.
Rather than sit in traffic, we go for a walk with several other teammates and their dogs, we can go to the dog park and play, we can stay and do agility classes or show dog training with others in the office.
Americans spend so much of their time in an office and having our best friend and companion right there next to us in the space really makes a difference.
Here are a few other perks of having pets in the office:
While the work that Trupanion does is so important, it can often be an emotional rollercoaster. Sometimes people are calling to establish pet insurance with their new puppy, other times people are calling because they have had to save goodbye to their pet. Dogs in the office provides comfort to Trupanion's employees.
Pets create an environment that feels like home.
Employees save money on the costs of daycare and dog-walking.
The flexibility associated with a pet-friendly office increases employee retention.
What benefits does Trupanion provide for their employees as part of being a pet-friendly office?
When designing our new office space in Georgetown, pets were one of the top priorities for us. We chose flooring that was slip resistant, anti-fatigue, stain resistant, easily maintainable, and looks professional all in one.
We have two indoor dog lounges for off-leash play, lab services including discounted internal parasite screenings, discounts with local vendors in the pet industry including boarding, grooming, food and travel.
Each team member is provided a Trupanion pet medical insurance policy for a personal pet. In an emergency, the pet emergency response team of licensed vet technicians and a veterinarian on staff can evaluate, and stabilize if needed, to mobilize to the pet to the nearest emergency center.
Other partnerships include pet blood drives, training, first aid and CPR, internal educational programs on pet behavior, service dogs, and multiple other topics available to team members.
Trupanion also has a team of 7 corporate dog walkers that offer a personalized dog walk for each pet every day.
I continue to look for additional benefits to add to our program as team members live all over the Puget Sound and it is important to me to have benefits available in areas close to home for our remote workers to enjoy as well.
A few other features include:
Hooks on employee desks so that dogs aren't wandering about the office.
Temperament flags: Because every dog is evaluated for behavior and health, the company's flag system allows other people to know how friendly a dog is, and if they have allergies or medical conditions.
Pet first-aid kits for minor injuries.
What should companies consider before they begin implementing a pet-friendly work environment?
Companies considering implementing a pet-friendly environment should envision the program and determine your policy prior to allowing pets in the office.
Having a thorough policy with clear rules and expectations from the very start will help you create an amazing foundation for the pet behavior in the office. Adding rules as you go with issues that happen are difficult for everyone, and knowing what is acceptable from the start will keep harmony amongst team members as well. Educate your employees with the very basics of human/dog etiquette for the success of the pets and the people.
Who will manage your pet benefit? It is very important to have one designated person managing your program for consistency. My role is part of human resources with support from each team lead to manage our office pets.
Some other questions to consider:
What vaccines will you require?
What testing will you require for pets if any?
Who is responsible for any damage to property or other pets in the office?
What resources do you have available for the benefit?
Do you have any known limitations or restrictions?
Does your floorplan allow for gates to be installed to allow pets to be off-leash in their area but not in shared spaces if there will be restrictions?
For more information please check out Trupanion's Pet-Friendly Office Checklist.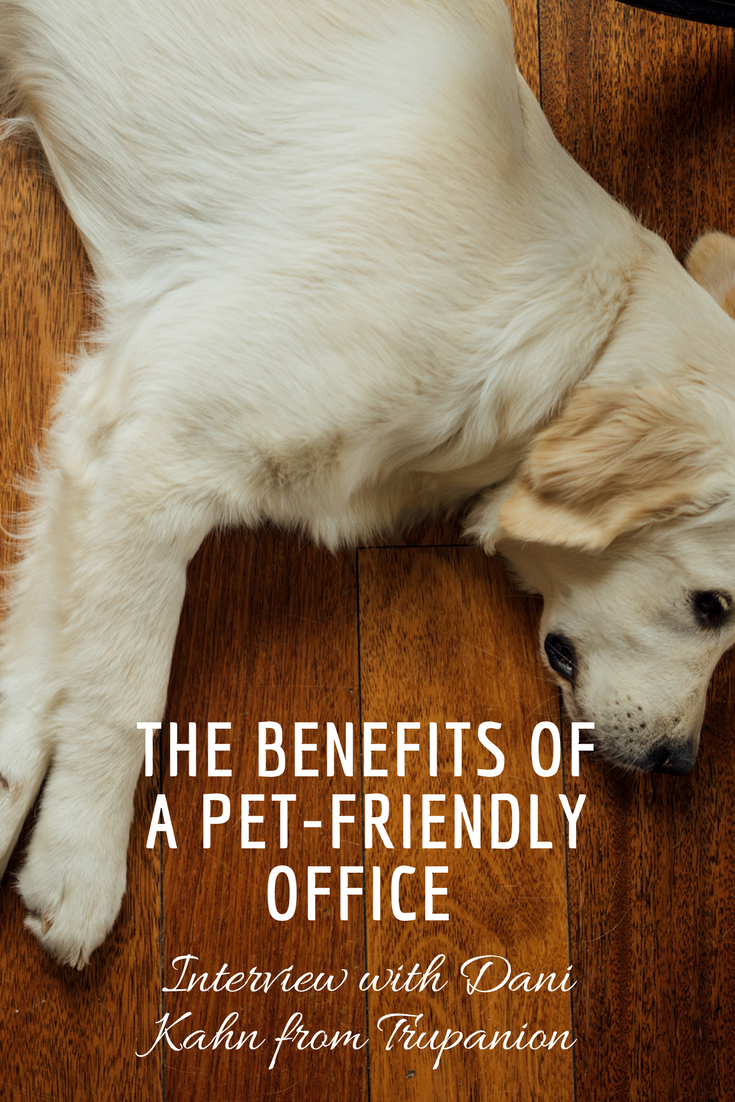 What is the process for bringing your dog into the office as a Trupanion employee?
All team members at Trupanion attend a New Hire Orientation upon starting with us that includes a 45 minute introduction to Trupanion pets in the office.
After the team member has successfully completed their training, they are able to complete the pet application which includes a signature line from their manager to agree the member is meeting production and able to have a pet in the office. The application includes proof of current vaccinations, a negative fecal in the last 6 months, a liability waiver, and a photo of the pet for the pet management software system so our dog walkers can identify the pet.
The team member is then scheduled for a 30 minute application review meeting with me and we discuss in more detail the expectations of them having a pet in the office and what they can expect from me.
The next step is to have the pet come in for the first day in the office. We meet in a dog lounge where a thorough pet evaluation is completed, including an introduction to a neutral dog, and introductions to any other dogs that will be working in the same area. It is imperative they all meet in a neutral zone to avoid territorial reactions. I issue a temperament flag to each dog in the office that must be worn on the pets leash while in the office at all times. This allows others to know if it is safe to approach or if they should slow down.
All team members work together to aid in the success of each pet in the office. I typically check in with new pets in the office for the next few weeks and certainly in passing to see how everyone has adjusted. If there are questions or concerns, team members are encouraged to reach out to me anytime for help.
I want to thank Dani for taking the time to share this amazing insight with MKHP readers! I assume that if you live in the Seattle area, you are already looking for jobs at Trupanion!
Share in the comments below your thoughts and experiences with a pet-friendly office!