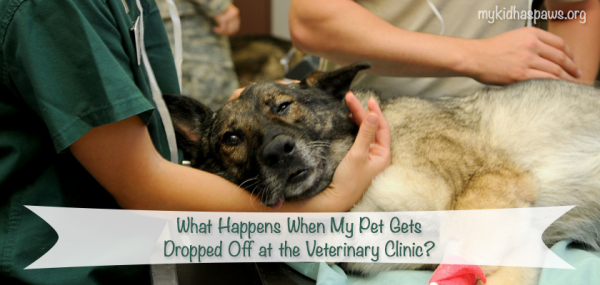 Carol Byrant from Fidose of Reality and I have matched up to bring you a veterinary experience from a mom and veterinary technician's perspective. I will be writing from the veterinary technician's perspective in order to bring you some insight into what happens "in the back" of a veterinary hospital.
Please keep in mind that every veterinary hospital will have its own unique processes and procedures, so this post will be a direct reflection of my experience working in veterinary hospitals.
Today we want to answer the question, "What happens when my pet gets dropped off at the veterinary clinic?".
For example, let's say that your dog is being dropped off for a dental including full anesthesia, and possibly 2 teeth extractions. Estimated surgery time is 20 minutes, and total estimated anesthesia time is 45 minutes. The staff will use the additional anesthesia time to clean and polish the teeth either before or after the extractions.
The Drop off (8:00am): When your pet is dropped off in the morning, the first thing we do is weigh your dog, and get them checked in with the standard paperwork. The reason we weigh your pet the morning of surgery is that we want to make sure they haven't gained or lost a significant amount of weight since their last exam, because that could be a sign of a possible medical issue. We also want to make sure that the anesthesia calculations use the most recent and accurate weight, since doses are calculated based on weight.
If the veterinarian who is doing surgery that day (this would apply in a multi-veterinarian practice) is already in the hospital, they may give your dog a physical exam before we put your dog in a cage. The purpose of the physical exam is to make sure your pet is in good health, and has no signs of any medical issues before we begin prepping for surgery.
If your pet's physical exam goes well, we will go ahead and calculate their pre-med. The pre-med works as both a pre-anesthetic and a pain medication. Basically, this will start making them sleepy and serve as pain control before, during, and after surgery.
Your dog's critical information, and reason for surgery will be placed on a whiteboard, and a name card will be placed on their cage. This helps the staff know who is in the hospital, and what treatments they will need throughout the day. Many procedures vary across hospitals, but this procedure of writing patients on the white board was true for every hospital where I have worked.
Pre-Op (9:30am): If your dog is first in line for surgery that day, we might already be in surgery with your dog. However, on any given day we could have 3 or 4 surgeries, so your dog may not be going into surgery until 11:00, or 11:30am. Feel free to ask what time your pet is expected to go into surgery, but be prepared for this time to change, as we never know what the day will bring. Around this time in the morning, we will be placing catheters in all pet's who need surgery that day.
Placing a catheter can be an uncomfortable process, but we have already given them their pre-med, so your dog will be much more comfortable. At this time, we will also be setting up all necessary items for your dog's dental procedure.
Surgery (10:00am): A 10:00am surgery time would be typical for a pet who was 2nd or 3rd in line for surgery that day. At this time, your dog will be comfortably under anesthesia, and your veterinarian will likely be performing the teeth extractions. The length of time to extract teeth will vary based on the location of the teeth and the quality of the roots. For example, if your veterinarian is extracting a tooth in the vary back of your dog's mouth, and the tooth is so rotten that the roots start to crumble as the tooth is being extracted, this may lead to a long extraction time because your veterinarian will want to make sure that all roots have been removed otherwise they could cause your dog issues down the road.
Post-op (11:00-noon): After your dog's surgery is over, we will start to wake them up. We turn off the gas anesthesia and keep them intubated, depending the quality of their other vitals, we may decide to keep them on IV fluids at this time. Your dog will start to show signs of waking up within the next few minutes depending on how affected they are by the anesthesia. As your dog is waking up from surgery, they are with a veterinary technician the entire time. While waking a patient from anesthesia we are sitting or laying with them in their cage so that they feel comfortable when then wake up.
Anyone who has had anesthesia knows that your initial wake up can be very confusing. So we are sure to be there to let them know that they are okay, and we also assess their vital signs to make sure their body is recovering from anesthesia well.
Normally, this is the time that the veterinarian will give you a call to let you know that your dog's surgery went well, and they are comfortably recovering from surgery. However, if an emergency walks through the door (like I said you never know), your veterinarian may have to postpone their call to you another 30 minutes to an hour, so patience is key at this time. I always remind pet parents that if your pet were the one with the emergency, you would want your pet to have veterinarian's full attention at that time.
Post-Op (noon-5pm): Most of our surgery patients get picked up between 4:30pm and 5:30pm. We typically decide what pickup time will be when your veterinarian provides you with your post-op call. During these post surgery hours, the veterinary technician on the surgery will continuously assess your dog's health. Meaning, we constantly check on our patients. Because we spend significantly less time in rooms with clients than the veterinarian does, and we are always in the back, it is our job to make sure all post-op patients are perky, and recovering with appropriate energy. We make sure to keep them warm and comfortable, and also prepare all of their post-op medications that will be going home with you.
Sometimes we would send a picture of the patient to the client's cell phone (if they provided the number), with a message saying something like…"Hi Mom! I am recovering well from surgery, and I can't wait to see you when you pick me up at 5:00pm". I think pet parent's really liked this, and I hope other clinics would do the same.
At 5:00pm you get a chance to see your pet, and we update you on their surgery and send you home with all necessary information and prescriptions. We always go over with you the signs of pain or discomfort that you as a pet parent should watch out for:
vomiting
diarrhea
panting
extended lethargy
and other surgery specific symptoms
If you have any questions now is the time to ask, but don't be afraid to call the next day with further questions. We would rather you ask than worry!
Please remember while your pet is at the veterinary office, no news is not necessarily bad news. Like I mentioned previously, we could have 3-4 emergencies walk in before 9:00am and completely change the course of the day, so please be patient. Your veterinarian wants to update you just as much as you would like to be updated.
Hop on over to Fidose of Reality to get Carol's perspective of the day as a dog mom!