Our very cheap vacuum lost it's 5 year battle with Rooney fur. As any Corgi parent knows (or pet parents of any double-coated dog breed for that matter), keeping up with the shedding in our house is a full-time job. Rooney is always shedding, now of course there are things we do to reduce his shedding (see the last section for details), but he will always shed a lot. Which means, we need to have a good vacuum in our house.
A few months ago, we started to notice that our vacuum was leaving lots of Rooney fur behind on the carpet. Rooney "fur streaks" to be specific. So I soon found myself on the hunt for a new vacuum.
Color me surprised when I learned how many types of vacuums there are. According to ConsumerReports.com, there are stick vacuums, upright vacuums, canister vacuums, robotic vacuums, and of course handheld vacuums. To be honest with you, I immediately got overwhelmed trying to determine what would be the best option for our house. But I knew I wanted the following; a vacuum that wasn't uber expensive and didn't require a bag. Because we vacuum up so much fur, it wouldn't be environmentally friendly to use bags. And, we often have to empty a canister several times when vacuuming the house (or even a room!).
My total knowledge of vacuum cleaners included the following:
Dyson: as far as I know they have a reputation for being expensive and fancy, but also very good. I didn't want to spend over $150 at the moment, so these were out of the question.
Hoover: I think we had one of these when I was a kid, but I don't know much about the brand other than that it exists.
BISSELL: This is really the only vacuum brand that we are familiar with. Our other vacuum was also a BISSELL and fit into our very tiny budget when we moved into our first apartment and lasted 5 years even though we only paid $40 for it! Also, I happen to know that BISSELL puts a lot of resources and research into creating vacuums for homes with pets, as well as time and resources to finding homes for animals. So they are a brand I like to support.
As you can see, my knowledge of vacuums is very limited, so I'm not saying that we found the best vacuum ever. However, we did find a vacuum that has a canister, was under $150, and had tools that would allow us to easily clean couches and chairs. Not to mention, it also cleans up Rooney hair very effectively, has different settings that allow us to vacuum all the different carpets and rugs we have in our house (including a faux fur rug in our room), and supports the BISSELL Pet Foundation. And we found all of this in: the BISSELL Powertrak vacuum.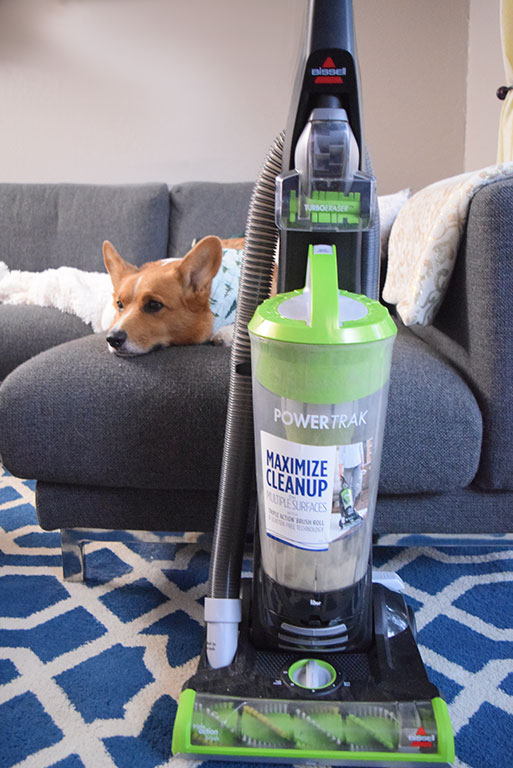 How Often Should You Vacuum?
So, now that we know that we have a better functioning vacuum, I was wondering if we are vacuuming enough?
Martha Stewart recommends twice a week for high traffic areas, but may vary based on number of people and pets in your home. Upon my research there were several sources that suggested that high traffic areas should be vacuumed a minimum of 3 times a week and possibly as much as daily if you have pets.
I think at best we were getting to vacuuming twice a week with our last vacuum. I'm not sure that we will ever have time for daily vacuuming, but making sure that we vacuum our living room and our bedroom (the two places Rooney spends the most time in) three to four times a week is our goal for the future.
Am I Vacuuming the Right Way?
Additionally, Martha recommends in her book, Martha Stewart's Homekeeping Handbook (a recent Christmas gift from a good friend of mine) the golden rules of vacuuming:
Dust the room before you vacuum so that the particles that float onto the floor can be picked up by the vacuum.
Move furniture out of your way before vacuuming the room.
Start inside a room and work your way out of it.
Vacuum in long, slow, overlapping lines, and be sure to get any small objects at of your way.
Don't let the vacuum canister or bag get too full, Martha recommend 3/4 full.
I definitely have some room for improvement here. While I am pretty good about not letting the canister get too full, and I often vacuum my way out of a room, I can't say that I dust before vacuuming every time, or remove furniture every time I vacuum.
How closely do you follow these golden rules of vacuuming? Do you find that it makes a big difference?
Ways to Decrease Shedding
While having an excellent vacuum and vacuuming methods is great for keeping your home with pets clean, there are also ways to manage your dog's shedding. Dr. Marty Becker suggests following the 3 C's: cut, collect, and clean, outlined below.
Cut back on lose hair by making sure that you are feeding your pet a high quality diet. If you aren't sure, your veterinarian will be able to guide you on the best foods for overall health and coat health.
Bathe your pet regularly. Bathing loosens and removes fur that will eventually shed. Rooney sheds soooo much right after a bath especially if I am a week late on giving him one. But, I know that was all fur that was ready to shed. You can also use a grooming and shampooing brush, like this one from KONG to help get some of the fur off of your dog during bath time.
Between baths make sure to brush your dog regularly so that you can collect the fur before it ends up all over your home. I have started brushing Rooney almost every day to gather up the fur he is shedding, I find that this makes a big difference in how much ends up on our furniture and the floor. A tip I want to share with other pet parents is brush your pet before you vacuum. Often, some of Rooney's fur will end up on the carpet when I brush him, so it makes for easy cleanup afterward.
Obviously regular vacuuming is recommended, as well as a Swiffer for hardwood floors.
Those are all the vacuuming tips that we have for today. I would love to hear how you decrease the dog hair in your home, or if you have any ideas, tips, or tricks regarding vacuuming!
Blooper Photo just for Fun!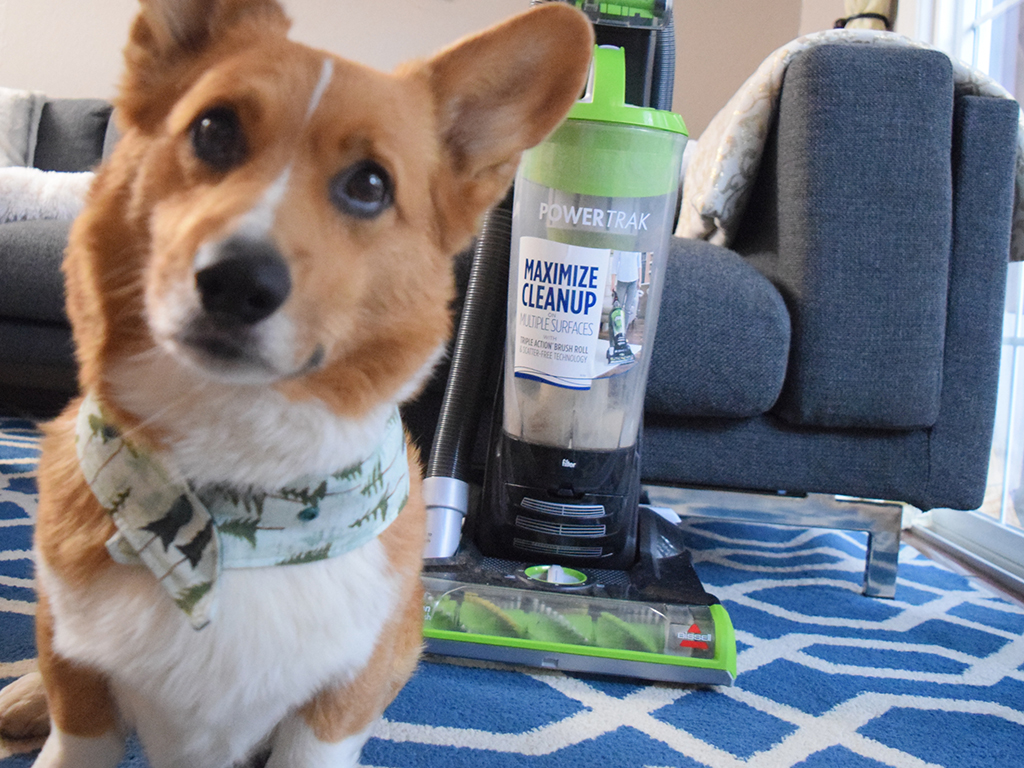 Remember last year (April 2016) when I started writing a blog post series called, "30 Days to a Better Pet Home?". I loved writing that series, but I didn't quite finish it. (I wish life didn't get in the way, but sometimes it does). So I am working my way through some of the topics we missed. We hope you enjoy!
Disclaimer: We are Amazon Affiliates and may earn a small commission for any purchases you make through the linked products or services on this blog post. Your purchase helps support My Kid Has Paws so that we can continue to provide you with content.