Hiking is one of our favorite activities to do with Rooney. Once of the blessings of living in the Bay Area is the number of hiking locations available for pet parents. While we also have access to beaches here in California (another great activity to do with your dog), today I would like to discuss the Top 4 Bay Area Dog Hikes (in our opinion)!
How will we choose which ones are the best? Using the following criteria:
1. Personal Experience
2. Reviews from Publications; Including The Dog Lovers Companion to California, DogTrekker and other Bay Area review sites.
3. Distance and overall dog-friendliness
Land's End, San Francisco, CA – Bucket List Hike
"This is probably the most spectacular park in San Francisco. You won't believe your eyes and your leashed dog won't believe his nose" – The Dog Lovers Companion to California
We have yet to try this trail, but it sounds magical. This trail is about 2.9 miles long and is designed as an out and back hike (however, DogTrekker published that this is a 4-mile trail if you hike round-trip to Eagle Point). According to BAHiker.com, there is a mixture of sun and shade, which should always be an important consideration for pet parents. Shady spots are great places to take a break and get some water. The Coastal Trail is recommended to pet parents since one of the other trails requires that you cross a street with museum and golf parking.
The Dog Lover's Companion to California recommends that you park at the Camino del Mar parking lot and start your hike from there. They also recommend exploring some of the side trails that may lead you down to the beach, or provide you with excellent views of the Golden Gate bridge.
Other Recommendations:
Keep your eyes out for poison oak on these trails
Dogs must be on-leash or under voice control
"If you're visiting with your dog, put a Lands End hike high on your list of priorities." – DogTrekker
Garin Regional Park & Dry Creek Regional Park, Hayward, CA – Great Winter & Spring Hike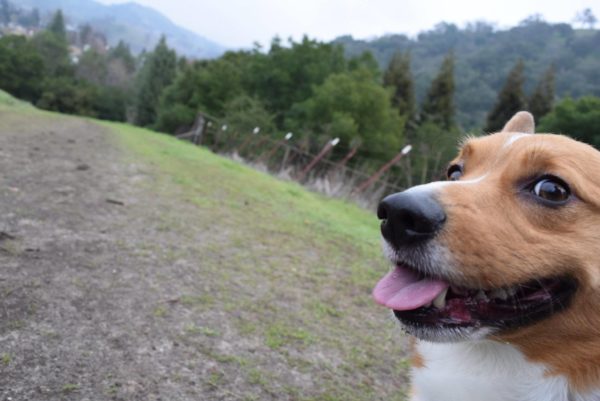 We hiked this trail back in January and it was amazing! If your dog likes to swim and you go on a sunny day after the rain (which we did), your dog will be able to cool off in nice flowing creeks along the base of the trail.
There are over 6 miles of trails here. When we hiked, we did somewhere around 5 miles, some of which was pretty steep. Additionally, there are some excellent fields available where you can let your dog run off leash, so Rooney was able to get an excellent workout.
Other Recommendations:
This hills on this trail don't offer a lot of shade, so try to take your dog either really early in the morning, or on a sunny day in the winter.
Bring lots of water!
These trails can get very muddy and uneven due to the cows on the trails, so schedule time for a dog bath after this hike.
During the season, there are fees: $5 per car, and $2 per dog.
Redwood Regional Park, Oakland, CA – Great Summer Hike
This park is an excellent summer hike and one of the trails we frequent the most! The base of the trail is completely covered with redwood trees and a variety of other foliage. There are some steep trails that allow you to get a good workout in, while also covered in shade.
There are lots of distractions in this park (other dogs, people, bikes, picnics, wildlife, etc.), so be sure to keep your dog on a leash. Last year, my cousin and I actually found a lost dog on the trail and after tracking down an open shelter, we were able to get her microchip information and reunite her with her owner. She had apparently taken off after a cyclist at the top of the trail and she made it too far too fast.
Other Recommendations:
According to The Dog Lovers Companion to California, dogs should remain out of the streams due to the delicate environmental balance established in Redwood Creek.
There is a lot of wildlife, so be sure to keep your dog on a leash.
During the season, there are fees: $5 per car, and $2 per dog.
McNee Ranch State Park, Montara, CA – Great Workout!
This hike we did earlier this year, but we didn't bring Rooney because usually California State Parks don't allow dogs. I was delighted to find out that at McNee Ranch State Park this isn't the case. Now, it also happens that the length and challenge of this trail is not in Rooney's wheelhouse. However, if you have a very athletic dog, this is the trail for you. This hike is uphill from the beginning. It will take you a few hours to climb the 1,898 feet, but at the top you will experience amazing views!
We were lucky enough to hike this trail on a clear day so at the top we could see Mount Diablo, the Golden Gate Bridge, Downtown SF, the Bay Bridge, Downtown Oakland, the San Mateo Bridge, and basically the whole Bay! The hike took us about 4.5 hours, and like I said, Rooney wouldn't have made it that far uphill, but that doesn't mean we can't train for it in the future!
Other Recommendations:
There is no official parking lot, so you can park at the gate (but not in front of it), or at the Montana State Beach parking lot across the road.
There isn't a lot of shade here, but you will experience an ocean breeze. Be sure to bring layers as there are hot and cold parts along this trail and lots of water for you and your dog.
Of course the Bay Area offers so many more excellent hikes. However, if you are new to the Bay Area, or you are visiting with your dog, these are the ones I would recommend.
What Bay Area hiking trails would you recommend? Leave your recommendations in the comments below!
---
Additional Hiking Resources:
Instagram Inspiration: Follow @Dogsthathike
Best Resource Guides: