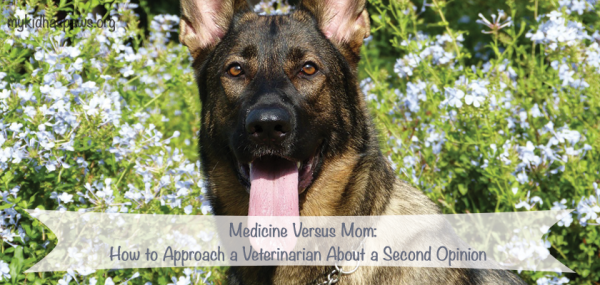 Once again, Carol Bryant from Fidose of Reality and myself, have decided to bring together our experiences in order to give you two sides to the same story. If you missed our inaugural post of Medicine versus Mom, you can check it out here.
 If you aren't familiar with Carol Bryant, she is a good friend and fellow pet blogger. She is the founder and CEO of Fidose of Reality. If you haven't checked out her blog, you really should! As a seasoned blogger and writer she brings her dedicated pet parent perspective to share will all "Dog Lovers of the Highest Order". Her posts are always a must read for me, and for any other pet parent out there. As we progress through our Medicine versus Mom series, I hope to share with you even more reasons why Carol is awesome!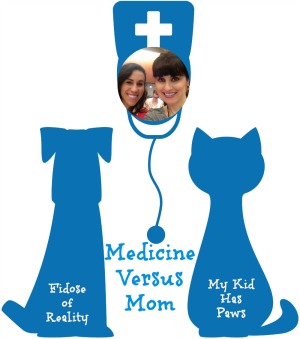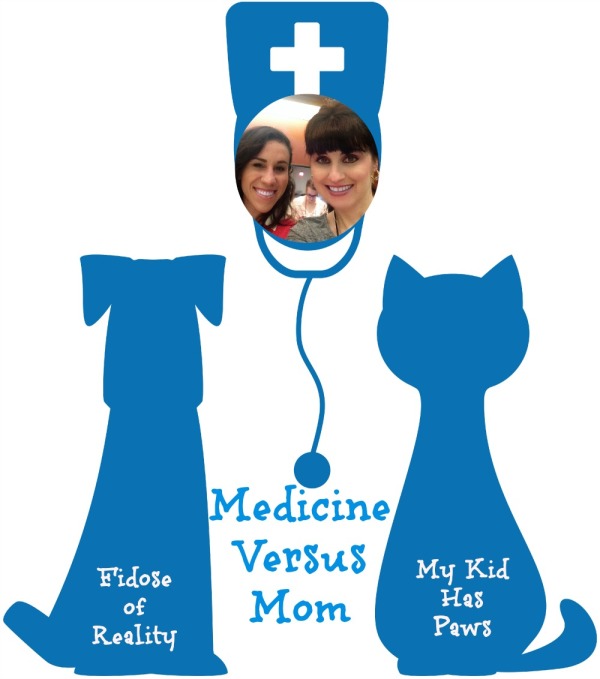 Today, we want to discuss some difficult subjects: Asking a Veterinarian for a Second Opinion, and Explaining to Your Veterinarian that You Buy Food and Treats Elsewhere.
What are some situations might I face, that would lead me to need a second opinion?
1. When your veterinarian's knowledge limits you to only one option: I don't know about you, but I am what I like to call an "information gatherer". I tend not to accept information right off the bat, and prefer to conduct some research of my own. If your veterinarian is saying that you only have one option for treatment, no matter the issue, it might be a good time to seek a second option. If it turns out that your veterinarian was correct, there is only one option for treatment, then you can go back to them with confidence regarding the necessary treatment for your pet.
2. When its time for a Specialist to step in: More often then not, your veterinarian will know all of the specialists in your surrounding area. Veterinarians exchange phone calls regarding the transfer of cases, and therefore know each other to a certain extent. Additionally, many general veterinarians co-treat with specialists because, from a business sense, they are referral partners. By co-treat, I mean that the general veterinarian diagnoses the issue, the specialist performs the surgery or treatment, and the follow up exams are completed with the general veterinarian. This means that you shouldn't be afraid to ask for a specialist's contact information. In fact, your veterinarian should be very willing, and even proactive, about providing you with this information.
 We have a veterinary dentist in our area, and she is excellent! When I worked at the veterinary hospital, our doctors referred clients to her for difficult dental extractions. Why? Well, we knew that we could do the extraction at our hospital, but our clients would be charged per 15 minutes of surgery time, and the specialist was going to take less time to complete the extraction than our doctor would.
Curious to see if you have a veterinary dentist? Here is a list of Board Certified Dentists in the U.S. from Healthymouth.com.
3. When its time to try something new: For example, I worked with a veterinarian who was certified in Eastern Medicine, so we often received clients who were looking to try acupuncture or herbs to remedy their dog's ailments. If you feel another veterinarian has more tools to help improve your pet's health, don't be afraid to explore those opportunities.
My best advice in seeking a second opinion is to be honest. Even here in the Bay Area where there are tons of clients and a good number of veterinarians, the veterinary community is very interconnected. Many veterinarian's and veterinary technicians work relief at other hospitals, so to avoid burning bridges or letting a good relationship go sour, be honest with your veterinarian. Perhaps they don't currently offer acupuncture, but hearing that another client is interested is exactly what they need to hear in order to pursue certification. You as a client can be more influential on your veterinary practice than you think, but you have to speak up.
How to Explain to Your Veterinarian that You Buy Food and Treats Elsewhere
Most veterinarians are aware that pet owners like to save money where they can. Veterinary medicine isn't typically a place to pinch pennies since that money is going toward your pet's health. That being said, you may like to try to save on buying your food and treats from other locations, and that's okay.
Firstly, many veterinary practices don't sell dog food, or they only sell prescriptions diets. Many, don't even get an opportunity to carry their favorite foods due to restricted space or inventory costs. Therefore, they are not surprised if you, as a consumer, don't purchase your dog food at their office.
However, lets say that your veterinary hospital has a full service pet store associated with it, and that is of course where they want you to buy all of your food, treats, and other pet related items from.
Once again, my advice is to be upfront. Let's say that the food you normally buy for your dog is $35 a bag at the other pet store, and your veterinarian is selling the same bag for $46. That is simply too big of a difference for you to justify buying from the vet's store. The first thing you should do is tell your veterinarian what the competition is selling their dog food for, and ask them if they have any available discounts. If your veterinarian says that they can't bring their price down today, say no problem, but tell them, if you were selling it for $38, I would buy it here instead of at the pet store (of course only say this if this is true, but you want to support your veterinarian and are willing to pay a little more, but not a premium).
Once again, your influence on your veterinary practice is larger than you think. Veterinarians and practice owners want to make their clients happy. Without you, they don't have a business, and they can't continue their dream of helping pets live happier lives, so I urge you to be very forthcoming with your veterinarian regarding your consumer opinions.
For Carol's dog mom perspective, be sure to hop over to her blog post, here.
Have a wonderful day everyone!