Welcome to Day 7 of our 30 Days to the Best Pet Home Challenge! Today, we are all about pet-hair-friendly bedding!
When I first learned that there was such a thing as pet-hair-friendly bedding, I was thrilled!
I don't know if your dog sleeps in your bed, but Rooney sleeps on our bed during the day, and sometimes at night. Since Rooney sheds a lot, it is really important that our bedding is easy to clean, and can easily have pet hair removed.
Keep in mind, there aren't materials that completely repel pet hair and keep all hair off your bed at all times (at least not yet!). However, there are materials available that will make your bedding easier to clean.
Choosing the Right Fabric
Tightly Woven Cotton
When the fabric is made with little space in between, there is less room left for pet hair to cling. How do you know how tightly woven your fabric is? Check the thread count. The higher the thread count, the more tightly woven the fabric. There are a few different fabrics available under the "tightly woven cotton" category. This home article from SFGate recommends sateen.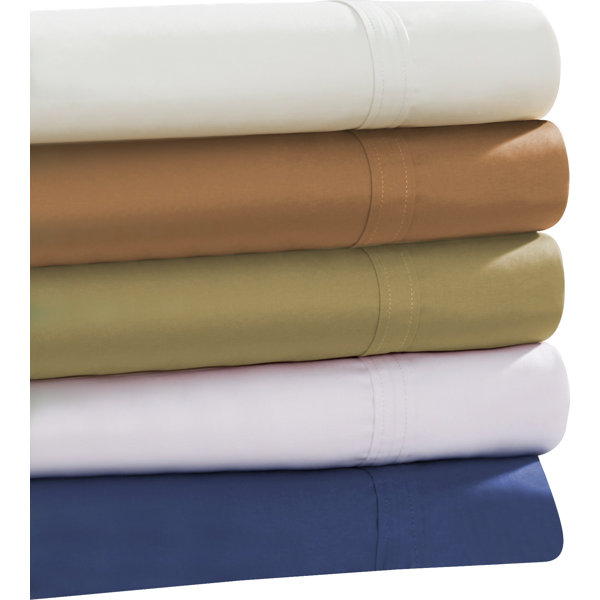 500 Thread Count Egyptian Cotton Extra Deep Pocket 6 Piece Sheet Set
Regular Price:$103.99
Linen
100% linen fabric resists pet hair, reduces pilling, and is very durable. Also, this fabric will keep you cool during the summer months since it is so breathable. Linen bedding can cost a pretty penny, so if you would like to save yourself some money, Amanda Bell from SFGate recommends opting for a high thread count cotton-linen blend.
Microfiber
Now, I am a very tactile person. I simply cannot help walking past a soft looking blanket without feeling the fabric. For this reason, I love microfiber. According to the same article from SFGate, Microfiber thickness is measured in deniers. A higher denier = thicker bedding, which leaves less room for pet hair.
Extra Features to Consider When Searching For Pet-Friendly Bedding
If your pet doesn't shed too much, then pet hair might not be the problem you are looking to solve. If that's the case, I recommend considering the following criteria when selecting bedding.
Stain & Liquid Resistant
While your pet may never intend to drool or lick their paws and get your blankets wet, this might happen anyway. If you believe this is something your pet might do, you could consider investing in water resistant comforters.
Anti-microbial
This may be a blanket feature that you have never considered before. Perhaps your pet likes to sleep in the same spot on your bed all the time. If this is the case, you might notice that that particular section of your bedding may start to stink. In this case, you could use a blanket like this one from World of Angus. Not only is this blanket water-repellent, but it is also anti-microbial, which resists oils and keeps your bed extra clean.
Washing the Bedding
A tip I read while completing the research for this blog post, stated that it would be important to use 2 rinse cycles while washing your bedding to ensure that you have removed as much pet hair as possible.
So tell me, are you thinking of upgrading your bedding to make it easier to clean?
Disclaimer: I am part of the Wayfair Homemakers Program. I am occasionally provided with Wayfair products in exchange for my honest opinion. My Kid Has Paws strives to share only products we believe would benefit our readers.