Day 13 of our 30 Days to the Best Pet Home is all about the right De-shedding tool! Seeing as Spring is the time when most pets shed their winter coat, I thought this would be the perfect time to discuss the perfect de-shedding tool, and fur-strategy (if you will) so that you can keep your floors looking fur-free as much as possible.
Fur is a constant in our home, and my husband and I do our very best to keep our floors as clean as possible but make no mistake, no one is leaving our home without at least a few Rooney hairs on their clothes. While the shedding doesn't bother us, I do know that some pet parents find those little "fur tumbleweeds" that make their way across a home to be one of the most frustrating things. Therefore, today I would like to discuss dog breeds that shed the most, the reasons why dogs shed, and a strategy for reducing shedding and cleaning pet hair off your floors.
Dogs that Shed
I want to caution potential pet parents out there. If you aren't willing to deal with shedding, or you think it might be a point of tension in your home, do your research before adopting a dog! There are definitely breeds that shed more than others.
Here are the Top 10 Heavy Shedders according to Vetstreet.com:
Alaskan Malamute
Alaskan Husky
Labrador Retriever
German Shepherd
Golden Retriever
Siberian Husky
Akita
Chow Chow
Saint Bernard
So if your dog breed is on this list, the following de-shedding tool & clean floor strategy might be the best thing since sliced bread! 
Even though Corgis didn't make the above list, as a Corgi parent, you will inevitably be dealing with some serious shedding!
Why Dogs Shed
Let's take a moment to understand more about why dogs shed in the first place!
According to Dr. Becker, there are 3 types of fur that your dog has on their body and 4 reasons your dog might shed.
The 3 types of fur include:
Undercoat: provides insulation
Outercoat: protects the undercoat from extreme temperatures & water
Whiskers: provide sensory stimulation
The 4 reasons your dog might shed include:
Regulating body temp
Protecting the skin
Improve sensory perception
If they get nervous or stressed (situational shedding)
The Perfect De-Shedding Tool!
As we have just established, you can't prevent shedding because it is a natural process for your pet's body. However, you can use the right grooming tools and strategy to reduce shedding and therefore reduce fur clean up.
The FURminator pet grooming tools have been on the market for quite some time, but last summer they released the FURminator de-shedding tool. The FURminator's design helps remove the loose hairs that will inevitably shed during a shedding season or throughout the day.
Here are the benefits of the FURminator de-shedding tool according to their website:
Reduces shedding up to 90%
Keeps your pet's skin and fur clean and healthy
Improves the fur renewal process which reduces skin irritants and allergies
Doesn't cut or damage your dog's coat due to the unique design
Easy to use and ideal for grooming your dog at home
FURminator even improved their product, so it now includes some customization. Their de-shedding tools are specific to the size and hair length of your pet, making it the best possible tool for your pet's shedding. We have the all hair for medium dogs tool for Rooney.
If your pet doesn't shed very much (probably because they don't have an undercoat), this isn't the tool for you. 
How to Use the FURminator De-shedding Tool:
Petful has some specific tips for improving the use of the FURminator de-shedding tool which I think are great:
Make sure your pet's coat is dry
Remove any mats, tangles or foreign objects from your pet's coat before brushing
Check for any bruises or cuts before you start brushing
Lastly, use long gentle strokes to brush your pet's coat evenly
Use the correct brush for your dog's size and coat length
The Clean Floor Strategy
Now that we have established that brushing your dog's coat regularly can reduce the amount of shedding that occurs, I recommend setting up a time once a week to brush your pet BEFORE you clean your floors.
Spend at least 15 minutes brushing out your pet's undercoat on a surface that can be easily swept. Because the fur will stick to itself, you will now have a giant pile of fur that can be tossed into the trash can.
Then, I recommend using a Swiffer to gather up the remaining fur tumbleweeds in your home. The Swiffer is the best tool I have used that can gather pet hair and help us quickly clean your floors.
Once you start making this a part of your weekly routine, you should start to see a decrease in your pet's shedding, AND you will see fewer fur tumbleweeds around your house.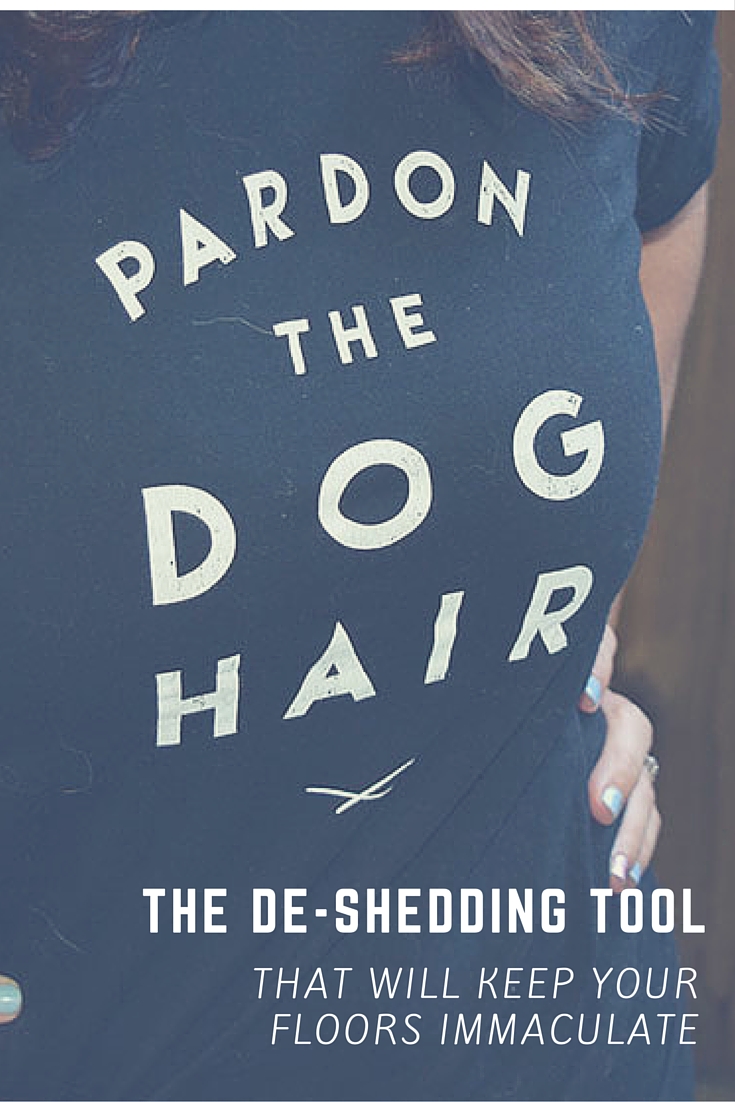 Why You Shouldn't Shave Your Dog
You may be thinking to yourself, Rachel this is great info, but can't I just shave my dog in the summer? The answer is no, and here is why:
Your dog's coat is like the insulation in your home that keeps the house from getting too cold in the winter, and too hot in the summer. Your dog's coat does the same thing – it works not only to keep her warm in cold weather, but also to protect her from the effects of too much sun. – Dr. Becker
So there it is, the best de-shedding tool, and my clean floor strategy. What do you think?
Disclaimer: I was compensated for my opinion previously by Swiffer. Additionally, I was provided with a FURminator de-shedding tool and Swiffer in a previous campaign. However, My Kid Has Paws only includes products that I believe will provide benefit to my readers.