A visit to the veterinary hospital can be overwhelming.
You walk in confident and ready to discuss the list of items you brought to your pet's annual exam, and then you are completely thrown off the second your vet says something like, "What's this we found here?".
Suddenly, your mind starts racing.
"What do you mean?"
"What did you find?"
"What's wrong with my baby?" (this is the first thought I would have).
Amongst all of your emotions you hear your veterinarian say, "I want to take a closer look at this lump". And, now you are wondering…
…"Why? Is it cancerous?"…and then panic ensues.
While even the best veterinarians provide the most thorough explanations intended to ease your worrying and provide you with sound reason, you can't help but feel overwhelmed and agree to their recommendations immediately. Your hope is that there are more answers than questions provided by their initial tests.
After your pet is back in your arms and you have been reassured that everything is okay, you have been hit with a larger than expected bill. And your only thought is, "…wait, what's happening?"
While many veterinary offices have no intention of overwhelming you, most days they are a place of well-organized chaos. Which can leave you feeling overwhelmed with perhaps more questions than you have answers.
Today, I would like to share with you some of the things you can keep in mind while at the veterinary hospital. Specifically, things I believe you have a right to:
A right to ask questions:
As a former veterinary professional I can tell you that we don't mean to seem like we are in a hurry or that we don't want to explain things further, it's just that we do this for a living, so sometimes we forget to slow down and explain. Therefore, don't forget that you can stop us at any time and ask questions!
Questions are important and your veterinary staff wants you to leave the hospital with all of your questions answered. Veterinary staffs are often on a very tight schedule, so you may have to wait a few moments to have a chance to speak with a member of the veterinary staff, but take your time and get all the info you need while you are there.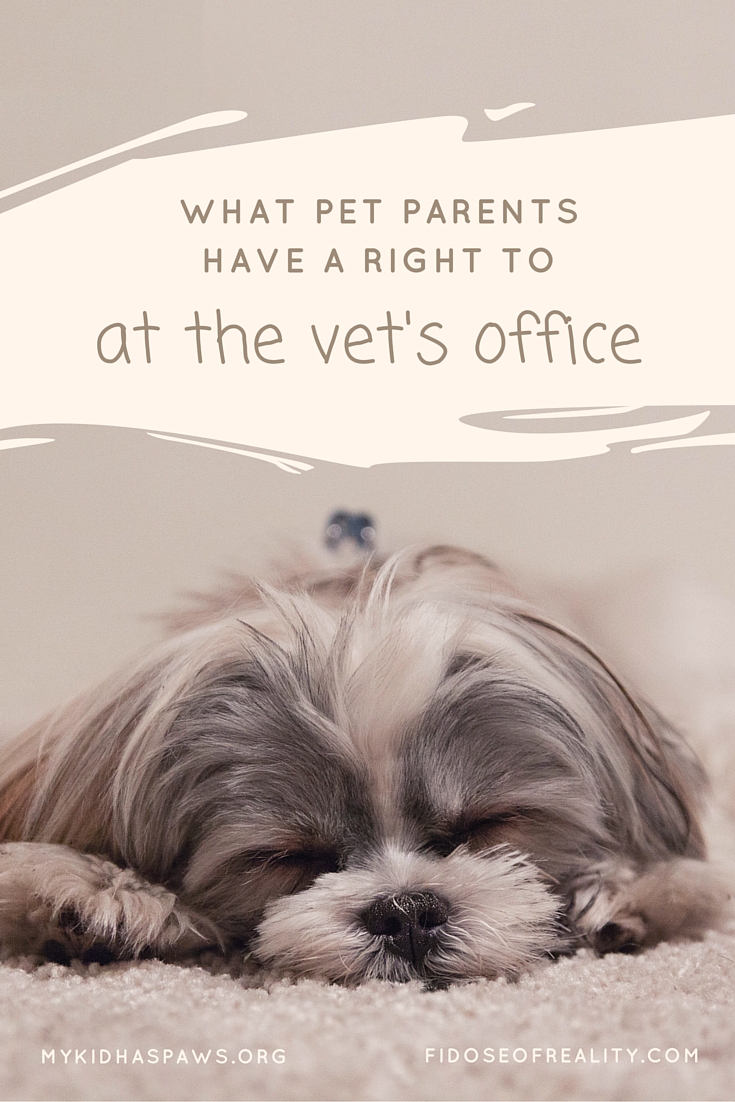 A right to an estimate:
Always ask for an estimate! Estimates are particularly useful anytime your pet receives more treatment than you planned, i.e. when your veterinarian makes a discovery during their annual exam.
When I worked at the veterinary hospital we wrote an estimate anytime we treated a pet (ex. they needed more than just vaccines). We understood that everyone's financial position is different and we wanted people to feel prepared when they went to pay their bill.
A right to alternative treatment plans:
Often, we would provide both a low & high estimate. The low end of the estimate would include any treatments deemed absolutely necessary to protect the health of your pet by the veterinarian. The high end would include some additional tests that would make the veterinarians diagnosis more accurate and might save money in the long run.
As a technician, I went over these estimates with our clients regularly and explained each item one by one. Specifically, I explained why the veterinarian wanted it and how the test was going to improve the health of their pet. If you aren't sure about any of the items on your estimate, don't forget to ask questions and ask for alternatives.
A right to the whole appointment time:
This point relates back to asking questions. While veterinarians may have very busy schedules, you did pay for their time so you have a right to use that time to ask questions.
Additionally, sometimes veterinarians have to be pulled away from appointments to assist in emergency cases. If this ever happens to you, be patient. If it was your pet having the emergency, you would want all veterinarians helping them too. However, you still have a right to your full appointment, even if you have to reschedule you should get the 20-30 minutes you paid for.
A right to purchase medications at a different pharmacy:
Some of the medications used to treat animals are also used to treat humans. Which means they might be available at your local Walgreens or Costco. Sometimes you can save money by picking up medications at these other pharmacies. Keep in mind this isn't an option for every prescription.
Further, veterinarians might be willing to price match, so you might save yourself a trip by bringing up pharmacy alternatives.
A right to ask for a take-home guide:
At the last hospital I worked, many of the veterinarians provided take-home guides. The guide included a description of your pet's condition, a summary of their medications, next steps for treatment, and follow-up care instructions.
While your veterinarian might not have take-home guides as a standard practice in their hospital, you can ask them to write things down for you if you know you are going to have a hard time remembering the course of treatment when you get home (remember the overwhelm we described above?). Many veterinarians are happy to provide you with this information especially if this means you are going to follow their treatment plan thoroughly.
A right to a demonstration:
There were 3 main training sessions (or demos) I gave pet parents while working at the hospital:
Subcutaneous fluids
Nail Trim
Insulin injections
Each of these tasks can be daunting for a non-medical professional. If you know you need to perform these treatments at home, don't hesitate to ask the staff to show you how to do it or at least, give you some pointers.
The above list represents my opinions, but I have been on the side of both client and veterinary professional and I can tell you that it is really important to advocate for yourself and your pet!
For Carol's mom perspective on this topic, please visit her at Fidose of Reality.