I feel like there is no better time of year to discuss gut health for both ourselves and our pets. The holidays are full of opportunities to try tasty desserts and indulge in seasonal foods and drinks, which is great, but not necessarily for the health of our gut. For pets, the holidays serve as a time to get free snacks from house guests. Especially, food they normally wouldn't have access to, like turkey. In addition to extra snacks, the holidays are also a stressful time for pets due to inconsistent schedules and a generally hectic environment.
Recently, we shared with you the importance of probiotics for your pet's gut health and if you haven't started giving your pets their daily probiotic, now might be the time to start. The holidays bring about the top reasons pets can benefit from probiotics:
Stress
Dietary problems
Changes in food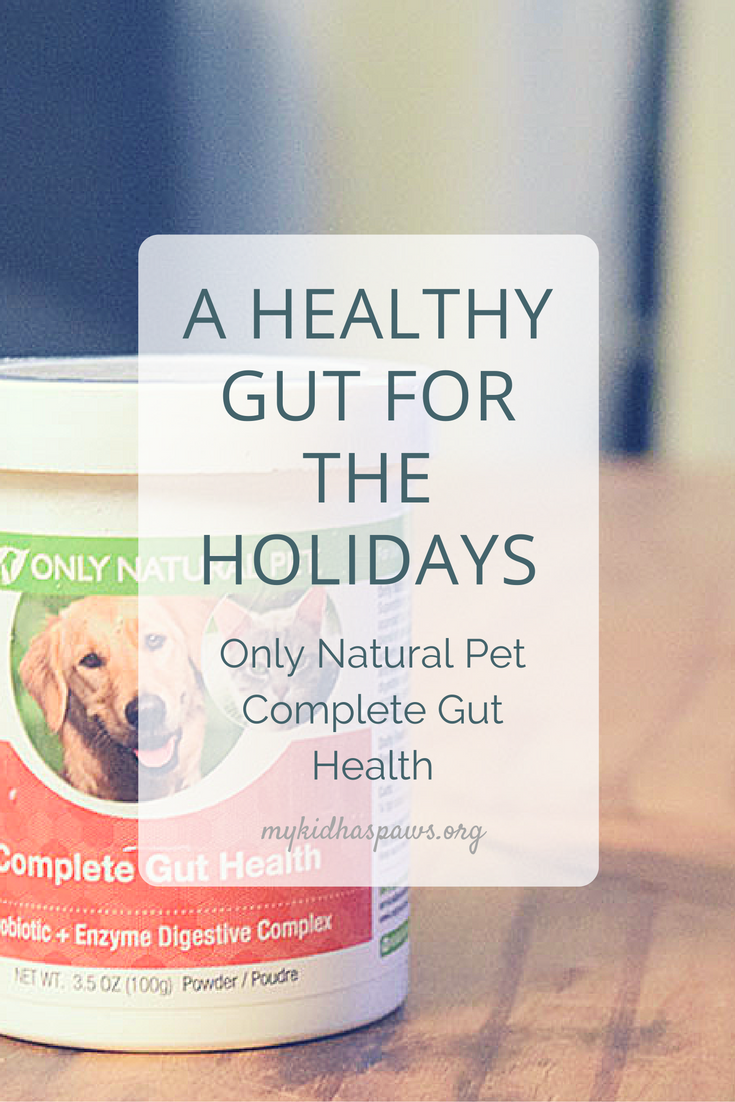 Today, I want to talk to you specifically about Only Natural Pet's Complete Gut Health Probiotic + Enzyme Digestive Complex! This complex is more than just a probiotic. It combines, probiotics, prebiotics, and digestive enzymes to boost the immune system. What is the importance of these items to your pet's gut health? Only Natural Pet breaks it down for us:
Digestive Enzymes
"Often lost in the cooking process of conventional pet food, digestive enzymes are essential for nutrient absorption. Complete Gut Health features a blend of four plant based digestive enzymes, each with a unique function: Protease for protein, Amylase for carbohydrates, Lipase for essential fatty acids, and Cellulase for fiber."
Prebiotics
"Essential food for probiotics, prebiotics in Complete Gut Health are derived from chicory root in the form of insulin, a dietary fiber that is not digested by your pets, but easily digested by healthy bacteria in their guts. Prebiotics stimulate the growth of bifidobacteria, supporting overall immunity, as well as increases metabolic activity, which relieves constipation."
Probiotics
"Sometimes called "friendly" bacteria, probiotics are the microflora living in your pet's gut. Complete Gut Health's proprietary blend of probiotics support your pet's overall health and immunity, as well as supporting with occasional diarrhea, flatulence and stool issues."
What kind of household can benefit from this product?
While I think that most pets can benefit from additional digestive support, Only Natural's Pet product fits a household that is looking to take a more holistic approach to the pet's health care, while investing in their long-term health. However, before adding anything to your pet's health care plan please speak with your veterinarian.
What do you think? Do you think your pet will benefit from probiotics this holiday season?