To close out the month of February, I thought we could discuss ways you can build a stronger bond with your dog. Providing us with some helpful information today is Michele Dixon, Health & Nutrition Specialist at Petcurean. Michele provided us with some themes to share with our readers. For each of these themes, I will share with you Michele's thoughts as well as my own.
Bonding. Live in the Moment.
"Pets are the kings and queens of living in the moment, and the best bonding experience we can have, is to meet them at that level. Share calmly in being joyous, playful, and relaxed, whatever positivity your pet is giving you in the moment. In times of stress, be your pets rock, and let them know that everything will be ok. If it's quiet time, simply spend time doing what your pet responds to positively. For some, that may mean just sitting with them, and doing nothing else.
It's important to remember that pets aren't people, and their language and emotional needs are different. The best gift you can give your pet is to be truly present, by focusing all of your attention on them whenever you choose to interact. Now is the time to stop thinking about work, your schedule, your troubles, or tomorrow, and enjoy them at their level. If you're stressed, your pet will often reflect your stress. Learn what they like and don't like by paying attention to the small things. And respect that like people, they are all different. Some love closeness, some are more independent." – Michele Dixon, Health & Nutrition Specialist at Petcurean
On a daily basis, I know this means putting my phone down and spending some time sitting on the floor with Rooney. As part of our morning routine, I sit on the floor with Rooney and pet him for a few minutes before the craziness of the day begins. I also spend some quality time petting him as soon as I get home from work, often followed by a walk. When Rooney is scared or stressed (typically only when there are fireworks or if the smoke detector runs out of batteries), either my husband or myself sit with him and let him know that everything is going to be okay.
I feel like this topic is pretty intuitive for most pet parents, particularly if you read this blog. But, I think the important thing to remember, is that we want to connect and bond with our dogs on their terms. What do they prefer? What do they want to do when you get home from work? Here are some examples of ways my friends and family bond with their dogs:
Give them independence: Take them to a place where they can run off leash (legally and safely, of course) and feel the wind in their fur! This is particularly important for dogs who are naturally independent.
Make quality time the first thing on your list: For many pet parents quality time is best spent first thing in the morning. I know many pet parents who take their dogs for a sunrise walk, run or hike most mornings. Not only are they able to spend time with their pet relatively uninterrupted, but they are also spending time with them before work or other obligations get in the way.
Wind down with your pet: Conversely, some pet parents prefer to wind down with their pet right after work. I am a huge proponent of "winding down" after work. For me, this means exercise. If I can take Rooney for a run, walk, or hike right after work (which includes a lengthy commute), I am able to shake off the work day and reconnect with my family.
Train: Give you dog a job and provide them with the mental stimulation they need. Training is particularly important for working breeds and is an excellent way to bond with your dog.
Take them to work: For some pets, being with their people all day is the ultimate way to bond and connect. I know that this isn't an option for every one, but I will have a follow-up post soon about how to create a pet-friendly workplace.
Bothering. Body Language 101.
"Learn to read body language, so your pet can clearly communicate with you, and respect what they are telling you in that moment. Remember your pet is fully present. Avoid giving affection when your pet is giving you a negative response. You do have the opportunity to change the experience to a positive one. So either change your approach to your pet, or back off.
Signs of annoyance include: Turning their head away in avoidance, lick lipping, lip curling, yawning when not tired, sudden sniffing of the ground, or a paw being raised. With cats, they often flick their tails, put their ears back, or get up and leave." – Michele Dixon, Health & Nutrition Specialist at Petcurean
When I originally read Michele's input on this topic, I couldn't really think of a time when Rooney seems irritated. However, upon further thinking, I realized that Rooney exhibits these behaviors primarily when he has FOMO (Fear of Missing Out) or needs exercise. An example of FOMO would be when I put on my workout clothes and shoes, and Rooney thinks we are going for a walk, but really I am going for a long run first. During these times Rooney becomes vocal and doesn't want to calm down initially. Additionally, if Rooney has yet to be taken for a walk that day (or to the dog park or hiking), he tends to be more tense at home. Therefore, I would add to Michele's suggestions to read your dog's body language for signs that they need exercise. Do they seem tense? How much happier would they be if you took them for a walk right now?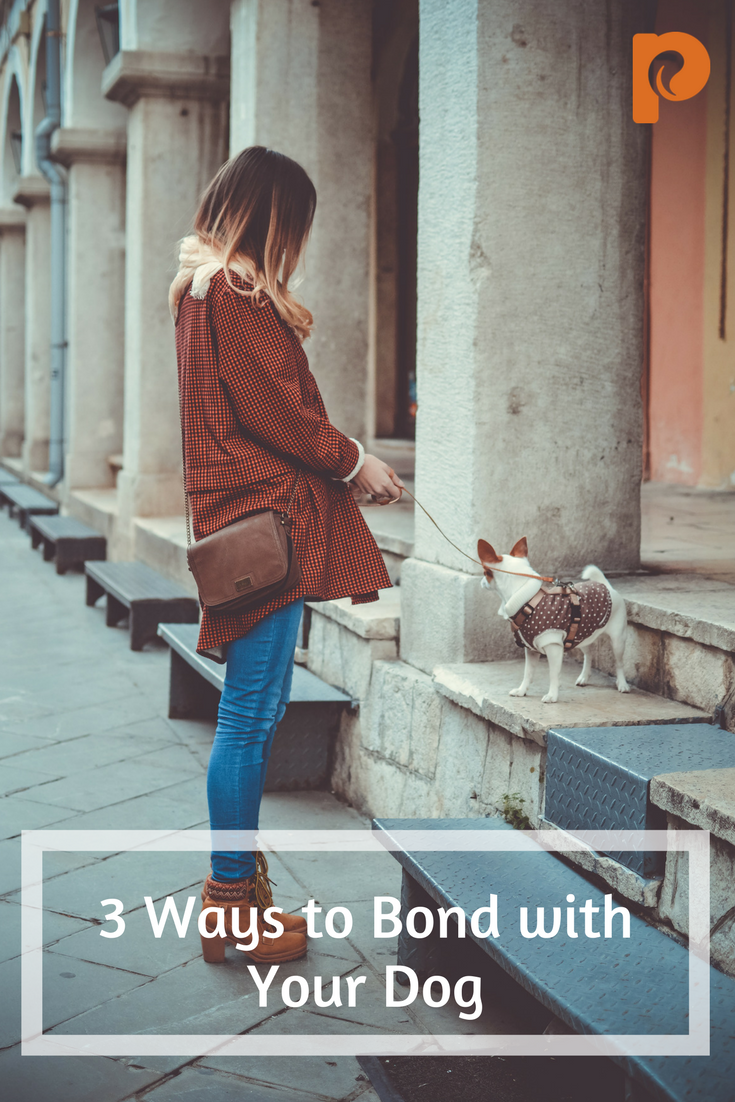 Kisses and Quality Time.
"Kisses are one way, but to a dog especially, showing love is often more about their loyalty and respect for you. Cats show love by wanting to spend time in your lap, or by interacting (such as giving head bonks). Ever see your cat give you a "slow blink"? That's also a sign of pure love and is often referred to as "kitty kisses". Next time you see it, try giving a slow blink in return." – Michele Dixon, Health & Nutrition Specialist at Petcurean
The point here is to really think about what quality time means to your pet. A few months ago, we wrote about PAW5's challenge to give your pet a more enriched life. PAW5, outlined 6 different categories for enrichment for your pet; sensory, feeding, toys & puzzles, environmental, social interaction, and training. Each of these categories can improve the way you spend time with your pet, and your bond as a result. For example, instead of spending time petting Rooney when I get home, I should implement 10-15 minutes of training and playing with toys & puzzles. Pet parents with herding or other working breeds should definitely consider enrichment as a critical part of quality time with their pets.
Now it's your turn! How do you spend quality time bonding with your dog?
Disclaimer: I am a Petcurean blogger. I was provided with food and compensation so that Rooney and I could provide our honest opinion. However, My Kid Has Paws only shares reviews we believe benefit our readers. Additionally, Petcurean is the food we feed Rooney every day.