Many Americans are aware that the concern regarding mental health and stability among adults is increasing.
Approximately 1 in 5 adults in the U.S.—43.8 million, or 18.5%—experiences mental illness in a given year" – National Alliance on Mental Health 
The term "mental illness" refers to conditionals such as bipolar disorder, depression, or schizophrenia (Newsweek).
While research regarding mental illness grows, so does the research surrounding pets and their positive affect on our mental health. Therefore, today, I would like to discuss some of the ways our pets improve our mental health.
Nurturing – It's Important
According to the American Institute of Stress (AIS), the ability to care for living things is necessary for human health even though it has become increasingly under appreciated. Nurturing and caring for another being is associated with beneficial improvements in mental and physical health. Why is this important? Because the inability to care for other beings and social isolation can cause a person to be more likely to be diagnosed with depression and illness. Therefore, having a pet in your life provides you with the nurturing opportunities you need to decrease your risk of being diagnosed with depression or other mental illnesses.
It is important to note that the ability to care for something includes pets, but is not limited to cats and dogs.
The pet-health link has been well established for relationships with dogs, cats, birds, mammals, reptiles, aquarium fish and horses. A prominent researcher in this field also suggests that similar benefits may extend to individuals who care for their gardens, farmers actively tending their crops, 4-H children with pet animals, as well as bird watchers and wild bird feeders." – AIS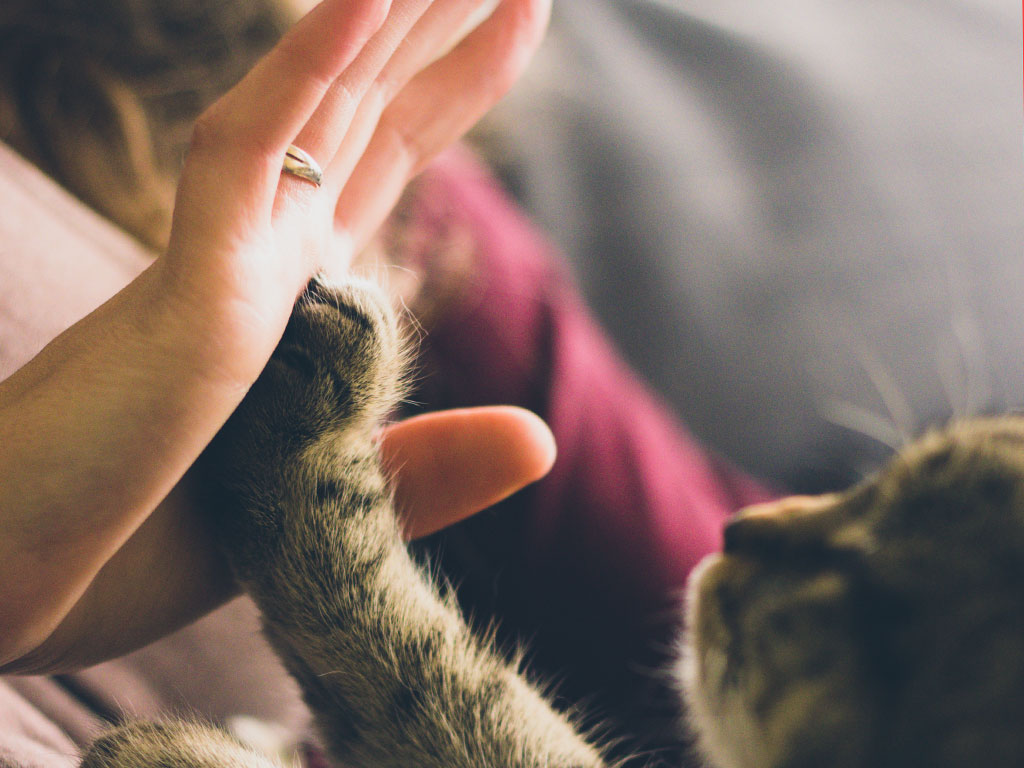 Improving Physical Health
While this discussion is primarily focused on mental health, there are very strong links between mental health and physical health. So whenever pets are improving our physical health, they are also improving our mental health.
People with any chronic physical disease tend to feel more psychological distress than do healthy people. Poor physical health brings an increased risk of depression, as do the social and relationship problems that are very common among chronically ill patients. – PsychCentral
So, how exactly are pets improving our physical health? 
There are so many ways that pets improve our physical health. Here are a few examples:
Pets can lower blood pressure and decrease your heart rate in stressful situations due to the comfort their presence provide by being in the room. (The Review)
Studies showed an improvement in "Activities of Daily Living" in elderly individuals. The people were better able to perform physical tasks and reported feeling more positive about different aspects of their lives (VCU).
Pets reduce a person's risk of getting heart disease.
Owning pets is associated with reducing your risk of heart disease, and there are a variety of reasons that may be at work that influence this relationship. – American Heart Association

People who walk their dogs are more likely to have the daily required amount of exercise.
Some research has shown that there is a possibility that pet owners can have lower cholesterol and triglyceride levels
Dogs help strengthen your immune system, decrease anxiety, reduce stress. Try Prescription DOG today: https://t.co/QYlYKnBsqZ #ThePetEffect pic.twitter.com/XT18SjXvF5

— HABRI (@HABRITweets) April 24, 2017
Social Interaction versus Isolation
Pets provide us with social support in a variety of ways. Not only do they improve our ability to connect with people in the same room, but they also encourage us to be more social and leave the house. Additionally, their ability to improve our heart health and physical health, also fights depression.
For example, the combination of heart disease and depression can cause twice the reduction in social interaction than either condition alone. – PsychCentral
So Much More
As research regarding the Human-Animal bond grows, the evidence suggests that pets help us in more ways than originally considered. According to the National Center for Health Research, people with pets are healthier in a variety of ways.
Some research studies have found that people who have a pet have healthier hearts, stay home sick less often, make fewer visits to the doctor, get more exercise, and are less depressed. Pets may also have a significant impact on allergies, asthma, social support, and social interactions with other people. – National Center for Health Research
In conclusion, your pet(s) is (are) improving your mental health in the following ways:
1) Providing you with a being to care for which decreases your chances of being diagnosed with mental illness or depression.
2) Improving your physical health, which directly affects your overall mental health.
3) Improving social interaction and decreasing social isolation which also decreases your chances of becoming depressed.
4) Being there. The evidence suggests that the benefits of pets in our lives is cumulative. They have a positive effect on us that overall improves our physical and mental health.
Did you know that pets improve mental health?